In addition to all the films, plays, radio and television programs Rathbone appeared in, his image was also used to sell numerous products, mainly cigarettes and booze. Because Rathbone was so identified with Sherlock Holmes, many of the ads picture him as Holmes. See page 2 for more ads including radio and television ads.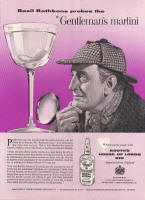 "Basil Rathbone probes the Gentleman's martini: Booth's House of Lords Gin"
In this ad from 1958 we see Sherlock Holmes himself examining a martini. He says, "It's elementary that crime does not pay -- This is true whether the crime is murder, robbery, arson, blackmail or making an inferior martini.
While the last offense rarely results in a man losing his life, it almost certainly carries the penalty of losing his friends. It should be well-known--for ignorance excuses no man--that the Martini of highest social acceptance is the gentleman's Martini. And the key to making it is Booth's House of Lords Gin.
Just why Booths House of Lords Gin has the uncanny faculty of producing the gentleman's Martini--or a gentleman's drink even if served straight, on the rocks--has baffled even me. I suggest you simply look upon it as a fascinating mystery. All we need know is that the Booth's people are willing to part with their delectable product for mere money, and it is available at every bar or liquor store which any self-respecting person would patronize."
The same ad appeared in different colors:
---
"Yes! It's Elementary . . . Always Buy Chesterfield."
This cigarette ad featuring "Basil Rathbone, star of Dressed to Kill," appeared in magazines in 1946.
---
Sherlock Holmes and Dr. Watson examine a bottle of Petri Wine, the sponsor of the Sherlock Holmes radio broadcasts of the 1940s.

"Petri took time to bring you good wine."
---

One of the photos that was used in the 1949 Fatima cigarette ads

This ad features Rathbone hawking Fatima Turkish cigarettes. Fatima cigarettes sponsored the radio show Tales of Fatima, which aired in 1949 and starred Basil Rathbone. On the ad: "Basil Rathbone says: May I tell you why you'll like smoking the NEW Fatima? The name Fatima has stood for the Best in Cigarette Quality for 30 years. And now, I say the new Fatima is the best of long cigarettes. It's the long cigarette that I know you'll enjoy as much as I do. It's MY cigarette. Basil Rathbone".

See below for some other Fatima ads that are only slightly different than the one pictured to the right.

| | |
| --- | --- |
| You can also listen to Basil hawking Fatima cigarettes on his radio show Tales of Fatima. This ad is from the episode "A Much Expected Murder." Click the sound button to the right. | |
---
| | |
| --- | --- |
| | Apparently Rathbone also likes beer. Here he is enjoying a glass of Schaefer beer, calling it the "Finest beer I ever tasted!" This ad appeared in the late 1940s. |
---
| | |
| --- | --- |
| In this Skippy Peanut Butter ad from 1957 Rathbone is unhappy about being asked to try Skippy. "Peanut butter!" he exclaimed. "Surely you jest! . . . Peanut butter is only for little kids! . . . Fah!" But the makers of Skippy gave Rathbone a fistful of money and he agreed to taste Skippy. "Heavens to Betsy!" he cried. "Can this be peanut butter?" (I think he likes it.) | |
---
| | |
| --- | --- |
| | In this ad from 1956 Rathbone is again hawking liquor. This time it's Walker's Deluxe bourbon. Rathbone said his drink was "Marvelous!" |
---
Here's a Van Heusen shirt ad from 1954. "Van Heusen Century shirts won't wrinkle . . . ever!"

The shirt that Basil is wearing cost $4.95, and the tie he's wearing cost $1.50!

The photo to the far right appears to be one that was taken for this ad, but not used. Perhaps it was used in a different Van Heusen shirt ad.
---
"His Famous CALOX SMILE thrills millions in 'A Date with Destiny.' Who is he?"

This ad for Calox tooth powder (from 1941) features a masked Basil Rathbone with a bright smile.
---
In this 1945 ad Sherlock Holmes finds Stratford pens to be dependable performers. The photo caption reads "Basil Rathbone ... always a dependable performer ... famous for his modern interpretation of Sherlock Holmes. Soon to be seen in Universal's "The House of Fear."
Personnally speaking by Basil Rathbone, star of The Heiress

1. As Sherlock Holmes I can solve every mystery except that of smooth shaving. As Rathbone...
2. I solve it with Personna razor blades, which give me smoother, closer shaves. The only mystery is ...
3. Why all men don't rush out for Personnas and start enjoying smooth, comfortable shaves!
---
| | | |
| --- | --- | --- |
| | Here's Basil Rathbone, looking very comfortable in a Swing King reclining chair. These ads appeared in 1953 and identify Rathbone as the star of the Broadway play "Sherlock Holmes." (That play closed after only three performances on Broadway.) | |
---
A screen villain with a "soft spot" for Shredded Wheat

Basil Rathbone, Ann Harding's leading man in her first British film, "Love from a Stranger," a Max Schach-Trafalgar production, says:

"What a boon is Shredded Wheat for these quick breakfasts snatched before leaving for the studios. I am invariably in a hurry on these occasions, and it fulfils two valuable needs: it is quickly prepared and served, and at the same time it is nourishing and stimulating to an astonishing degree. Because I wanted something that would fulfil these requirements, I found Shredded Wheat. Now it is an essential part of my breakfast, whether I am playing or not. Do by all means use this letter of mine if you wish--I am only too glad to put other people on to a good thing."

Mr. Rathbone, occupying a leading position in a strenuous and exacting profession, adds to the many sincere and glowing tributes which are constantly being received from hard-working people in every walk of life. He confirms the fact that, as a complete health-food giving strength, stamina and energy to withstand the demands of a busy active life, Shredded Wheat has no equal. Agrees, too, that Shredded Wheat is an extremely handy food for the man or woman in a hurry. And everyone who eats Shredded Wheat knows that no food could be more appetizing and delicious, with hot or cold milk, cream, honey, or with fresh, stewed or tinned fruits.
---
Basil uses Calgonite dishwasher soap to get his glasses clean and sparkly. Here are two similar ads for Calgonite.

"You can remove spots with aplomb, but Calgonite prevents them. Calgonite gives a hand polished look to all your machine-washed glassware, silverware and china. No spots, no streaks, no haze. And we make Calgonite to be gentle, so that fine china makers can recommend it confidently to everyone who owns pretty things. We make Calgonite sneeze-free, too....not a kachoo in a carload. We make it so it smells nice and doesn't leave a chlorine odor. No wonder leading dishwasher makers recommend Calgonite and sample it in their new machines. Use Calgonite in your automatic dishwasher."
---
Together with Marion McCarroll, Mrs. Ferd Pettinella and chef John Manuat, Basil recommends Alcoa aluminum utensils. The text under Basil's picture reads: Basil Rathbone, distinguished star of stage and screen. A gourmet who delights Hollywood friends with his cooking artistry, Mr. Rathbone offers lobster thermidor on grill broiler accompanied by a tossed green salad (with his special dressing) and grated cheese. He recommends aluminum utensils when preparing meals to be savored by discriminating palates.
---
Columbia Records

You are looking at a Columbia Masterworks Records advertisement printed in the year 1945. It features a prominent photo of conductor Andre Kostelanetz. This ad also shows pictures of Basil Rathbone (bottom left), Edward Kilenyi, Lily Pons, Joseph Szigeti and Fritz Reiner.

Rathbone made several records with Columbia: A Christmas Carol; Great Themes in Poetry; Hansel and Gretel; The Murder of Lidice; The Night Before Christmas and Little Jesus; Oliver Twist and Fagin; Peter and the Wolf; Robin Hood; Sinbad the Sailor; The Stingiest Man in Town; Treasure Island.
---
---
Variations on the Fatima cigarettes ad:
See page 2 for more ads including radio and television ads.
If you have or find any ads featuring Basil Rathbone, which I don't have listed here, please send me a scan and whatever information you have about the ad. If you don't have a scanner, please e-mail me, and we'll work out something!