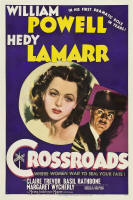 Crossroads is a good mystery that will keep you guessing until the end. Faced by a past he cannot remember, French diplomat David Talbot (William Powell) becomes a target for blackmailers. Basil Rathbone plays Henri Sarrou, the villain who threatens to ruin Talbot's life. As Sarrou's accomplice, Michelle Allaine (Claire Trevor), adds to the strain on Talbot, who is accused of being a notorious underworld character. The solving of the problem proves to be a very interesting and suspenseful denouements.
The story takes places in Paris in 1935. David Talbot and his wife Lucienne (Hedy Lamarr) are celebrating having been married just three months. David is on the shortlist for an ambassadorship to Brazil. But he won't get that appointment unless his private life is beyond reproach. So when Talbot receives a letter asking him to repay an old debt of 1 million francs, he is concerned as well as puzzled. He sets a trap to catch the blackmailer.
In the courtroom, Le Duc, the accused blackmailer, tells the court that David Talbot is in fact Jean Pelletier, a criminal. Talbot doesn't know whether or not this is true. He suffers from amnesia caused by a train accident 13 years earlier.
Dr. Tessier appears as a witness before the court and tells about his first meeting with Talbot, a few days after the train crash in 1922 (when the Paris-Marseilles Express hit an open switch). Talbot's head wound caused amnesia. The captain of the ship that brought David to France from Martinique identified him as David Talbot. No one else could identify him because he had never been in France before.
The next witness is Michelle Allaine, a singer. She claims she was in love with Jean Pelletier. She says she last saw him boarding the train, and she recognizes Talbot as Jean Pelletier.
But Henri Sarrou, a wine salesman, counters M. Allaine's testimony. He says that Talbot is not Jean Pelletier, and he presents a document supposedly proving that Jean Pelletier died in Africa. Thus, Talbot is exonerated. And so it would seem that the story is over—but of course it is not.
Watch the trailer for the film:
Some time later, Sarrou shows up at a party the Talbots are hosting, and the Talbots are very happy to see him. They exchange pleasantries, but when Sarrou has a chance to speak to David alone, he says, "I certainly admire your nerve, you double-crossing swine." He leaves David speechless.
In another room David confronts Sarrou, asking, "What's your game?" Sarrou admits that he lied in court; he tells Talbot about his past as the criminal Jean Pelletier. Pelletier participated in a robbery in which a guard was murdered. The gang was supposed to meet up in Holland to divide the money (which Pelletier had), but he never showed up. Now they have found him and they want their money. Sarrou demands 1 million francs from Talbot.
When Lucienne enters the room, Sarrou makes an excuse about having forgotten his cigarette case, takes it and leaves. Talbot tries to protect his wife from knowledge of his predicament, but she suspects something is wrong.
| | |
| --- | --- |
| "We're so grateful to you for your testimony." | "You've forgotten me." |
Michelle Allaine pays David a visit at his government office. "Can you forgive me, Jean?" she asks. She says she never wanted to hurt him. Then she shows David a locket containing a photo of herself and him together. The photo appears to prove that he and Michelle were lovers. David is puzzled and begins to doubt himself.
Later, at home, David opens an envelope that contains a headline cut from a newspaper dated March 27, 1922: Bank Robbers Slay Messenger, Escape With Two Million Francs.
David confronts Michelle Allaine at the club where she sings. He offers to pay her 50,000 francs. She laughs and says it's not enough. She still insists that he is Jean Pelletier, and she tells him that his mother is living as a pauper. David is compelled to seek her out and find out if she really is his mother. But the visit is rather bizarre. The old woman looks at him as though he is her long-lost son, but she is adamant that her son is dead. But then she kisses his hand and says "God keep you!"
Henri Sarrou again confronts David and demands that he meet him later that evening and bring 1 million francs with him, or "the police will have the solution to a murder." David reminds Sarrou that he participated in that murder, to which Sarrou responds, "but you were the man behind the gun."
It seems that David Talbot is beginning to believe he actually is Jean Pelletier. He is worried about his wife, and decides that the best thing to do is to leave the country. He goes to a travel agent and buys one ticket to Saigon. Then he goes home and gets his passport. Lucienne sees him with the passport and thinks it has something to do with the ambassadorship to Brazil. He doesn't correct her; in fact, he tells her that they will go out and celebrate his appointment later. But first, he must help a colleague for a few hours. David and Lucienne had plans to go to a social gathering that evening; Lucienne goes without him, expecting David to join her later.
The moment Lucienne has left the house, the phone rings. It's Sarrou. He tells David, "You're not catching a plane tonight for Saigon or any other place." He orders David to meet him at Club La Sirene at 10 pm.
SPOILER ALERT! Stop reading now if you wish to be surprised when watching the film.
The next scene reveals to the audience that David Talbot is not Jean Pelletier; Sarrou is directing an elaborate con to convince David he is a criminal. He even hired an actress to play the part of Jean Pelletier's mother. If David believes this lie, he'll pay Sarrou for his silence. As Sarrou waits impatiently for Talbot to arrive, he discusses the con with Michelle Allaine and the actress playing Pelletier's mother. She withdraws to another room when Talbot arrives.
"Have you got the money?" asks Sarrou. Talbot says no. He says he wants to pay, to get Sarrou off his neck, but he doesn't have that much money. He lets it slip that there is a lot of the government's money stored in his office.
Sarrou immediately hatches a plot to steal the money: "You go to your office, where you have a perfect right to be. You are attacked from behind, bound and gagged. The next morning you are found by the char woman. The safe has been rifled. But you are completely innocent. You go back to your life." Sarrou promises Talbot that he will never again be bothered by Sarrou and Allaine.
Meanwhile, Lucienne is waiting for David to join her at her social gathering. When David's colleague (the one David said he needed to help that evening) arrives, Lucienne is surprised to learn that David has not been with him. She takes her cloak and leaves. She arrives at Club La Sirene just in time to see David and Sarrou getting into a cab, so she follows them to David's office.
In his office, Talbot opens the safe and Sarrou fills his satchel with money. Then Lucienne enters the office, imploring David, "Don't do it!" But he explains that there's no other way. "Tell me what I can do" she says. Sarrou says, "Help me tie him up. Give me a chance to get out of here, then you can scream as loud as you like."
As Sarrou is tying up Talbot, suddenly the lights come on, and a group of policemen are standing in the doorway. It was a trap! Talbot had arranged for the police to come to the office and catch Sarrou attempting to steal from the government. Sarrou and his cohorts are arrested.
It turns out that Talbot knew that he wasn't Jean Pelletier because he knew that Michelle's locket photo was a fake. How? His hair was parted on the wrong side!
| | |
| --- | --- |
| "It was an evil plan!" | Michelle confesses. |
The filming of Crossroads began in mid-February 1942. The working title of the film was The Man Who Lost His Way, but already in March, the title was changed to 'Til You Return. In April, the title was again changed, this time to The Man From Martinique. In July the film was released as Crossroads.
The film was based on a French picture (1939) written by Hans Cafka. The Cafka story deals with the life of a shell-shocked war veteran. Producer Edward Knopf told the New York Times that the plot actually stems from the Milanese trial of 1925 in which an amnesia victim was sued for bigamy. Pre-war Paris has been kept as the locale of the story, but shell shock, which caused the leading character's loss of memory in the French picture, has been replaced by a train wreck, since it is deemed unwise to depict the casualties of war in wartime. (New York Times, April 12, 1942)
Crossroads earned $2,321,000, making a profit of $739,000.
"For the first time in a long time, William Powell has a straight dramatic role. He's a prominent member of France's Foreign Office, who is accused of having been a thief prior to a train accident in which he suffered injuries resulting in amnesia. He marries Hedy Lamarr, remembering nothing of his past. Powell is brought to trial for the crimes he allegedly committed but of which he remembers nothing. He is cleared by Basil Rathbone, who afterwards attempts to blackmail him. There is a surprise ending. Hedy Lamarr does a credible job, and looks very gorgeous." — Hollywood, August 1942, p. 70
| | |
| --- | --- |
| | |
"William Powell takes the part of a French diplomat, victim of amnesia as a result of a railroad accident. Three blackmailers, knowing of his affliction, try to extort large sums of money from him, and these scoundrels are bold enough to confront him in the French courts. The plot is elaborated in a rather novel way, brimful of suspense. William Powell and Basil Rathbone are exceptionally good in their parts, although the whole cast is well chosen, and the production is marked by clever dialogue and smooth direction." — Motion Picture Reviews, July and August 1942, p. 4
"Rathbone, who appeared to have put on some weight, was fine in another of his suave villain roles." — Michael Druxman, Basil Rathbone: His Life and His Films, p. 259
| | |
| --- | --- |
| "Meet me tonight and bring 1 million francs." | |
"Smooth, clever tale." — Leonard Maltin, film critic, www.tcm.com/tcmdb/title/990/Crossroads
"Crossroads is an overlooked but absorbing treatment of related issues, not always believable but directed and acted with unfailing panache." — David Sterritt, "Crossroads," Turner Classic Movies, http://www.tcm.com/tcmdb/title/990/Crossroads/articles.html

| | |
| --- | --- |
| "Have you got the money?" | |
"... in the shadows lurks the aquiline silhouette of mighty Rathbone, stalwart heavy of Victorian mellers. ... The script is maturely engaging and thought provoking without needing to rely on cheap thrills or sudsy sentiment." — Erich Kuersten, https://acidemic.blogspot.com/2015/02/william-powells-retrograde-psychedelic.html
"On the whole, the story is rather neat and of the type of melodrama there used to be a lot of in the days when people had to go to the movies for their excitement." David Lardner, The New Yorker, August 1, 1942, p. 41
| | |
| --- | --- |
| Sarrou stealing money from the safe | Sarrou is caught! |
In addition to being a beautiful actress, Hedy Lamarr was an inventor. She is in the National Inventors Hall of Fame, noted for having invented frequency-hopping spread spectrum, the tech used in wifi and Bluetooth. For more info, see http://www.women-inventors.com/Hedy-Lammar.asp
See Page Two for more screenshots from the film. See Page Three for pictures of posters, lobby cards and promo photos.
.
| | |
| --- | --- |
| Cast | |
| Basil Rathbone ... | Henri Sarrou |
| William Powell ... | David Talbot |
| Hedy Lamarr ... | Lucienne Talbot |
| Claire Trevor ... | Michelle Allaine |
| Felix Bressart ... | Dr. Andre Tessier |
| Margaret Wycherly ... | Mme. Pelletier |
| Reginald Owen ... | Concierge |
| Philip Merivale ... | Police Commissionaire |
| Sig Rumann ... | Dr. Alex Benoit |
| Vladimir Sokoloff ... | Le Duc |
| H.B. Warner ... | Prosecuting Attorney |
| Guy Bates Post ... | President of Court |
| Fritz Leiber ... | Deval |
| John Mylong ... | Baron de Lorraine |
| Frank Conroy ... | Defense Attorney |
| James Rennie ... | Martin |
| Bertram Marburgh ... | Landers |
| Harry Fleischmann ... | Asst. Defense Attorney |
| Louis Montez ... | Associate Judge |
| Octavio Giraud ... | Associate Judge |
| Enrique Acosta ... | Associate Judge |
| Adolph Favlauer ... | Associate Judge |
| Jean Del Val ... | Court Clerk |
| Paul Weigel ... | Old Man |
| Torben Meyer ... | Old Man |
| | |

| | |
| --- | --- |
| Credits | |
| Production Company ... | MGM |
| Producer ... | Edwin H. Knopf |
| Director ... | Jack Conway |
| Screenplay ... | Guy Trosper (based on a story by John Kafka and Howard Emmet Rogers) |
| Cinematographer ... | Joseph Ruttenberg |
| Film Editing ... | George Boemler |
| Music Composer ... | Bronislau Kaper |
| Set Decorator ... | Edwin B. Willis |
| Recording Director ... | Douglas Shearer |
| Art Director ... | Cedric Gibbons |
| Assoc. Art Director ... | John S. Detlie |
| Costumes ... | Robert Kalloch |
| Asst. Director ... | Al Shenberg |
| Orchestrator ... | Leonid Raab |
| Technical Advisor ... | Felix Bernstein |
| Makeup artist ... | Jack Dawn |
| | |
Images on this page and pages 2 and 3 are from the film Crossroads, copyright 1942.