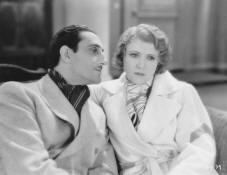 The Lady of Scandal was originally called The High Road, the same title as Frederick Lonsdale's play upon which the film is based. The change in title (announced in The Film Daily, April 24, 1930) is puzzling because there is no scandal involved on the part of Ruth Chatterton's character. When released in England, the film kept the original title The High Road.
Ruth Chatterton plays Elsie, the popular star of a musical comedy show in London. One of her admirers is Lord Teylesmore (Ralph Forbes) who falls head over heels in love with her. Every day for a year, he has asked her to marry him, and though she is fond of him, each time he proposes, Elsie turns him down. Hoping to force the issue, Lord Teylesmore, whose given name is John, places an ad in the newspaper announcing their engagement.
John's family is horrified to learn of his engagement to an entertainer. A diplomatic career of importance is intended for John, so an appropriate wife would be a woman from an aristocratic family. Apparently the stiff-lipped upper-class Brits viewed singing and dancing as "unlady-like" or even scandalous. Such a woman could not become Lady Teylesmore.
Hoping to stop this marriage, John's father, Lord Crayle, sends Elsie a letter, offering her five thousand pounds if she will break her engagement with John. Unfortunately for him, the attempt to buy her off only angers Elsie, and makes her determined to go through with the marriage. John's father proceeds to convene a family council to help him figure out how to deal with this family crisis. John's uncle and aunt, Lord and Lady Trench; his cousins, Alice and Ernest; Lady Minster, another aunt; and Sir Reginald Welby, also an uncle, all gather at the Crayle estate. Also present is John's favorite cousin Edward, the Duke of Warrington (Basil Rathbone).
Educational Screen published this review:
John's father invited Edward because, as head of the family, Edward should offer an opinion on John's engagement. But Edward is the one whose life is really scandalous. For some years, Edward had been devoted to a married woman, Lady Helen Hale—and he was, therefore, in the eyes of the family, a disgrace! At one time Lady Hale planned to divorce her husband, Lord Victor Hale, in order to marry Edward, but then Victor became an invalid, and she couldn't bring herself to leave him. As a result, she and Edward carried on an extramarital affair.
As the "black sheep" of the family, Edward had experienced the disdain of other members of his family. So he feels empathy toward Elsie, when his family complains about her.
| | |
| --- | --- |
| The family explains the situation to Edward. | Finding it amusing that the family objects to John marrying an actress, Edward asks, "Is she a good actress?" |
When John arrives, he has Elsie with him. After introductions, Elsie tells the family that if they can give her one good reason why she should not marry John, she'll give him up. She leaves the room to let the family discuss the matter in private. Edward accompanies her to the library, and endeavors to distract her. Elsie feels it was a mistake to come there, but when she starts to leave, Edward convinces her to stay.
Meanwhile, Elsie's father, Mr. Hilary, arrives at the house. To the surprise of John's family, Mr. Hilary pleads with Lord Crayle to stop this marriage. Elsie's a genius on the stage, says her father, so he doesn't want her to leave the stage for a man she doesn't love.
Edward proposes that Elsie put off marrying John for 6 months. He offers the family the idea of inviting Elsie for a trial visit in the household, convincing them that she will be bored to death and will change her mind about marrying John. They assume that she will become so bored with the family that she will change her mind about marrying John. Lord Crayle agrees to the plan; he suggests to Elsie that she announce her retirement from the stage and experience the sort of live she will have once she's married.
Harrison's Reports published the following review:
The plan to bore Elsie so that she would yearn to return to the stage backfires. Three weeks after she moved in, there is music in the house. She has endeared herself to Lord Crayle, whom she affectionately calls "Craylie." Edward comes over to the house at least three times a week to enjoy Elsie's company. Elsie enjoys his company, too. They are falling in love.
When Elsie learns that Edward is leaving for Paris in the morning, she contrives an excuse to speak with him in private. He blurts out that he loves her, and says he's going to Paris to see Lady Helen Hale and break off their relationship. He felt he needed to do it in person. And then he wants to marry Elsie. After talking of their love and making plans for the future, they hurry off to dress for dinner.
| | |
| --- | --- |
| John introduces Elsie to the family. | Elsie tries to leave the house. |
While the family is gathered and waiting for dinner, Ernest turns on the radio to hear the weather report. They hear the news that Lord Victor Hale has died suddenly. This means that his widow, Helen, is now free to marry Edward—just as he's about to break off their relationship! What does this mean for Edward and Elsie?
John comes to realize that Elsie loves Edward. Like a true gentleman, he doesn't confront her or accuse her of betrayal. He gives her a gracious way out of their betrothal by telling her that he accepted an appointment to India, and it wouldn't be fair to ask her to wait.
Elsie tells the butler to put through a long-distance call to Paris, to Lady Victor Hale.
Elsie convinces Edward that he must talk to Lady Hale on the phone and explain that he had met someone else. But Edward couldn't bring himself to tell Helen what had happened. Elsie is not surprised, and tells him it could never have worked between them. She and Edward could never have been happy as long as he still had feelings for Helen. Elsie decides to return to the stage, and she tells Edward to go to Helen.
The film ends with Elsie back on stage, singing the same song she was singing at the beginning of the film ("Say It with a Smile").
| | |
| --- | --- |
| Edward watches Elsie play tennis. "Good shot, Elsie!" | Edward playing tennis |
The Lady of Scandal was one of four films BR made for MGM in 1930, while he was under contract to MGM. (The four films are The Last of Mrs. Cheyney, The Bishop Murder Case, This Mad World, and The Lady of Scandal. After making these four films, MGM loaned Rathbone out to other studios.) Rathbone was earning a salary of $2500 per week while under contract. (source: "The Crowded Hour" by Samuel Richard Mook, Picture Play, June 1931, pp. 30-31)
Rathbone later complained to Sam Goldwyn about how he was treated while under contract. "After 'Cheney,'" wrote Rathbone, "I was typed & I was allowed to do nothing but 'teacup & white tie parts.'" (source: letter from Basil Rathbone to Sam Goldwyn, dated 2 December 1936) The Lady of Scandal certainly fits into that "teacup & white tie" category.
Review from New Movie magazine:
Reviews were generally positive, although a few were not so favorable. Exhibitors Herald-World (August 9, 1930) described The Lady of Scandal as a "slow draggy story lacking in interest and human appeal."
Mordaunt Hall of The New York Times reported:
"The talking pictorial version of Frederick Lonsdale's play," The High Road," which is now at the Capitol, is deserving of high praise, for it is not only acted by understanding players, who fill the various rôles most intelligently, but it is a film widely removed from the conventional screen offering. In it the producers have captured the moods and movement of the original work and they do not cater to popular fancy by giving the usual insipid, blissful closing scenes. . . . Basil Rathbone gives an expert performance as the Duke." (published June 14, 1930. Read the complete review here: http://www.nytimes.com/movie/review?res=9807E2D91338E03ABC4C52DFB066838B629EDE )
| | |
| --- | --- |
| Edward and Elsie find excuses to meet and confess they love each other. | "I want to put my arms around you and kiss you so much." |
The National Board of Review magazine gave this very nice review:
Ruth Chatterton got an honorable mention by Photoplay in its list of Best Individual Performances of 1930.
| | |
| --- | --- |
| Uncle Reggie suspects that Edward and Elsie have fallen in love. | The news on the radio announces that Lord Victor Hale died suddenly. |
Ralph Forbes, who played John, and Ruth Chatterton were husband and wife in real life.
Picture Play, gives us this review:
Motion Picture News (Sept. 6, 1930) reported on one theatre owner's clever stunt to promote The Lady of Scandal in El Paso, Texas. W.H. Hempill, manager of the Wigwam Theatre in El Paso, hired a girl and had her wear a "newspaper dress" — "a dress made out of newspapers with the scandal headlines showing up very prominently. The girl also carried a sign on her back giving title of picture, star, theatre and playdates. She paraded the crowded streets and shops on Saturday in advance of picture's opening. This caused so much comment that the newspaper came out with a story about the ballyhoo—giving picture, theatre and playdates. . . . plenty of interest was occasioned with word-of-mouth publicity spreading like wildfire. As a result of this, Hemphill was able to report that his business had jumped considerably."
The girl in a newspaper dress was a successful promotional stunt, but an odd one, because the film had nothing to do with newspaper stories or tabloid gossip.
| | |
| --- | --- |
| "There's no power on earth that can ever make me give you up." | "My dear, you had to! There was no other way!" |
The following review is from Variety:
To me, the film seems rather "hoity-toity." Also, there's way too much talking in this film, but hearing talking in films was still relatively "new" for filmgoers in 1930, so they probably enjoyed it.
Interestingly, a year before The Lady of Scandal was released, Rathbone told Exhibitors Herald-World that a successful motion picture must not be merely an adaptation of a stage play. "The motion picture screen, just because it has found voice, must not lose its flexibility," he said. "It is the action of the motion picture that counts and is responsible for its popularity. A talking picture, as I see it in the future, will not be an adaptation of a stage play. In all probability, stage plays, except for classics or notable old successes, will be entirely discarded as unsuited for the needs of the talking screen. The dialogue of the stage is very fine but that does not mean that it is well suited for pictures." (source: Exhibitors Herald-World, June 22, 1929, p. 110)
| | |
| --- | --- |
| "You and I would never have been able to kiss each other without her standing between us." | "I shall return to the theatre," declares Elsie. |
See Page Two for screenshots from the film. See Page Three for pictures of posters, lobby cards and promo photos.
.
| | |
| --- | --- |
| Cast | |
| Basil Rathbone ... | Edward |
| Ruth Chatterton ... | Elsie |
| Ralph Forbes... | John |
| Nance O'Neil ... | Lady Trench |
| Frederick Kerr ... | Lord Trench |
| Herbert Bunston ... | Lord Crayle |
| Cyril Chadwick ... | Sir Reginald |
| Effie Ellsler ... | Lady Minster |
| Robert Bolder ... | Hilary |
| Moon Carroll ... | Alice |
| MacKenzie Ward ... | Ernest |
| Edgar Norton ... | Morton |
| | |

| | |
| --- | --- |
| Credits | |
| Production Company ... | MGM |
| Director ... | Sidney Franklin |
| Writer ... | Frederick Lonsdale (author of "The High Road") |
| Scenario ... | Hans Kraly |
| Cinematographers ... | Oliver T. Marsh, Arthur Miller |
| Film Editing ... | Margaret Booth |
| Art Director ... | Cedric Gibbons |
| Recording Director ... | Douglas Shearer |
| Sound Recording Engineer ... | Charles E. Wallace |
| Costumes ... | Adrian (gowns) |
| Dialogue Adaptation ... | Claudine West, Edwin Justus Mayer |
| Choreographer ... | Sammy Lee |
| | |
.