A Kiss of Importance
A comedy adapted by Arthur Hornblow, Jr., from a French play by André Picard and H.M. Harwood. Opened at the Fulton Theatre, New York City, December 1, 1930, and lasted 24 performances. Produced by Arch Selwyn in association with Erlanger Productions, Inc. Staged and directed by Lionel Atwill.
Cast of characters
Fred
Johnnie Brewer
Arthur Dupin
Ivan Simpson
Mlle. Thomas
Alice Burrage
Comte de Cerisay
Frank Henderson
Christian Saint Obin
Basil Rathbone
Gilbert Laurent Courcel
Montagu Love
Isabelle de Corquefon
Ann Andrews
Octave de Corquefon
Frederick Kerr
Albertine
Marjorie Hollis
Gardener
George Wright, Sr.
Production Crew
General Manager
Boris Kaplan
Press Representative
Ben F. Holzman
Company Manager
Bryce Kennedy
Stage Manager
Arthur J. Wood
Settings
Henry Dreyfuss
Interior decorations
Chamberlin Dodds
Costumes
Amar Kiam, Inc.
Shoes
French Bootery, Inc.
.
Act I — Dupin's Office on the Avenue Kleber, Paris. Late Spring.

Act II — Salon of de Corquefon's Château in the country. One month later.

Act III — Salon of de Corquefon's Château in the country. Two hours later.


the playbill
Plot Summary
"Gilbert Courcel loves the wife of his political opponent, the aging Octave de Corquefon. Isabelle, bored with her home life, agrees to marry Gilbert if a divorce can be arranged. Christian Saint Obin, young and handsome, agrees to serve them as a professional co-respondent, visit the de Corquefon estate, make love to Isabelle, be caught by Octave and thus furnish evidence for the divorce. Christian complicates maters somewhat by taking his time, after he arrives at the estate. Forced finally into action by the impatient lovers he does so good a job of love making that Isabelle changes her mind about the divorce. She had rather cling to Octave if she can also live near Christian."
[from The Best Plays of 1930-31, ed. by Burns Mantle (Dodd, Mead and Co., 1931), page 463.]
| | |
| --- | --- |
| Basil Rathbone and Ann Andrews | Basil Rathbone and Ann Andrews |
On August 19, 1930, Archie Selwyn announced that he had engaged Basil Rathbone for the lead in A Paris Divorce, a play adapted from the French play Monsieur de Saint-Obin by André Picard and Harold Marsh Harwood. Monsieur de Saint-Obin had enjoyed a two-year run in Paris beginning in 1926. Selwyn hoped for similar success in the U.S.A.
Rathbone had two films to complete in Hollywood before he could head east to Broadway: A Lady Surrenders and Sin Takes a Holiday. Rehearsals were to start on October 19.
Selwyn was negotiating with Gloria Swanson to be the female lead in the play. Gloria Swanson may have gotten a better offer. In early September, Ann Andrews was announced as the female lead.
| | |
| --- | --- |
| Basil Rathbone, promo photo | Basil Rathbone, promo photo |
Arthur Hornblow, Jr., had adapted Monsieur de Saint-Obin back in 1926, the same year the French farce debuted in Paris. In October of 1930, Hornblow was busy in Hollywood, so Arch Selwyn looked to Arthur Richman to fix up and direct the play, which Hornblow called To Please a Lady. Selwyn planned to call it A Paris Divorce, but then considered the alternate title A Kiss Is Important, and finally settled on A Kiss of Importance.
The play had a pre-Broadway tryout in Wilmington, Delaware the week beginning November 14, 1930, and Washington DC the week beginning November 24. Variety published a favorable review of the Wilmington production: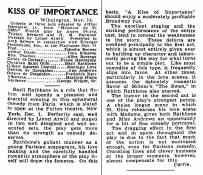 Basil Rathbone in a role that fits him well spends a pleasant and graceful evening in this ephemeral comedy from Paris which is slated to open at the Fulton Theatre, New York, Dec. 1. Perfectly cast, well directed by Lionel Atwill and staged in two well designed and well executed sets, the play gets more than its strength as comedy deserves.
Rathbone's gallant manner as a young Parisian scapegrace, his love making and the carefully handled romantic atmosphere of the play itself will draw the femmes. On this basis, "A Kiss of Importance" should enjoy a moderately profitable Broadway run.
The excellent staging and the striking performance of the entire cast, then to conceal the weaknesses in the story. These defects are confined principally to the first act, which is almost entirely given over to building up character and laboriously paving the way for what turns out to be a simple plot. Like most comedies of this type, it frequently slips into farce. At other times, particularly in the love scenes, it assumes the delicately romantic flavor of Molnar's "The Swan," in which Rathbone also starred.
The humor in the second act is one of the play's strongest points. A chaise longue scene in which St. Obin rehearses his love scene with Madame, gives both Rathbone and Miss Andrews an opportunity for a bit of fine comedy portrayal.
The dragging effect in the first act and in spots throughout the play is due to the fact that much of the action is not motivated enough, even for Parisian comedy. Crackling lines and clever business at the proper moments, however, almost compensate for this.
Curtin.
—Variety, November 19, 1930
A Kiss of Importance opened on Broadway December 1. The following day the New York critics had few good things to say about the play.
In a letter to a fan Basil Rathbone wrote that it was a joy to be back in the theatre. He felt the play was light, amusing, and good entertainment. He expressed dismay that the critics were so harsh. It was his impression that the audiences enjoyed the play.
| | |
| --- | --- |
| Basil Rathbone, promo photo | Basil Rathbone, promo photo |
In spite of the brutal reviews, the first week of the play's run on Broadway was fairly good, earning more than $13,000. The second week earned $10,000 (Variety, Dec. 17, 1930). Business dropped sharply the third week, and after the players declined to take a salary cut, the decision was made to close the play on December 24 (Variety, Dec. 24).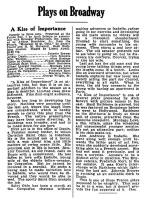 "A Kiss of Importance" is an attractive title, but that it is an important addition to the season as a play is doubtful. Limited class draw indicated. Fine first-night audience, however.

Much too long in developing the story. Nothing very amusing until the last act, where the laugh lines are concentrated, which is hardly enough to carry this play from the French. The native presentation may have been more diverting. It doubtless was broader, and had to be toned down for use here.

First act is in the office of Dupin, a Parisian money lender, to whom Christian Saint Obin is indebted. He is the second son of a baron, with a way about him and little matter of owing mean little. His principal aim in life is horses. Senator Courcel, an old friend, calls on Dupin with a commission. He has fallen in love with Isabelle, young wife of the elderly fellow-senator, De Corquefon. But he cannot be involved in a scandal. He seeks a young man to make imitation love to Isabelle, who would then be divorced and they would be able to wed. The sporty Saint Obin accepts the job.

Saint Obin has been a month at the Corquefon chateau without making advances to Isabelle, rather going in for exercise and developing an old mare whom he thinks will be a champion steeplechaser. Prodded to start something, the young wife succumbs to his caresses. Then starts a real love affair. the old senator pretends not to see what is going on, but he discovers his confrere, Courcel, trying to kiss his wife.

Last act has the old man and the young lover talking things over, and the laughs come in a bunch. Looks like an awkward situation, but when Isabelle explains her new lover was merely acting the part for Courcel, everything is all right. What is more, the old boy consents to the young wife having an apartment in Paris.

"A Kiss of Importance" is one of several plays presented by Arch Selwyn with picture names in the cast. Basil Rathbone is starred, but he was featured on Broadway before he went to Hollywood. Rathbone as the dilettante is lively at times and, of course, attractive from the feminine viewpoint. Montagu Love, a film villain, plays the scheming and unsuccessful younger senator. It's not an attractive part; neither is his chin make-up.

Ann Andrews is Isabelle. She went along well enough until towards the latter part of act two, when she suddenly developed something akin to a French accent. She had not used it previously, and it was a surprise. Appears to be a distinct error in direction. The English veteran, Frederick Kerr, is the old senator. It was Kerr's interchange with Rathbone which lightened the last act. Johnnie Brewer is amusing as an excitable clerk to Dupin.

This is one of those French plays supposed to be naughty. that may be so in a way, but it doesn't provide the fun expected of it.

—Variety, December 3, 1930
Lionel Atwill staged and directed A Kiss of Importance. Prior to becoming a popular Hollywood villain, Atwill had a career on Broadway producing, directing and performing. He later acted in several films along with Basil Rathbone including Captain Blood (1935), Son of Frankenstein (1939), and The Sun Never Sets (1939). He played Dr. Mortimer in The Hound of the Baskervilles (1939), and Professor Moriarty in Sherlock Holmes and the Secret Weapon (1942).
| | |
| --- | --- |
| Atwill in 1934 | Atwill in Son of Frankenstein (1939) |
.Robert Benchley wrote the following review of A Kiss of Importance in The New Yorker:
Early Christmas Flopping
Mr. Lionel Atwill, in directing "A Kiss of Importance," [seems to have] imparted to Basil Rathbone the invaluable manner of talking as if her were just finishing the last few nubbins of a mouthful of almonds. Of course, during the second act of "A Kiss of Importance," Mr Rathbone is called upon really to eat a piece of candy which might very well have had a nut concealed in it, but no one nut could last as long as the one Mr. Rathbone seems to be having trouble with, and, as this has long been a trait of Mr. Atwill's, especially while playing comedy scenes, the only conclusion is that it is his own delicate contribution to Mr. Rathbone's technique. ...
Aside from his work on the last vestiges of the almond, Mr. Rathbone bounds and shadow-boxes a great deal more than is his wont, and even so excellent an actress as Miss Ann Andrews surprises her admirers by talking, obviously for comedy purposes alone, a strange mixture of dialects, reminiscent now of Irene Bordoni, now of Fannie Brice. The base of the impersonation is French (quite unnecessarily, as everyone else in the play is supposed to be French as well) but every once in a while the hand is clapped to the side of the head and a very distinct Jewish "Oi!" is uttered, serving only to confuse those in the audience who still care about following the action. ... "A Kiss of Importance" is just another French thing about cuckoldry, which gives none of those concerned much of a chance to do anything but act as badly as they can.
—The New Yorker, December 13, 1930
Basil knew his co-stars from previous acting engagements. He had appeared with Ann Andrews on Broadway in The Captive (1926). He had acted with Frederick Kerr on stage in The Czarina way back in 1922, and more recently in the film The Lady of Scandal (1930).
| | |
| --- | --- |
| Basil Rathbone and Ann Andrews in a scene from The Captive | Frederick Kerr |
Rathbone had appeared with Montagu Love in the 1930 film A Notorious Affair. He would go on to share screen time with Montagu Love in several films: Tovarich (1937), The Adventures of Robin Hood (1938), If I Were King (1938), The Mark of Zorro (1940), and Sherlock Holmes and the Voice of Terror (1942).
Ivan Simpson and Basil Rathbone appeared together in Julius Caesar at the New Amsterdam Theatre in 1927. He would later appear with Rathbone in Captain Blood (1935), David Copperfield (1935), The Adventures of Robin Hood (1938), Tower of London (1939), The Sun Never Sets (1939), The Adventures of Sherlock Holmes (1939), and Above Suspicion (1943).
| | |
| --- | --- |
| Montagu Love | Ivan Simpson |
The New York Times described the play as "overblown and generally tiresome." Basil Rathbone "jumps about the stage in a determined effort to be a dashing, devil-may-care fellow, luckier in love than in betting on the horses, a handsome worldling before whom, unless all his plans go awry, the afternoon audiences of matrons from uptown and flappers from Brooklyn must surely capitulate. ... Mr. Rathbone, fortunately, is a suave and knowing actor, and his performance, while suffering from overeagerness, could be worse."
Praising the final scene between Frederick Kerr and Basil Rathbone, the writer declared, "the play for a few moments flickered fitfully into life just as the ultimate curtain was about to finish it off." —The New York Times, December 2, 1930
Benjamin De Casseres was one reviewer didn't agree with those New York critics. It's odd, though, that Screenland magazine printed his review in its March 1931 issue, long after the play had closed.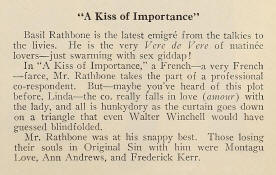 A Kiss of Importance
Basil Rathbone is the latest emigré from the talkies to the livies. He is the very Vere de Vere of matinee lovers—just swarming with sex giddap!
In "A Kiss of Importance," a French—a very French—farce, Mr. Rathbone takes the part of a professional co-respondent. But—maybe you've heard of this plot before, Linda—the co. really falls in love (amour) with the lady, and all is hunkydory as the curtain goes down on a triangle that even Walter Winchell would have guessed blindfolded.
Mr. Rathbone was at his snappy best. Those losing their souls in Original Sin with him were Montagu Love, Ann Andrews, and Frederick Kerr.
—Screenland, March 1931
.

Archie Selwyn (producer) and his wife

Fulton Theatre in 1952
210 West 46th Street
.