Page Two
Leisy Beer

In 1963 the Leisy Brewing Company of Cleveland sponsored the Leisy Premiere Theatre, to celebrate the 90th anniversary of the founding of the company (1873). The Leisy Premiere Theatre, hosted by Basil Rathbone, presented a full-length feature film on television. While not exactly a commercial, the hosting job suggested that Rathbone enjoyed the product--Leisy Light Beer.
---
Beech-Nut Coffee

In this ad from 1940, Basil complains about the coffee that his wife Ouida made, "But, my dear, you can't expect a man to drink this!" And Ouida replies, "Do you suppose, Basil, there's any coffee you would drink?"

The ad states that Mrs Rathbone ought to serve Beech-nut coffee. The excellent characteristics of the coffee are then listed. The blurb in the lower corner of the photo reads, "See Basil Rathbone in the new 20th Century Fox picture "The Mark of Zorro" coming to your local theater soon.
---
4-Way Cold Tablets

Click the sound button (to the left) to hear what Basil has to say about 4-Way Cold Tablets. This ad aired on episode 293 ("The Queue") of the radio show Gunsmoke on November 17, 1957.
---
Renuzit Spot Remover

"I keep odorless Renuzit Spot Remover in my dressing room. It quickly removes stubborn spots and stains--and that new felt applicator is 'priceless'."
Basil Rathbone, star of stage, screen and television
---
Dunbar Furniture

Although it doesn't even mention Basil Rathbone's name, this ad from 1962 shows Basil relaxing on a Dunbar sofa. Nearby, photos of Basil are displayed on a Dunbar coffee table.
---
| | |
| --- | --- |
| This hilarious television commercial for Prudential Insurance is two minutes long--unusually long compared to most television commercials. It appears to have been made in the late 1950s or early 1960s. | |
---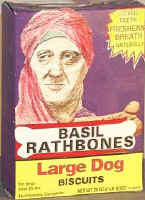 Basil Rathbones???
Here is a completely frivolous product, which Basil Rathbone had nothing to do with. The folks at Mystery Science Theatre 3000 put his image on a box of dog biscuits to use as a joke prop during the episode which featured "The Magic Sword." The "commercial" went like this:
"You know, you get out of your dog what you put into it. And I only put in the best: Basil Rathbones. . . . We all need affection, occasional grooming and lots of snacks. Dogs just go nuts for the taste of Basil Rathbones. One Rathbone a day will clean Doggie's teeth and freshen doggie's breath. . . . Hey, these are too good to be good for you.
Basil Rathbones! And Pesto-flavored Basil Rathbones for the pretentious dog."
---
| | |
| --- | --- |
| Fagel's Frozen Watermelon is a fictitious product, and Rathbone did a fake ad for it on the Fred Allen radio show in April 1948. Enjoy listening to Basil sing the Fagel's Frozen Watermelon jingle! (Click the sound button to the right.) | Fagel's Frozen Watermelon jingle |
---
---
Rathbone appeared in other commercials and print ads that have been lost. While the actual ads no longer exist, I have some information about the following:

Baird Sorbitol
Getz Exterminators
1949 Ford Automobile
Daoust ice skates
Hafner Coffee Company
Red Cross
Fuller Fabrics
---
Baird Sorbitol

In June of 1966 Baird Chemicals Industries Inc. contracted with Rathbone to be photographed in his Sherlock Holmes costume, standing with a drum of sorbitol, similar to the drum pictured here. Rathbone agreed to the following endorsement: "Baird Sorbitol is superb. Their service is unsurpassed. It has to be, poor chaps. They are the only ones who don't hoard Sorbitol for themselves. Very ungreedy fellows."

Rathbone was paid $1000 for appearing in this ad. The sorbitol ad ran in trade magazines for companies that use sorbitol sweetener in their products. Companies that make chewing gum, for example, use sorbitol to sweeten the gum.
---
Getz Gets Them!

Basil Rathbone was not only Sherlock Holmes, he was also Inspector Getz, a very Sherlockian figure in an ad campaign for the Getz Pest Control Co.

In December 1963 Rathbone signed a contract agreeing to appear in a series of six 10-second television spots and six 20-second radio spots, scheduled to air during 1964. Rathbone was paid $2500 for appearing as Inspector Getz in these ads.


A vintage Getz ad published between 1870 and 1890
---

An ad for the 1949 Ford
1949 Ford Ad

Basil Rathbone appeared in an ad for Ford in 1949, but it is unknown whether the ad was for print, television or radio. The information that Rathbone did advertisements for the 1949 models comes from Douglas Brinkley's book Wheels for the World: Henry Ford, His Company, and a Century of Progress (Viking, 2003). "Eager to make the '49 Ford attractive to the young-at-heart, the company made a series of convertibles and employed Basil Rathbone, known for his Sherlock Holmes movies, to promote the vehicles." (page 538)
---
Daoust Ice Skates

Bob McLennan from Ontario, Canada, remembers seeing Basil Rathbone in Sherlock Holmes character and costume appearing a Canadian television commercial for Daoust ice skates. He writes:

"I was about 10 years old when it aired and it is very vague in my mind. But I remember the closing seconds, during which he says, while peering through a magnifying glass as though examining an object on a table, 'Hmmmm. Daoust!' The name being French, of course, is pronounced Dow-oo, and as I recall, he stretched the second syllable a bit so the 'oo' resembles a remark one might say when making an intriguing discovery."

Bob added that the commercial was in black and white, and aired on the CBC. It probably dated from the early 1960s.


Daoust skates
---
Hafner Coffee Company

The Hafner Coffee Company conducted a 13-week campaign to introduce a new brand of coffee called "Fine Cup." The campaign began with what they called the "Teaser" phase. "Figuring identification in a hurry could be accomplished via a star, they signed Basil Rathbone to do the radio and tv spots (also to appear in print and outdoor)." From January 12-20, 1959, 10-second Rathbone spots on tv and radio featured the line, "Nothing could be finer."

Source: Sponsor magazine, 14 February and 14 March 1959
---
Red Cross

To celebrate the 100th worldwide anniversary of the Red Cross in 1963, a nine-minute television feature was made, and many celebrities did television and radio appeals. Basil Rathbone did a recorded radio spot in support of the Red Cross.

Source: Sponsor magazine, 26 August 1963


Red Cross armband
---
Fuller Fabrics

The March 18, 1959, issue of Variety carried a blurb about Fuller Fabrics using Basil Rathbone in its ads. The exact wording is: Fuller Fabrics using a celebrated "model" for its ads, Basil Rathbone, as the chauffeur.

Unfortunately, no details are given. Why was Basil a chauffeur? Did Fuller Fabrics make fabric used in car upholstery? Or perhaps the company made fabric used in uniforms? Until one of these lost ads turns up, it will remain a mystery!

A curious bit of trivia is that Fuller Fabrics (one of the trade names of J.P. Stevens & Co.) was a client of Hockaday Associates, a New York ad agency where Rathbone's daughter Cynthia worked in the 1960s. (source: "Margaret Hockaday Is Dead at Age 85," New York Times, December 22, 1992)

---
| | |
| --- | --- |
| The following are ads that feature Ouida Rathbone or Basil's dog | |
---
Ouida Rathbone was well-known as a first-rate hostess. This ad is for Nobility Plate flatware, fine enough to be used by high society.

"Just one year of her vibrant, versatile life would crown many a woman's lifetime! She takes an active part in her small daughter's education . . . does the decor of her famous husband's plays . . . has two plays of her own ready for production. Each of this cosmopolitan family's homes--London, Paris, Rome and New York--witness Mrs. Rathbone's verve for the individual. Around her brilliant table society and the arts meet in good conversation. Harmonizing with the exquisite appointment of her table is the family service of Nobility Plate--Designed for America's Finest Tables."
---
| | |
| --- | --- |
| This 1939 ad for the Wines of California features Basil Rathbone's wife Ouida (seated at head of table) commenting on serving wine to her guests. The Rathbones entertained often while they lived in California. Also pictured in the ad are composer Alex Steinert and stage actress Heather Thatcher. | |
---
| | |
| --- | --- |
| | This Colman's Mustard ad featuring Ouida Rathbone is also from the same era as the above wine ad. It reads: A tip from Mrs. Basil Rathbone, Famous Hollywood Hostess: "We cook with Colman's at our house -- It gives the extra flavor we all like!" |
---
| | |
| --- | --- |
| Even Rathbone's dog Moritza got into advertising! This is an ad for Calvert Reserve (blended whiskey). The photo caption reads "Moritza, Black Belgian Shepherd, shown in the New York city house of her famous owner, star of stage and screen, Basil Rathbone." Below the caption, the ad reads: "Another Basil Rathbone hit . . . he's switched to Calvert!" | |
---
If you have or find any ads featuring Basil Rathbone, which I don't have listed here, please send me a scan and whatever information you have about the ad. If you don't have a scanner, please e-mail me, and we'll work out something!