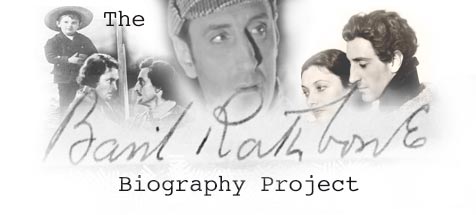 The Basil Rathbone Biography Project
What is the Biography Project?

The Biography Project is an ongoing compilation of material and information related to Basil Rathbone for the use of a biographer. The Project is spearheaded by a committee of three dedicated Rathbone fans.

Why are you doing this?
A biography needs to be written, and there are bits and pieces of information (both published and unpublished) all over the place that need to be organized. A biographer will naturally read In and Out of Character by Basil Rathbone, and Michael Druxman's book Basil Rathbone: His Life and His Films. But think of all the actors with whom Basil worked. If each of them has written an autobiography which includes a brief mention of Basil, that's a lot of research that the biographer must do. We want to make that job a little easier.
How can I help?
Send us information or copies of material that you have.
What kind of material are you looking for?
Anything and everything that is Rathbone-related:

Information. A fan wrote on The Baz (A Basil Rathbone blog): "An essential read for anyone interested in Rathbone's war record would be the book Bravest of Hearts: The Biography of a Battalion, which is all about the Liverpool Scottish during the Great War. I gather he gets quite a bit of coverage. Unfortunately, the book is out of print and hard to find." This is an example of information that will go in the database. The Future Biographer will need to track down a copy of the book, but at least he or she has been alerted to this source of information.

Memories. We encourage those of you who knew Basil to write down your memories and send them to us. We don't know when a biography will be written. If it's fifty years from now, it will probably be too late to interview you. But an archive of unpublished memoirs will be a gold mine for the Future Biographer.

Letters. Personal letters from Rathbone can be very revealing about his personality. Letters from other people who write something about Rathbone may also be helpful. Send us a scan of your letter. You keep the original; we are interested in the content of the letter.

How is this different from the requests on other pages on this site to send stuff to "Gisbourne"?
The difference is privacy. On other pages, where I ask for letters or photos or stories, I'm asking for something that I can publish on this website. You may have something personal that you don't want published on this website. Send it to the Biography Project with your stipulation ("Do not publish during my lifetime," for example). Even if you want your story or letter to never, ever be published, the information itself can help the Future Biographer form a complete picture of who Basil Rathbone was.
What happens to the stuff I send you?
Material that is received for the Biography Project is not published unless you give your consent. It goes into a database to be held for a Future Biographer.
Thanks for your help!
The Basil Rathbone Biography Project Committee: Marcia Jessen, Neve Rendell, and Anna Pindurka
Current Holdings in the Basil Rathbone Biography Project Database
Magazine articles:

The American (September, 1945), "Art Lover"
The Big Reel (August 1988), "Basil Rathbone
Broadway and Hollywood Movies (March 1931), "A Diamond Not in the Rough"
Castle of Frankenstein #12 (1968), "A Farewell to Basil Rathbone"
Castle of Frankenstein #13 (Spring 1969) has Rathbone's last interview, entitled "Basil Rathbone: His Last Bow"
Chiller Theatre #15 (2001), "The Basil Rathbone Story"
Etude (March 1951), "How Do You Look to Your Audience?"
Family Circle (February 1, 1935), "Fancy Dress"
Famous Monsters of Filmland #58 (October, 1969), "Smile If You Call Him Monster"
Film Fan Monthly #75 (September, 1967), "Basil Rathbone 1892-1967"
Film Pictorial (June 5, 1937), "Basil Rathbone--Hero or Villain?"
Film Weekly (July 23, 1938), "W.H. Mooring reports the Problem of Rathbone and the Handlebars"
Flashback Magazine (June, 1972), an interview with Rathbone
For Monsters Only (June, 1972), "Demon of Distinction"
Hollywood Magazine (August, 1935) "Parade of Shadows."
Hollywood (May 1936), "Juliets I Have Known"
Hollywood Magazine (November, 1936), "He Was My Friend," written by Rathbone about his favorite dog Moritz
The Homemaker (September, 1945), "A Woman's Voice" by Basil Rathbone
Horrorfan #3 (Fall, 1989), an article on the career of Basil Rathbone
Liberty (September 14, 1940) "Hollywood Hostess--Mrs. Basil Rathbone."
Motion Picture Classic (August 1929), "An Amiable Icicle"
Motion Picture (August 1935), "It's Cheers for Basil Rathbone Now"
Motion Picture (March 1938), "That Nasty Man"
Motion Picture (May 1939), "The Man Who Won't Be Typed"
Movie Mirror (January 1938), "Six Months to Love"
Movie Mirror (August 1940), "Knight with Fanfare"
Movies (July 1940) "A Weekend with the Rathbones"
Nostalgia Digest (April-May 1995), "My Favorite Villain"
Nostalgia Digest (Fall 2012), "Elementary, my dear Basil"

Photoplay (August, 1936) "What Women Don't Know About Themselves" by Basil Rathbone

Photoplay (September, 1936) "High Tea for Two or Twenty with Basil and Ouida Rathbone."

Photoplay (August 1938), "Love Life of a Villain"
Photoplay (July 1939), "The Rathbones Are Entertaining"
Photoplay (March 1942), "How to be a Social Success," by Ouida Rathbone
Picturegoer (December 12, 1942), "Rathbone Deserves a Break"
Picture Play (September, 1937), "Gentleman Firebrand"
Picture Play (February 1938), "First Host of Hollywood"
Popular Photography (March 1940), "Basil Rathbone: Star Behind the Camera"
Radio and Television Mirror (April 1940), "Marriage Brought Him Everything"
Scarlet Street #13 (Winter, 1994), article on Rathbone as Sherlock Holmes
Scarlet Street #30 (1998), Part One of an article called "Our Man on Baker Street: Basil Rathbone Rediscovered"
Scarlet Street #31 (1998), Part Two of the "Our Man on Baker Street" article
Scary Monsters Magazine #46 (April 2003), "The Distinguished Demon"
Screen Album Vol. 1, #1 (March 1931) brief biography with photo of Rathbone
Screen Book (December 1936) "He's not a Villain at Home!"
Screen Book (May 1938), "Peer of the Costume Drama"
Screen Stars (1945), "Movie Marriages Can Work Out if ..."
Screenland (November 1929), "Don Juan from Broadway"
Screenland (November 1953), "Are Movie Stars Dopes?"
Silver Screen (July 1936) "He Resents Being Typed: Can Basil Rathbone Escape Playing Villains?"
Silver Screen (August 1938), "Hiss-s-s-s"
Silver Screen (January 1946) "The Strange Case of Basil Rathbone"
Time magazine (February 26, 1940) "Folies Bergere" (an article about Ouida's parties)
True Story (July 1940) "Why I am a Happy Man" by Basil Rathbone
The Woods Runner (May 1979), article on Basil Rathbone

Extracts from Books:

Auction Madness, by Charles Hamilton.
Cads and Cavaliers, by Tony Thomas (A.S. Barnes, 1973)
Counterpoint, by Roy Newquist (Rand McNally, 1964)
Horror Film Stars, by Michael R. Pitts. (McFarland & Company, 1981)
Old Familiar Faces, by Robert A. Juran (Movie Memories Publishing, 1995)

Miscellaneous Letters from Basil Rathbone

Archives: