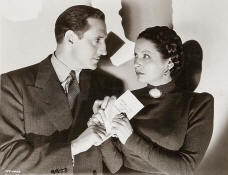 The 1941 film The Black Cat should not be confused with the 1934 film with the same title, also produced by Universal. They are two very different stories. The opening credits say that the 1941 film is "Suggested by the story by Edgar Allan Poe." But don't expect to see the Poe tale; there's just one scene at the end of the film that appears to have been "suggested" by the Poe story called "The Black Cat."
As wealthy, elderly Henrietta Winslow's health is failing, her relatives and heirs gather at her spooky mansion, thinking that she is about to die. Eager to get his share of her fortune, Henrietta's son-in-law Monty (Basil Rathbone) arranges for a realtor (Broderick Crawford) to line up a buyer for the house. Smith, the aforementioned realtor, shows up at the house with his air-head colleague Mr. Penny (Hugh Herbert) to appraise the furniture. But Monty has jumped the gun. Not only is Henrietta still living, but the doctor says she is doing better!
| | |
| --- | --- |
| "How is she, Doctor?" | Henrietta says, "I know you are disappointed." |
Henrietta has a houseful of cats—dozens of them—but not a single one is black because Henrietta is superstitious. She believes that a black cat portends death. Nevertheless, there is a mysterious black cat wandering about. Henrietta even has a crematory for the cats who have died, and she keeps their ashes in urns. Smith observes, "Everything around here is for the cats. That's why the place is going to the dogs."
Henrietta also has a creepy housekeeper (played by Gale Sondergaard) and a gardener (played by Bela Lugosi). Henrietta reads her will aloud, telling each heir what he or she will inherit, but she fails to tell them that the will also stipulates that no one will inherit anything as long as Abigail Doone (the housekeeper) and all the cats live. Abigail is to stay in the house and take care of the cats.
Not surprisingly, Henrietta is murdered, and everyone in the house is a suspect. The mysterious black cat appears now and again to foreshadow another death.
Abigail tells the family about the conditions of the will, and now her life is in danger. She orders everyone to leave the house, but they are trapped by a storm.
Monty is not the loving husband that he appears to be. He is carrying on an affair with Henrietta's granddaughter Margaret (Claire Dodd). His stepson Richard (Alan Ladd) catches him with Margaret, and warns him to break off the relationship, or "I'll tell the coroner that you said we'd all be better off if grandmother were dead." It is also revealed that Monty is in debt.
| | |
| --- | --- |
| Smith gives Henrietta an offer on the house. | Monty learns about the condition in the will. |
When an attempt is made on Abigail's life, Smith is convinced that the house must have secret passageways for the murderer to have been able to move about undetected. A second attempt to kill Abigail succeeds, and she is found hanged in her room. A short time later, Myrna (Henrietta's niece and Monty's wife) is attacked in a similar manner, but saved in the nick of time. Myrna claims that Eduardo (Lugosi) attacked her, but he denies it. Eventually, the real killer is revealed, and one of the other characters is saved just in time from being burned alive in the crematory.
Newspaper critics said:
"Dishes up a mixture of goose-fleshy ingredients ... Pacefully directed ... Sufficently spooky." —Thirer, N.Y. Post
"More slow than sinister, it has all the ingredients of conventional horror melodrama ... Generally fails to chill." —A.W., N.Y. Times
"Somehow we couldn't get scared ... We will think of the laughs we got ... rather than anything else." —Dana, N.Y. Herald Tribune
"Confused ... Cast much too good for such inferior highjinks." —Boehnel, N.Y. World-Telegram
Universal had had a big hit with the 1934 version of The Black Cat, a horror film that also had little in common with the Edgar Allan Poe story. The 1941 film was intended to be a blend of spooky thriller and comedy. Hugh Herbert and Broderick Crawford provided the comedy. Some may find Herbert hilarious; I personally found him annoying. It's a decent mystery, and would have been a better film without the silly antics.

Rathbone with Claire Dodd
"We're taking an awful chance being seen out here."

Rathbone with Alan Ladd
"Are you trying to break Myrna's heart?"
Rathbone had previously worked with Bela Lugosi in Son of Frankenstein (1939). Bela played Ygor. Gale Sondergaard and Rathbone would later work together in The Spider Woman (1944). Rathbone and Gladys Cooper (Myrna) had worked together in the play Diplomacy way back in 1920 at His Majesty's Theatre in London, and then again in the play The Astonished Heart in Hollywood in 1940. Rathbone had also worked with Cecilia Loftus prior to this film; they acted together in the Broadway play The Devil Passes in 1932.
The Black Cat was made very quickly. Production began on February 17 and ended March 10, 1941. The film was released in theaters May 2, 1941. Rathbone received top billing because of his star power.
| | |
| --- | --- |
| Rathbone and Gladys Cooper | "Goodnight, darling." |
Alan Ladd had a small part in The Black Cat and was billed eleventh. He was relatively unknown at the time. In 1942 he had his breakout role in The Gun for Hire. As a result of Ladd's popularity following This Gun for Hire, when The Black Cat was re-released in theaters in 1948, Ladd received second billing on the new posters.
The fact that Basil Rathbone didn't mention The Black Cat in his autobiography suggests that he didn't have a high opinion of the film. Gale Sondergaard said, "I hated doing the thing. It was beneath me."1

"Elaine has disappeared!"

Monty: "Ashes! This proves it was Abigail."
Smith: "He thinks he's Sherlock Holmes."
The authors of Universal Horrors wrote, "The Black Cat is mainly notable for squandering a fine cast and the considerable skills of a top technical crew on bottom drawer material." They did praise the photography and the sets for the film, however.2
"A synthetic chiller ... a reasonably satisfactory climax ... enlivened by occasional comedy" —The New York Daily News, April 26, 1941
"A tale more slow than sinister, it has all the ingredients of conventional horror melodrama. ... the horror generally fails to chill. ... Basil Rathbone, Gale Sondergaard and Bela Lugosi are properly menacing." —The New York Times, April 26, 1941
| | |
| --- | --- |
| Alan Ladd, Rathbone, and Broderick Crawford | Myrna: "The money I get from Henrietta's estate will take care of all your business worries." |
Trivia:
The opening of the film uses the same music as Tower of London (1939).
This was the last film made by Cecilia Loftus. She died in 1943.
At the end of the film the title character is shown with a litter of kittens. Awww.
Watch the trailer:
See Page Two for screenshots from the film. See Page Three for pictures of posters, lobby cards and promo photos.
.
| | |
| --- | --- |
| Cast | |
| Basil Rathbone ... | Montague Hartley |
| Hugh Herbert ... | Mr. Penny |
| Broderick Crawford ... | Hubert Gilmore Smith |
| Bela Lugosi ... | Eduardo |
| Gladys Cooper ... | Myrna Hartley |
| Gale Sondergaard ... | Abigail Doone |
| Anne Gwynne ... | Elaine Winslow |
| Cecilia Loftus ... | Henrietta Winslow |
| Claire Dodd ... | Margaret Gordon |
| John Eldredge ... | Stanley Bordon |
| Alan Ladd ... | Richard Hartley |
| Erville Alderson ... | Dr. Williams |
| Harry C. Bradley ... | Coroner |
| Jack Cheatham ... | moving man |
| Edgar Sherrod ... | Minister |
| | |

| | |
| --- | --- |
| Credits | |
| Production Company ... | Universal |
| Producer ... | Burt Kelly |
| Director ... | Albert S. Rogell |
| Asst. Director ... | Howard Christie |
| Screenplay ... | Robert Lees, Frederic I. Rinaldo, Eric Taylor, and Robert Neville |
| Cinematographer ... | Stanley Cortez |
| Film Editing ... | Ted J. Kent |
| Original Music ... | H.J. Salter, Frank Skinner |
| Music Director ... | H.J. Salter |
| Art Director ... | Jack Otterson |
| Assoc. Art Director ... | Ralph M. DeLacy |
| Set Decoration ... | Russell A. Gausman |
| Special Photographic Effects ... | John Fulton |
| Sound Supervisor ... | Bernard B. Brown |
| Sound Technicians ... | Hal Bumbaugh, William Schwartz |
| Costume Design ... | Vera West |
| | |
Notes
Quoted in Basil Rathbone: His Life and His Films, by Michael B. Druxman (Hardcover: South Brunswick and New York: A.S. Barnes, 1975) p. 248.
Tom Weaver, Michael Brunas and John Brunas, Universal Horrors: The Studio's Classic Films, 1931-1946 (McFarland & Co., 2007) pp. 252-253.