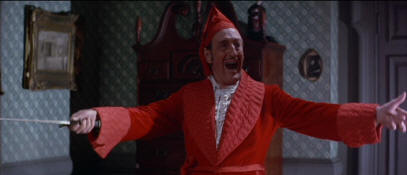 If you like horror films and you like camp, you'll love The Comedy of Terrors! Richard Matheson, who wrote the screenplay for The Raven, Tales of Terror, The Fall of the House of Usher, The Incredible Shrinking Man, and many others, went all out for humor in this masterful farce. Horror legends Vincent Price, Peter Lorre, Boris Karloff and Basil Rathbone headed the excellent cast.
Price portrays a financially challenged undertaker (Trumbull) who attempts to boost his business by murder. Although the graveyard scene at the opening of the film appears solemn, it soon becomes clear through fast-motion photography and hokey music that the film is a spoof. Trumbull and his bumbling assistant Gillie (Peter Lorre) are so hard up financially that they dump the body out of the casket so that the casket can be reused!
Trumbull is a character who is not only broke, but drinks too much. He has no love for his wife Amaryllis, and would like to do away with her father, Amos Hinchley (Karloff), who lives with them. Mr. Gillie secretly loves Trumbull's wife, who imagines that she gave up a promising career as an opera singer to marry Trumbull. (But when she sings animals hide and glasses break.)
Rathbone plays Mr. John Black, a wealthy man and owner of the home occupied by Trumbull and Hinchley's Funeral Parlor. Trumbull is one year behind in his rent. Black gives him 24 hours to pay up, or he'll be thrown out into the street. Black's manner of speech is very amusing:
"And much as I regret to dun, dear sir, it is unhappily incumbent upon me, as owner of these premises, to regard your monetary dereliction as, shall we say, inconvenient to my purposes ... So vastly inconvenient, one might add, that should the debt remain outstanding for as much as 24 hours more, I fear that legal machinery must perforce, be set in motion, unless Hinchley and Trumbull face the incommodious prospect of taking up residence in the street. Have I expressed myself with clarity, Mr. Trumbull?"
Black's ultimatum forces Trumbull to create some business for himself. His first attempt at increasing his income by knocking off a wealthy old man backfires when the widow doesn't show up for the funeral. She has packed up and run off, without paying Trumbull and Hinchley. "Is there no morality left in this world?" wails Trumbull.
In a flash of inspiration, Trumbull decides that Mr. Black will be the next victim. He will not only get some income, but also get rid of a creditor. Trumbull forces Gillie to help him by threatening to expose Gillie's shady past. Climbing in through an upstairs window, Gillie laments, "I don't think this is a good idea. Why did I ever escape from prison? Is was so peaceful there." Then he hears Black's voice, reciting from "Macbeth" (Act V, Scene VIII). Black sits in bed, reading aloud, with passion and feeling. Suddenly he leaps from the bed, grabs a sword and wields it, as he recites the lines. He thrashes the sword about, then suddenly sees Gillie in the hall. He manages to say "Who are you?" then appears to have a heart attack, and falls back on the bed, unconscious. Gillie flees, and Black's servant fetches the doctor, who pronounces Black dead. The servant asks the doctor to make sure, explaining that Black has been prone to catalepsy for several years; several times he was thought to be dead, only to wake several hours later. As you can imagine, that's exactly what happens again.
| | |
| --- | --- |
| "Have I expressed myself with clarity?" | "Who are you?" |
Trumbull and Gillie take Black back to the funeral parlor and lay him on a table. Suddenly Gillie notices movement.
| | |
| --- | --- |
| Gillie: | "I don't think he's quite dead enough yet." |
| Black (awakening): | "What place is this? Why am I here?" |
| Trumbull: | "Why, you're here because you're dead, Mr. Black." |
| Black: | "The hell I am!" |
| Trumbull: | "Everyone else knows you're dead, except apparently you." |
| Black: | "What jiggery-pokery is this?" |
| Trumbull: | "Not jiggery-pokery, Hinchley and Trumbull." |
| Black: | "You wouldn't dare!" |
| Trumbull: | "Have we a choice?" |
After a brief scuffle, Black has another "attack" and falls over, apparently dead. Trumbull and Gillie get him in the coffin, but shortly he wakes up, lifting the lid of the coffin and saying "What place is this?" Gillie and Trumbull force Black back into the coffin, and both of them sit on top of the lid. "Let me out!" cries Black. "We most certainly will not let you out. Will you kindly have the goodness to die?" retorts Trumbull. "I've never had such an uncooperative customer in my life!"
Eventually Trumbull whacks Black with a mallet, gags him, and chains the coffin closed. Is he really dead this time?
The funeral scene is hilarious. Amaryllis sings "He is not dead, but sleepeth," causing Gillie and Trumbull to exchange worried glances. Her father, Amos Hinchley, gives the eulogy: "My friends, we have gathered ourselves together within these bud-wreathed walls to pay homage to the departed soul of—uh—what's-his name."
After the funeral, Black is locked in a crypt (which annoys Trumbull and Gillie—they'll have to buy another casket). When everyone has left we hear a voice "What place is this?" Hearing yelling from the crypt, the cemetery keeper (Joe E. Brown) unlocks the crypt and opens the coffin. Spouting lines from Macbeth again, Black, a.k.a. the corpse that wouldn't die, grabs an ax and heads for Trumbull's house.
With murderous intent, Black enters Trumbull's house and goes after Gillie, Trumbull and even Amaryllis with the ax. Trumbull shoots Black, and Black has the longest dying scene I've ever seen, during which he continually quotes Macbeth: "Out, out brief candle. ... All the sound and fury, signifying nothing." Finally he dies—or does he?
In the end Gillie has declared his love to Amaryllis, so she leaves with him, and Trumbull gets his just desserts from a surprise source. But we haven't heard the last of Mr. Black. The cat climbs on Black's body, causing him to sneeze, and as the film fades out, we hear, "What place is this?"
Plenty of laughs in this tongue-in-cheek AIP horror-comedy. Price, Karloff, Lorre, Rathbone all ham it up for fun. Exploitable item.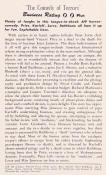 With cutlass in hand, ageless lothario Peter Lorre challenges master-fiend Vincent Price to a duel to the death for the love of luscious Joyce Jameson. The sheer ludicrousness of it all will give this tongue-in-cheek American International release strong exploitation values in the mass markets. Although there is absolutely no suspense and the gags are antique, the players are so wonderfully miscast that only the dourest of viewers will fail to be amused. Picture a lovable Boris Karloff, a hammy Basil Rathbone, a grim Joe E. Brown, and a seductive Rhubarb (that's a cat, man), and you get the general idea. As usual with these James H. Nicolson-Samuel Z. Arkoff productions, the Pathecolor processing is excellent and the photography and production design by Floyd Crosby and Daniel Haller, respectively, belie a modest budget. Richard Matheson's screenplay and Jacques Tourneur's direction are adequate to allow the players their hammy fun, Les Baxter's rollicking background score, consisting mostly of player-piano ditties and other such cornball devices, is pure delight. The story has opportunist Price marrying Miss Jameson to gain control of papa Karloff's undertaking business, and creating unhappiness for all by belittling and abusing his spouse, attempting to poison his father-in-law with "medicine," and blackmailing his kindly assistant Lorre. Gradually, love blossoms between wife and assistant and the two decide to run away together, but their escape is prevented by Rathbone, a "dead" customer who refuses to stay dead. Most of the humor arises from the cataleptic corpse's efforts to escape from his casket (nearly frightening grave keeper Brown to death), and is climaxed by Karloff's absent-minded eulogy and by a death scene in which Rathbone, having been shot by Price, re-enacts a host of Shakespearean demises. Eventually, Price falls victim to his "medicine," and Lorre and Miss Jameson are free to marry.
— Independent Exhibitors Film Bulletin, December 23, 1963
Production on The Comedy of Terrors began on September 4, 1963. The film premiered in Detroit on December 25, 1963; General release was on January 22, 1964. According to TV Guide, the film "was shot in 20 days on a 12-hour-a-day shooting schedule" (www.tvguide.com/movies/the-comedy-of-horrors/review/111208/ ).
The Comedy of Terrors was the only film that Boris Karloff, Vincent Price, Basil Rathbone and Peter Lorre made together. It was also one of Peter Lorre's last films, as he died on March 23, 1964. Lorre was in poor health already during the filming of The Comedy of Terrors.
| | |
| --- | --- |
| Trumbull (Price) checks to make sure that Black is bound and gagged. | Amos Hinchley (Karloff) speaks at Mr. Black's funeral. |
Boris Karloff was 76 years old at the time, but still appeared too young for the role of the aged and senile Amos Hinchley. The makeup artist had to age Karloff by more than 20 years to look right for his role.
Initially Basil Rathbone was to play the role of Amos Hinchley, and Boris Karloff was to play Mr. Black. The two actors swapped roles because the role of Mr. Black required quite a bit of physical activity that Karloff wasn't able to perform. Karloff suffered from arthritis and emphysema in the last several years leading up to his death in 1969. Both Rathbone and Karloff were excellent in their respective roles as Black and Hinchley. It's hard to imagine Karloff as Mr. Black and Rathbone as Hinchley.
"Everybody is on character and doing good work. Karloff is hilarious as a dotard with a Cockney accent and Peter Lorre looks quietly heartbroken as the coffin-maker in love with the boss's wife. Price has fun being a complete dastard, while Rathbone is energetic as the murdered man who refuses to die, who plays entire scenes from Macbeth each time he pops back to life." —Glenn Erickson, http://www.dvdtalk.com/dvdsavant/s4608pric.html

"Basil Rathbone tears the screen apart as a man who just can't quite seem to stay dead. It is a tour de force performance that also illustrates how underrated a comedy talent Rathbone was." —Paul Castiglia at Scared Silly, http://scaredsillybypaulcastiglia.blogspot.com/2009/11/comedy-of-terrors-1963.html

"Basil Rathbone—firing on all five of his ancient steam-punk Poe pistons—is so over the top in his crazy vengeance that even Les Baxter's hammy score has to catch up." https://acidemic.blogspot.com/2014/10/our-merry-mephisto-vincent-price.html

"Rathbone displays a flair for physical comedy."
—Craig Butler, http://www.allmovie.com/movie/the-comedy-of-terrors-v10487/review

"Rathbone is excruciatingly funny in satirizing the Shakespearean actor, who, though ostensibly mortally wounded, keeps rising from the floor to give one more line." —Los Angeles Herald Examiner

"Rathbone is the best thing in the picture. ... He gets to act with Shakespearean panache and even fences with Lorre with a fire-poker as he spouts lines from Macbeth. He is obviously enjoying himself, a rare occurrence in his final films." — Laurence Maslon, Horrorfan, Fall 1989
An authentic antique horse-drawn hearse, over one hundred years old, is featured in some scenes of The Comedy of Terrors. The vehicle was built in 1862 and retired soon after the turn of the century from the service of a mortuary in Pasadena, California .
Hollywood's award-winning feline star, Rhubarb (also called "Orangey"), was featured in The Comedy of Terrors . The 18-year-old cat was actually billed above Basil Rathbone.
| | |
| --- | --- |
| Black comes after Trumbull with an ax. | Rhubarb/Orangey the cat walks on Black's body. |
Richard Matheson, who wrote the script, chose the title The Comedy of Terrors as a pun on the Shakespeare play The Comedy of Errors. Director James H. Nicholson preferred the title The Graveside Story because of the then-current popularity of the musical West Side Story. The film is also sometimes known as The Comedy of Horrors.
The film was not a box office success at the time but gained later appreciation as a great horror spoof.
"The director, Jacques Tourneur who had directed Cat People (1942), recalled that the actor hated having to lie in a coffin for a scene in the film and 'fought like hell to avoid retakes' so he wouldn't have to lie in it again. The actor was in good humor on the set though, because he enjoyed working with Vincent Price, Peter Lorre and Boris Karloff again." —Neil Doyle, "Basil Rathbone: Classic Villain/Classic Hero," Classic Images, August 2001
David Stuart Davies wrote about a time when Scarlet Street editor Richard Valley met Basil Rathbone. "It was in the early sixties in a Paramus, New Jersey, department store, when the actor was signing copies of his recently published autobiography, In and Out of Character. Richard and Basil chatted amicably for a few minutes, Rathbone delighting in talking about Guy of Gisborne, Sherlock Holmes, and even Wolf von Frankenstein. However, when Richard asked Basil if he had enjoyed making his most recent movie, AIP's The Comedy of Terrors, he returned with a brisk 'no' and turned to the next customer." —David Stuart Davies, "Our Man on Baker Street," Scarlet Street #30, 1998
"Rathbone contributed some of the picture's funniest moments. The sequence in which he hams a scene from Macbeth is classic." —Michael B. Druxman, Basil Rathbone: His Life and His Films (South Brunswick and New York: A.S. Barnes, 1975)
| | |
| --- | --- |
| Black's prolonged dying scene | "Is he really dead this time?" |
"Price is unabashedly mean-spirited as a drunk, verbally abusive husband to the wonderfully game Joyce Jameson's 'Amaryllis.' As her somewhat unrealistic illicit love-interest, Lorre knocks it out the park as usual, playing the downtrodden underdog to perfection. Rathbone is perfect as the foil for this distinctly un-dynamic duo's evil plan. He proves to be as adaptive to high-comedy as he is to playing his usual stoic, disciplined characters. And Karloff as the doddering Patriarch is an absolute blast, going all out to play his role for broad laughs, and almost stealing the show in the process." —Kyle Scott, http://thehorrorhotel.blogspot.co.uk/2012/03/horror-hotel-cinema-comedy-of-terrors.html
Much of the film is pure slapstick which I personally don't care much for. It does, however, balance the verbal humor. The slapstick appears to be a nod to Laurel and Hardy. Price even exclaims "A fine mess you've made of things again!" I also find the music annoying in places. But the positives outweigh the negatives. Overall, The Comedy of Terrors is a delight to watch.
Go to Page Two to see more pictures (screenshots) and Page Three to see posters, lobby cards and promo photos from The Comedy of Terrors.
Watch the Trailer for the film:
See Page Two for screenshots from the film. See Page Three for pictures of posters, lobby cards and promo photos.
.
| | |
| --- | --- |
| Cast | |
| Basil Rathbone ... | John F. Black |
| Vincent Price ... | Waldo Trumbull |
| Peter Lorre ... | Felix Gillie |
| Boris Karloff ... | Amos Hinchley |
| Joe E. Brown ... | Cemetery Keeper |
| Joyce Jameson ... | Amaryllis Trumbull |
| Beverly Hills ... | Mrs. Phipps |
| Paul Barselow ... | Riggs |
| Linda Rogers ... | Phipps's maid |
| Alan DeWitt ... | Black's servant [CHECK THIS! imdb HAS HIM AS RIGGS. AND SOMEONE CALLED LUREE HOLMES AS THE SERVANT.] |
| Lurie Nicholson ... | girl |
| Buddy Mason ... | Mr. Phipps |
| Douglas Williams... | doctor |
| Harvey Parry ... | man knocked down on street |
| Charles Soldani ... | mourner |
| Rhubarb ... | Cleopatra (the cat) |
| | |

| | |
| --- | --- |
| Credits | |
| Production Company ... | Alta Vista Productions |
| Distributor ... | American International Pictures (AIP) |
| Producers ... | James H. Nicholson, Samuel Z. Arkoff, Anthony Carras |
| Assoc. Producer ... | Richard Matheson |
| Director ... | Jacques Tourneur |
| Screenplay ... | Richard Matheson |
| Cinematographer ... | Floyd Crosby |
| Film Editing ... | Anthony Carras |
| Music ... | Les Baxter |
| Production Design ... | Daniel Haller |
| Art Director ... | Daniel Haller |
| Set Decorator ... | Harry Reif |
| Costume Design ... | Marjorie Corso |
| Hair Stylist ... | Betty Pedretti |
| Makeup Artist ... | Carlie Taylor |
| Special prosthetics creator ... | Verne Langdon |
| Asst. Director ... | Robert Agnew |
| Sound Mixer ... | Don Rush |
| Sound Editors ... | James Nelson, Kathleen Rose |
| Special Effects ... | Pat Dinga |
| Stunts ... | Harvey Parry, Jesse Wayne |
| Lighting coordinator ... | Harry Sundby |
| Music editors ... | Milton Lustig, Eve Newman |
| Music Coordinator ... | Al Simms |
| Conductor ... | Les Baxter |
| Orchestrator ... | Albert Harris |
| Musicians ... | Harry Betts (trombone), Caesar Giovannini (piano), Milton Kestenbaum (bass), Tommy Pederson (trombone), Thomas Z. Shepard (trombone) |
| Production Manager ... | Joseph Wonder |
| | |
| | |
Images on this page and pages two and three are from the film "A Comedy of Terrors," copyright AIP.