The Flirting Widow
(1930), 74 min. b&w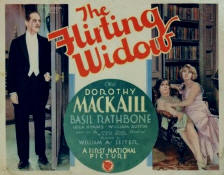 The Flirting Widow is a light-hearted, entertaining comedy starring a young and handsome Basil Rathbone and actress Dorothy Mackaill. Dorothy plays Celia, the oldest of three daughters in the Faraday family. She's about 28 years old and not yet married, so in the culture of that era, she was considered an old maid. Celia's father depended on her to run the household and take care of him. But he hadn't given up on the possibility that Celia could marry one day.
Celia's younger sister Phyllis is eager to marry her boyfriend Bobby, but when Bobby asks Mr. Faraday for permission to marry Phyllis, Faraday says no. He won't allow Phyllis to marry before her older sister. So quick-thinking Celia invents a fictitious fiance. Celia has just returned from a week away, so she tells the family that she met a Colonel John Smith, and they fell madly in love and got engaged. She tells her family that Col. Smith has sailed with his regiment for Arabia. Celia even writes a letter to her fictitious lover (nicknamed "Wobbles"), never intending to mail it.
Unknown to Celia, her sister finds the letter and mails it. And of course there just happens to be a real Colonel John Smith (played by Rathbone) stationed in Arabia, who upon receiving a love letter from a stranger is puzzled and curious.
Meanwhile, since Celia is at least "engaged," Father allows Phyllis and Bobby to marry. Once that has been accomplished, Celia decides to "kill off" John Smith so the family will stop asking about him. Eight months after inventing John Smith, Celia places a notice in the paper saying that he died of wounds sustained in battle.
When the real Col. Smith arrives back in England he pays a visit to Celia's family to find out about the sender of the love letter. He arrives on the day that the death notice appears in the paper. The family assumes he has come to personally deliver the bad news about Col. Smith's death. Smith plays along and tells them his name is Colonel Vaughn, and pretends to be a close friend of the fictional John Smith. He quickly discovers why Celia invented a lover, and contrives to spend the evening with Celia. It's an amusing situation. Celia knows that since she invented John Smith, he cannot have a close friend. But she cannot tell anyone that she lied about having a fiance. And she cannot figure out who Col. Vaughn is and how he knows about her imaginary Col. Smith.
| | |
| --- | --- |
| | |
Rathbone, as Colonel Vaughn, plays along and describes the battle and how Celia's beloved Colonel Smith died. Celia and Vaughn are attracted to each other, but when Celia realizes that Vaughn is lying, she becomes angry with him. Confused by her emotions, she tries to flee on the midnight train to London. Before she can leave, Vaughn/Smith confronts her, tells her who he really is, how he feels about her, and completely charms her. The film ends with Celia and Smith in a passionate embrace.
The Flirting Widow is based on A.E.W. Mason's play Green Stockings. In 1911 the play was performed on Broadway (New York City) and also toured North America, playing in major cities, including Ottawa, Toronto, Boston, and Washington DC. It does not appear to have been performed on the London stage.
| | |
| --- | --- |
| 3-sheet poster. style B | lobby card |
"Green Stockings" refers to the old English country custom that requires an unmarried elder sister to wear green stockings at the wedding of her younger sister. Some parts of the country even required that the unmarried elder sister should dance at her younger sister's wedding in her stocking feet. The purpose of this bizarre custom seems to have been to shame the older sister. Wearing the green stockings and dancing in them draws attention to the woman's unfortunate inability to find a husband. But there was also a tradition that if a young man took pity on the girl dancing in green stockings he could join her in the dance. Doing so was a declaration of his desire to marry her, and since the society valued married women more than unmarried women, her refusal would be unlikely.
By the 20th century, most folks viewed the "green stockings" custom as quaint and old-fashioned. It may not have been enforced on elder sisters very often. But Celia's father was old fashioned, and he had required Celia to wear green stockings at her sister Evelyn's wedding.
Celia's invention of fiancι John Smith not only allowed her younger sister to marry, but also changed the way she her family treated her. She was tired of being "Good old Celia." Celia who doesn't want things and Celia who looks after things and Celia who doesn't mind things and Celia who attends to things. Celia was tired of being taken advantage of and being treated like a servant. By demonstrating that she wasn't a spinster whom no man wants to marry, Celia earned the family's respect.
Praise for The Flirting Widow:
"The story is of British people in their own country and the result is a most amusing and enjoyable affair." —Weekly kinema guide (London suburban reviews and programmes), December 15, 1930
"Dorothy Mackaill scores a bull's eye in this clever comedy." —Photoplay, January 1931
"Well acted and quite amusing comedy of family life." —Educational Screen, September 1930
"Mr. Rathbone, as usual his competent self, appears to great advantage as the Colonel, and Miss Mackaill manages to pull through the ordeal as the innocent victim of the Colonel's scheming." —New York Times, August 2, 1930
"The plot is weak but fairly amusing. Entertaining." —Reviews by the Motion Picture Committee of the Women's University Club, American Association of University Women, July 1930
| | |
| --- | --- |
| herald | herald |
"Rathbone, showing a fine flair for comedy, and Miss Mackaill contributed some very funny scenes in what was otherwise a dull picture." —Michael Druxman, Basil Rathbone: His Life and His Films, 1975
"The people who really make this movie are Mackaill and Rathbone. ... [Rathbone] proves a surprisingly accomplished farceur and romantic comedian." —Mark Gabrish Conlan, "The Flirting Widow (Warners as 'First National,' 1930)," Movie Magg, July 8, 2012
The Flirting Widow is not currently available on DVD. It can occasionally be seen on the Turner Classic Movies television network. It can be purchased on VHS tape from Roberts Hard to Find Videos
| | |
| --- | --- |
| Raleigh (William Austin) tires of waiting for Celia and comes indoors to find her in the arms of Colonel Smith. | Martin, the butler (Wilfred Noy), is amazed at the antics of Celia and Colonel Smith. |
See Page Two for more reviews and pictures.
.
| | |
| --- | --- |
| Cast | |
| Dorothy Mackaill ... | Celia |
| Basil Rathbone ... | Colonel Smith |
| Leila Hyams ... | Evelyn |
| William Austin ... | James Raleigh |
| Claude Gillingwater ... | Faraday |
| Emily Fitzroy ... | Aunt Ida |
| Flora Bramley ... | Phyllis |
| Anthony Bushell ... | Bobby |
| Wilfred Noy ... | Martin (butler) |
| Sidney Bracey ... | second butler |
| | |

| | |
| --- | --- |
| Credits | |
| Production Company ... | First National Vitaphone Pictures |
| Producer ... | William A. Seiter |
| Director ... | William A. Seiter |
| Screenplay ... | John F. Goodrich and A.E.W. Mason (story) |
| Cinematographer ... | Sid Hickox |
| Film Editing ... | John F. Goodrich |
| Music ... | Alois Reiser |
| Orchestra Conductor ... | Leo F. Forbstein |
| | |