This lavish production of Daphne du Maurier's novel tells the story of Lady Dona St. Columb finding true love for the first time in her life. The film is a faithful adaptation of the 1941 novel. In fact some of the dialogue is lifted directly out of the novel. The setting is England in 1668, during the reign of Charles II. In those days noblemen wore ridiculous-looking long curly wigs. It's quite amusing to see Basil Rathbone and Nigel Bruce wearing these wigs!
The story starts in London where Lady St. Columb is attending a party with her worthless husband Harry. At the party Harry's best friend Lord Rockingham (Rathbone) flirts with Lady St. Columb. Dona St. Columb was a woman who was trapped in a loveless, passionless marriage, and therefore sought excitement by drinking in the taverns with her husband's friends and the women of the town. At one time she and Rockingham pulled a prank on an old lady, so now "Rock" has the audacity to try to seduce her. Although Dona is bored with her husband, she's not interested in Rock and cannot endure his familiarity. She hates her senseless life, and who she has become. One night she decides she has had enough; she packs her bags and takes her two small children and the nanny to their country manor Navron on the coast of Cornwall.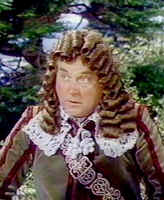 For the next few weeks Dona enjoys her new-found freedom, playing with her children and exploring the countryside around Navron. Her peace is only interrupted once by a visit from Lord Godolphin (Nigel Bruce), her pompous dunderhead neighbor, to warn her that pirates have been terrorizing the people along the coast. One day while walking through the woods on her property Dona discovers a large ship at anchor in a pool where the creek widens. The creek is still and soundless, shrouded by the trees--the perfect hiding place for a pirate ship. Dona meets the Frenchman. Since he was a pirate, she had expected him to be evil, leering, dirty, greasy, and was baffled to find him not at all like that. He is a gentleman, who has become a pirate to escape the ordinary life of a gentleman. In the novel the pirate has a name; he is Jean Benoit Aub, from Finesterre in Brittany. His name is not mentioned in the film, but when Dona finds a French book in her bedroom, we see the inscription "J.B.A." and beneath that "Finesterre."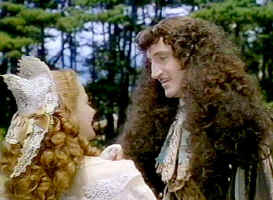 With the gallant Frenchman as tutor, Dona learns about birds and fishing, and learns to love the simple life. She feels light-hearted, happy and peaceful. Because they are both fugitives, there is a bond between Dona and the Frenchman. Both wanderers, cast in the same mould. They fall in love. When the Frenchman sails to steal ship from a town up the coast, Dona sails with him and is thrilled with the adventure. The Lady St. Columb who sups cheek by jowl with the ladies of the town and later roisters about the streets of London no longer exists.
After Dona's return from the plundering of the ship, she learns to her dismay that her husband and Lord Rockingham have arrived at Navron. Not only are they breaking her peace, but they are gathering the men of the nearby towns and setting a trap for the Frenchman! Dona sends William, her servant, to the ship to warn the Frenchman to sail right away to avoid capture. William returns with the distressing news that the ship is grounded and cannot sail until after midnight. Since the men are gathering for dinner at Navron before going out to hunt the pirate, Dona determines to keep them at the table as long as possible. She keeps their wine glasses full and entertains them.
For some unexplained reason Lord Rockingham is not wearing a wig at dinner, but all the other men do. Dona is charming with her guests, even Rock, whom she despises. Rock flirts with Dona, as though he wishes every man at the table to believe he makes love to her.
Arriving at the manor at midnight the Frenchman and his crew surprise Dona's dinner guests and take their weapons. Rock sees the way Dona looks at the Frenchman and, with his uncanny intuition, he realizes that she loves the pirate. The men are tied up and the Frenchman takes Dona into the salon to talk with her privately. While Dona and the pirate talk, the Cornish noblemen manage to loosen their bonds and slip out the window after the pirates--except for Rockingham, who returns to the dining room to confront Dona about her lover. Watching her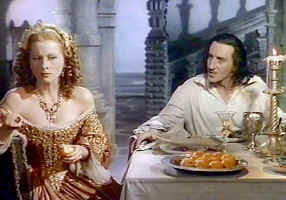 like a cat watches a bird, he says to her, "I understand much that has puzzled me since I came here yesterday. That servant of yours, those walks in the woods, that elusive look in your eye that I have never seen before, yes indeed, elusive to me, to Harry, to all men but one man, and I've seen that man tonight." He looks at her with hatred. She doesn't deny it, acts indifferent, and taunts Rockingham: "And all this my dear Rockingham because you imagine I smiled upon a pirate when he asked for my jewels."
Rockingham threatens Dona with being hanged along with the pirate, and she doesn't care.
He says, "Yes, you would suffer that, wouldn't you, and be glad, because you've had, at last, the love you've wanted all your life." She admits this is true and Rockingham goes berserk. "If you hadn't left London and come down here," he hisses, "it would have been me!" "Never!" she cries.
Rockingham lunges at her, trying to strangle her. She manages to grab a knife and stab him, and then runs to the stairs. Even though he's badly wounded, Rockingham struggles to crawl up the stairs after Dona. In the novel Dona throws a heavy shield at him; in the movie she pushes over a suit of armor. Either way Rockingham is knocked down and killed.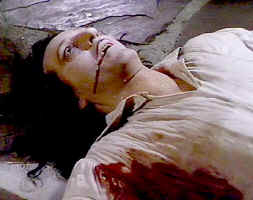 When Sir Harry returns, he is aghast to find Rock dead. Harry thinks that Rock died defending Dona against the pirate. In the book she never corrected him. But in the film she says right away, "I killed Rockingham . . . I had to. I warned you to keep him away from me." Harry also informs Dona that the Frenchman has been captured and will hang in the morning.
Dona St. Columb concocts an ingenious plan to rescue the Frenchman, and he believes she is going to sail with him back to Brittany. But in the end Dona decides she cannot leave her children, even though she loves the Frenchman, and it breaks her heart to watch him sail away.
The technicolor photography is stunning, lush and beautiful. The music, with strains of Claire de Lune, is enchanting, like the creek, and the very romantic adventure story.
"Frenchman's Creek" won Academy Awards for art direction and set design. I am told that the interiors were correct for the Restoration period. All of the actors played their roles to perfection. The characters appear to have jumped right from the pages of the novel. Rathbone was perfect as the lecherous Lord Rockingham; I cannot imagine anyone else playing that role.
Click here for MORE pictures from "Frenchman's Creek."
Cast

Credits

Joan Fontaine.............Lady St. Columb
Arturo de Cordova.......The Frenchman
Basil Rathbone..........Lord Rockingham
Nigel Bruce....................Lord Godolphin
Cecil Kellaway.............................William
Ralph Forbes...............Lord St. Columb
Harold Ramond..........................Edmund
Billy Daniels.........................Pierre Blanc
Moyna MacGill............Lady Godolphin
Patricia Barker...........................Henrietta
David James...................................James
Mary Field.........................................Prue
David Clyde...........................Coachman
Charles Coleman.......................Footman
Paul Oman..........................................Luc
Arthur Gould-Porter....Thomas Eustick
Evan Thomas.................Robert Penrose
Leslie Denison..............John Nankervia
Denis Green..................Philip Rashleigh
George Kirby.......................Dr. Williams
Production Co. ....................Paramount
Producer...........................B.G. DeSylva
Director.........................Mitchell Leisen
Screenplay..................Talbot Jennings
(based on the novel by D. du Maurier)
Cinematographer..........George Barnes
Editor..............................Alma Macrorie
Music Composer.............Victor Young
Art Directors......................Hans Dreier
..............................................Ernst Fegte
Set Decorator......................Sam Comer
Special Effects..........Gordon Jennings
Costume Design..Raoul Pene Du Bois
Images on this page and page two are from the film "Frenchman's Creek," copyright Paramount.