Loyalties

(1933), 75 minutes, b&w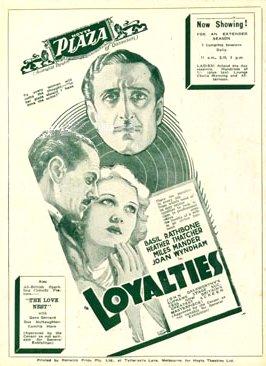 Loyalties is a story about anti-Semitism. I have not seen the film, so I cannot offer my own review of it. I've gathered reviews from other sources on this page.
In this British drama, based on a popular play, a wealthy young Jew goes to a weekend house party and finds himself victimized by anti-Semitic guests. To add insult to injury, his wallet is then stolen. The fellow exposes the pilferer and threatens to take him to court until the other guests, terrified of scandal, offer to make him a member of their exclusive club. It seems like a good offer until the other members express their racist reservations about his joining. the angered fellow decides to take it to court after all. The distraught thief is found guilty and subsequently suicides. --Sandra Brennan, All Movie Guide
Film version of Galsworthy's play about class and anti-Semitism starring Basil Rathbone and Miles Mander. Rathbone plays a wealthy Jew who loses 1000 pounds during a house party. When he accuses Miles Mander [Dancy] of the theft he finds that Society's tolerance of Jews is only paper-thin.
This didn't make much of an impact when it first came out and has made even less over the sixty-odd years that have since passed, but there does seem to be a movement towards recognizing it as a minor masterpiece. This is partly due to its behind-the-scenes credits--assistant director Carol Reed and editor Thorold Dickinson. It also has a lot to do with the restless camerawork which tries to inject some movement into a stagebound adaptation. That, and a remarkable shot of the climactic suicide gives Loyalties the feel of a student film.
However it has too many of the faults of the period to be able to claim greatness. There's a lot of badly done stiff-upper-lip-ness going on which pushes it dangerously near a parody. The women are particularly prone to this: swanning around in nice frocks saying how thrilling or beastly it all is. The sound track is primitive and it's very studio-bound. In its favour are a rare film look at anti-Semitism and a wonderful courtroom scene in which most of the officials are bored stupid. It's not a film you could use to persuade people of the merits of 30s British cinema.
It's not just Michael Powell: British Films of the 30s, 40s and 50s, www.britishpictures.com
"Basil Rathbone contributes an excellent performance." --The New York Times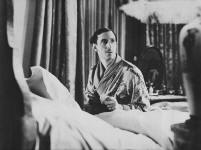 Rathbone considered his performance as a modern-day Shylock in the British adaptation of John Galsworthy's Loyalties to be one of the most satisfying of his career. The play, dealing with anti-Semitism among London's upper social classes, had starred James Dale in a 1922 New York stage production.
It was an engrossing film, garnering first-rate notices for director Basil Dean and the cast, headed by Rathbone.
Ferdinand de Levis (Rathbone) is a proud and wealthy Jew, eager to gain social position. At a party, a large sum of money is stolen from his wallet. Although he suspects Dancy (Miles Mander) of the theft, his hosts appeal to de Levis not to call in the police, as that is not the "gentlemanly" thing to do.
After he has been blackballed by a British club, de Levis, tired of being tolerated for his wealth alone, accuses Dancy in public of being a thief and the latter is forced to sue him for slander. The Jew triumphs in court, but it is an "empty" victory.
Actor Alan Napier recalls that Rathbone was a sincere person, who wanted to be liked, and always endeavored to accomplish this: "He enjoyed sitting around the set . . . telling stories and being the center of attention. I knew Basil for years and I was constantly surprised at how young he always seemed in relationship to his age . . . . He was a very gracious man."
Michael Druxman, Basil Rathbone: His Life and His Films, (South Brunswick and New York: A.S. Barnes), 1975. (Out of print, but available from the author. If interested click here.)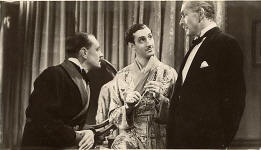 Rathbone with Miles Mander and Alan Napier(?)
Based on a popular British play, this film is a mixed bag. Rathbone . . . is good in the lead, but the direction is awkward and sometimes the plot seems to move in jerks rather than in an even flow. The British accents are also a little hard on American ears, with the actors occasionally slurring their dialog as well. Galsworthy died shortly before filming began but was said to have been pleased with the adaptation of his play. British audiences enjoyed the film and applauded after screenings. --TV Guide Movie Database
See more photos from Loyalties on page two.
Cast

Credits

Basil Rathbone ...........
Ferdinand de Levis
Production Co. ............
Associated Talking Pictures
Heather Thatcher ........
Margaret Orme
Distributors .................
Assoc. British Film Distributors (UK),
Miles Mander .............
Capt. Ronald Dancy, DSO
Harold Auten (USA)
Joan Wyndham ..........
Mabel, Mrs. Dancy
Producer .......................
Basil Dean
Philip Strange ..............
Major Colford
Director .........................
Basil Dean
Alan Napier ................
General Canynge
Asst. Director .............
Carol Reed
Algernon West ..........
Charles Winsor
Screenplay ...................
W.P. Lipscomb
Cecily Byrne ................
Lady Adela Winsor

From the play by ...

John Galsworthy
Athole Stewart ............
Lord St. Erth
Cinematographer .........
Robert Martin
Patric Curwen ...............
Sir Frederic Blair
Film Editor ...................
Thorold Dickinson
Marcus Barron ...........
Lord Chief Justice
Art Director .................
Edward Carrick
Ben Field .....................
Gilman
Sound ...........................
A.D. Valentine
Griffith Humphreys .....
Inspector Jones
Patrick Waddington ...
Augustus Borring
Laurence Hanray ........
Jacob
Arnold Lucy ................
William Goole
Robert Coote ...............
Robert
Aubrey Dexter .............
Kentman
Stafford Hilliard ...........
Treisure (Winsor's butler)
Don MacKay ...............
Mike Sawchuck
Robert Mawdesley .....
Edward Graviter
Anthony Holles ..........
Paolio Ricardos
Maxine Sandra ............
Ricardos's daughter