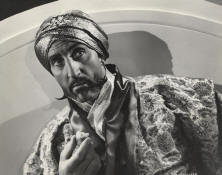 The film opens with a brief historical background statement: "Marco Polo lived in Venice seven hundred years ago. He was the first European to visit China and write the story of his adventures in that land of magic and mystery."
A Venetian merchant named Nicolo Polo sends his son Marco and his bookkeeper Binguccio to China in order to establish trade relations, and thus acquire the treasures of the Far East cheaply. After a long, tiresome journey Marco and Binguccio arrive in Peking (also spelled Pekin, today is called Beijing).
Marco strikes up a conversation with a man whom he heard reading the Bible to his children. This man (Chen Tsu) invites Marco and Binguccio to have dinner at his home, where Marco discovers two new wonders unknown to the Italians: spaghetti and gunpowder. Chen Tsu warns Marco Polo to be very careful when he visits the palace. The emperor Kublai Khan is a good man, a just man, but he is dominated by a foreign advisor (Ahmed) who has little respect for the sanctity of life. "Make every effort to convince him that you are no more than a friendly gentleman who is anxious to see the world without treading on anyone's toes."
At the palace Kublai Khan is making plans to conquer Japan. Khan is also worried about a rebellion forming in the West, under the leadership of a Tartar named Kaidu. Khan asks Ahmed to send spies to Kaidu's province.
The Persian ambassador approaches Khan and reminds him that his daughter, Princess Kukachin, is betrothed to the king of Persia. Khan agrees to send his daughter to Persia on the seventh moon.
While he awaits his audience with the emperor, Marco Polo flirts with a beautiful young woman in the garden, completely unaware that she is the princess Kukachin. She is polite and curious about him.
Marco Polo is presented to Kublai Khan and his minister of state Ahmed. Ahmed's evil nature is hidden by his suave and polite demeanor. Khan explains, "Ahmed is a Saracen, and descended of the great kings of Babylon." Khan tells him that it is Ahmed's duty to see that Marco Polo doesn't get what he has come for. Marco says that he has come for nothing but education.
| | |
| --- | --- |
| Kublai Khan and Ahmed | Ahmed and Marco Polo |
Ahmed takes the two Venetians on a tour of the palace, starting with his private quarters. He has a tower of his own, complete with vultures and a pit full of hungry lions. Ahmed executes a man while Marco Polo and Binguccio watch in horror.
When Marco Polo sees the princess again he asks her if she will be able to marry the man of her choice. He is smitten with her, and therefore sad that she is betrothed to the king of Persia. He asks her if he may kiss her before he leaves. "Kiss? What is that?" And Marco happily demonstrates this European custom, and the princess enjoys it.
Meanwhile Ahmed and his cohorts discuss the rebellion in Kaidu's province, and it becomes clear that the Tartar tribesmen are rebelling because Ahmed is stealing their tax money. Ahmed also has his eyes set on replacing Khan as Emperor. A guard reports what he saw Marco Polo and the princess doing in the garden. Ahmed is furious — he covets the princess for himself.
Khan asks Marco Polo to go to Kaidu's camp and spy on him. "If you do us this favor, it's possible that upon your return, you may be that much nearer to your own coveted trade agreements." Ahmed is fairly certain that Kaidu will kill Marco Polo and thereby rid him of this nuisance, but he assures Marco Polo that he will use every precaution to guarantee his safety.
When Marco Polo and Binguccio reach the Kaidu territory they are immediately captured by Kaidu's warriors, and taken to the camp. Kaidu is a vicious warrior who boils his enemies in oil, but he also likes to be with pretty young girls and his domineering wife prevents that. When Kaidu notices his wife flirting with Marco Polo, he realizes that Marco can divert the wife's attention, thus allowing Kaidu freedom to play around. So Marco and Binguccio are spared as long as Marco can keep Kaidu's wife occupied. Marco discovers yet another wonder unknown in Italy: coal.
While Kaidu dallies, Kublai Khan and his army go off to fight the Japanese. Power-hungry, Ahmed stays behind with plans to usurp the throne. The Persian ambassador reminds Ahmed that it is but one week until the seventh moon, when the princess is to be sent to the Persian king. Since Ahmed wants the princess for himself, he orders his guards to take the ambassador away, presumably to kill him. Ahmed visits the princess and tells her that he will not send her to Persia, but will keep her and marry her instead. She hates him, so she sends a message via carrier pigeon to Marco Polo.
Marco receives the message and asks Kaidu's permission to leave because the princess is in danger. Kaidu refuses. Marco talks to him about his revolt.
| | |
| --- | --- |
| Marco: | "Why are you rebelling against the Emperor?" |
| Kaidu: | "Because my people are taxed to the point of starvation. I don't mind paying proper tribute to Kublai Khan, but I refuse to pay Ahmed for his private treasury." |
Marco talks him into taking his warriors to Beijing. With the Emperor and his army away fighting the Japanese, now is the perfect time to attack Ahmed. Kaidu wonders how to get past the walls of Beijing and also the palace walls. Marco says he can get into the palace and will find a way to get Kaidu's army in. Marco Polo rides ahead to make arrangements.
The emperor's army was defeated by the Japanese; Kublai Khan and the other survivors return to Beijing. Khan discovers that Ahmed has usurped power, and now Ahmed threatens to release hungry vultures upon the captive princess unless Khan signs a document recognizing Ahmed as the rightful successor to the throne.
| | |
| --- | --- |
| Ahmed gets a massage while listening to his guard. | The guard explains that he saw Marco Polo and Princess Kukachin kissing. |
Marco Polo reaches Beijing and disguises himself as a local to gain secret entrance to the palace. While polishing the floor, he makes his way towards the princess' room. The princess is about to kill herself to avoid marriage to Ahmed, but Marco reaches her in time and stops her.
Kaidu's army is outside the city gate. Ahmed traps Kaidu and a few followers between the palace gate and city gate, and then he leaves for his wedding. Marco's friend Chen Tsu brings "fire powder" (gunpowder), with which Marco blows up the outside gate so the rest of Kaidu's army can ride through.
Princess Kukachin stalls the wedding as best she can until Marco Polo arrives and engages in a hand-to-hand battle with Ahmed. Ahmed opens the trap door to the lions, but Marco manages to throw Ahmed in.
With Ahmed out of the way, order is soon restored. Kublai Khan gives Kaidu a bevy of beautiful women, Binguccio draws up the trade agreements between Venice and China, and Marco Polo is given the task of escorting the princess to Persia.
Don't expect historical accuracy from this film, but who cares? The film is utterly charming and entertaining. The Adventures of Marco Polo is only slightly based on the travels of the real Marco Polo. In the story of Marco Polo, producer Samuel Goldwyn apparently thought that Polo himself was more important to the world, more interesting to the public, than the period in which he lived, and the ancient politics in which he figured. In The Adventures of Marco Polo you will find a character to love, a romance to stir you. But you will also find the color, the atmosphere, the feeling of a world strange to you. You will have a fantastic adventure.
History records that a 21-year-old Marco Polo traveled to China with his father and uncle (not his bookkeeper) and lived there for 24 years. After his return to Venice, Marco Polo captained a ship, and was subsequently captured and imprisoned by the Genoese. While in prison he recounted his adventures in China. The published manuscript became very popular, but most of the incredible tales Marco told were not believed, and he was therefore dubbed "the man of a million lies." China had many wonders that were unknown to western culture in the 13th century: paper money, coal, gunpowder, for example. Yet, Marco Polo never mentioned the Great Wall of China, calligraphy, the binding of women's feet, and tea drinking. These omissions have led some people to believe that Marco Polo never actually visited China. Also supporting that theory is the fact that there is no mention of Marco Polo in Chinese historical records. The controversy is discussed in a 1995 book by Frances Wood called Did Marco Polo Go to China? and the 2001 book Marco Polo and the Discovery of the World by John Larner.
| | |
| --- | --- |
| Ahmed sends Marco Polo to Kaidu Province. | Ahmed watches as Marco Polo departs. |
Originally Douglas Fairbanks Sr. and Samuel Goldwyn planned to co-produce The Adventures of Marco Polo. On April 3, 1937, Fairbanks sold his interest in the film. He had, at one time, planned it as a starring vehicle for himself. Amid speculation behind his action, Fairbanks issued the following statement:
"Because of my desire to withdraw from the co-producership of 'The Adventures of Marco Polo,' in order to devote my time to individual productions of my own, Mr. Sam Goldwyn, my close friend and associate, has today purchased all of my rights to this forthcoming production." (Box Office magazine, April 10, 1937)
Goldwyn and those close to Fairbanks denied that any disagreement had caused a rift in their relationship.
May 1937, Sam Goldwyn announced that AMP would be the last Goldwyn film done in black and white. Henceforth his pictures would be made only in Technicolor. As to why The Adventures of Marco Polo could not be made in Technicolor, Goldwyn explained, "Dr. Herbert T. Kalmus, of Technicolor, frankly advises me that they are yet unable to supply that much equipment." (Box Office, May 22, 1937)
| | |
| --- | --- |
| The Persian ambassador presents a beautiful necklace for the princess. | Ahmed presents the gift to the princess as if it's from him. |
Goldwyn began work on the film in June 1937. John Cromwell was hired as director, but after only four days, he abandoned the project. Cromwell's walkout is said to have occurred after a dispute with Samuel Goldwyn over characterizations in the picture. Cromwell differed with the producer's conception of Marco Polo's character as delineated in the script. Unable to effect a compromise, Cromwell backed away from the job.
Production was interrupted only temporarily, however, as Goldwyn assigned Archie Mayo to the film. Archie Mayo is being assisted by Walter Mayo. They are not related and this is the first time they have worked together.
Although it seemed an amicable parting of the ways, Cromwell later filed suit against Samuel Goldwyn, Walter Wanger and Selznick International for "breach of contract." Variety reported, "The action sets forth that Selznick participated in a deal with Goldwyn and Wanger whereby the three producers would share director's services and his $3,250 weekly salary. He claims dismissal by Goldwyn after working five weeks on The Adventures of Marco Polo and that he had been unpaid on his contract since then." (Variety, January 26, 1938) Goldwyn declared that Cromwell was not fired, but resigned.
.
Watch clips from The Adventures of Marco Polo on the Turner Classic Movies website: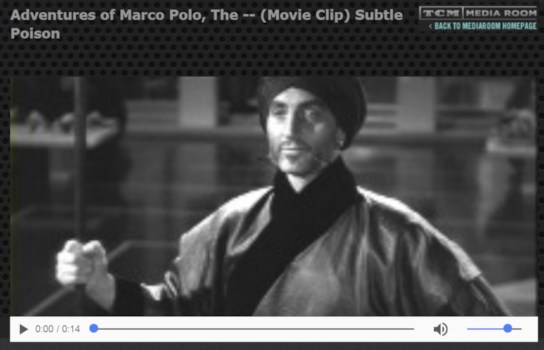 www.tcm.com/mediaroom/video/280116/Adventures-of-Marco-Polo-The-Movie-Clip-Subtle-Poison.html
See Page Two for more reviews and pictures from the film. See Page Three for pictures of posters, lobby cards and promo photos.
.
| | |
| --- | --- |
| Cast | |
| Basil Rathbone ... | Ahmed |
| Gary Cooper ... | Marco Polo |
| Sigrid Gurie ... | Princess Kukuchin |
| Ernest Truex ... | Binguccio |
| Alan Hale ... | Kaidu |
| George Barbier ... | Kublai Khan |
| Binnie Barnes ... | Nazama |
| Lana Turner ... | Nazama's maid |
| Stanley Fields ... | Bayan |
| Harold Huber ... | Toctai |
| H.B. Warner ... | Chen Tsu |
| Eugene Hoo ... | Chen Tsu's son |
| Helen Quan ... | Chen Tsu's daughter |
| Soo Yong ... | Chen Tsu's wife |
| Mrs. Ng ... | Chen Tsu's mother |
| Lotus Liu ... | Visahka |
| Ferdinand Gottschalk ... | Persian Ambassador |
| Henry Kolker ... | Nicolo Polo |
| Hale Hamilton ... | Maffeo Polo |
| Robert Grieg ... | Chamberlain |
| Reginald Barlow ... | Venetian businessman |
| Theodore von Eltz ... | Venetian businessman |
| Diane Toy ... | Kaidu entertainer |
| Harry Kerus ... | Kaidu guard |
| Greta Granstedt ... | Kaidu maid |
| Harry Cording ... | Kaidu officer |
| Dick Rich ... | Kaidu officer |
| Joe Woody ... | Kaidu officer |
| Leo Fielding ... | Kaidu officer |
| Richard Alexander ... | Ahmed's aide |
| Granville Bates ... | Venetian businessman |
| Ward Bond ... | Mongol Guard |
| Richard Farnsworth ... | Mongol warrior |
| Mia Ichloka ... | court girl |
| James B. Leong ... | Tartar warrior |
| Diana Moncardo ... | court girl |
| Jason Robards Sr. ... | messenger |
| Evelyn Terry ... | woman |
| Gloria Youngblood ... | court girl |
| Dora Young ... | court girl |
| | |

| | |
| --- | --- |
| Credits | |
| Production Company ... | Samuel Goldwyn Co. |
| Producer ... | Samuel Goldwyn |
| Assoc. Producer... | George Haight |
| Director ... | Archie Mayo |
| Screenplay... | Robert E. Sherwood |
| Story ... | N.A. Pogson |
| Cinematographers ... | Rudolph Maté and Archie Stout |
| Film Editor ... | Fred Allen |
| Original Music ... | Hugo Friedhofer and Alfred Newman |
| Music Director ... | Alfred Newman |
| Art Director ... | Richard Day |
| Asst. Art Director ... | Lance Baxter |
| Costumes ... | Omar Kiam |
| Set Decoration ... | Julia Heron |
| Art Tinting ... | John M. Nikolaus Jr. |
| Sound Department ... | Oscar Lagerstrom, Thomas T. Moulton |
| Asst. Director ... | Walter Mayo |
| Second unit directors ... | Ralph Cedar, John Ford |
| Special Effects ... | James Basevi |
| Stunts ... | Richard Farnsworth, Henry Wills |
| Archery Instructor ... | Chester Seay |
| Orchestrator ... | Edward B. Powell |
| Makeup ... | Robert Stephanoff |
| | |