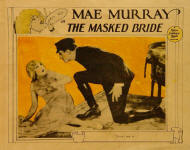 A silent film starring Mae Murray, Francis X. Bushman, and Basil Rathbone, The Masked Bride no longer exists. Since I have not been able to see the film, I have pulled together reviews from other sources.
The following plot summary is found on the Internet Movie Database (IMDb): "Gaby, a dancer and sometime thief working in a Montmartre cafe, meets Grover, an American millionaire who is doing research on French crime. He arranges to interview Gaby for his study, and after several discussions, they fall in love. A wedding date is set, but Antoine, Gaby's former partner in both dancing and crime, forces her to steal a valuable necklace from Grover by threatening to kill him if she doesn't. Antoine is arrested by the prefect of police, and Grover, realizing that Gaby stole the necklace to protect his life, continues with the preparations for the wedding."
| | |
| --- | --- |
| Francis X. Bushman, Mae Murray and Basil Rathbone | Gaby pleads with her former dance partner Antoine not to carry out the plans of robbing the man whom she is to marry. |
Allmovie.com notes that Mae Murray's dancing skills were far better than her acting talents, and that Rathbone, who played Antoine, was sinister-looking.
The New York Times reported that the movie was "quite an agreeable entertainment despite the weird story." Gaby's selfish apache* dancer, Antoine, is more sympathetic than the millionaire Grover, "but the title writer kills his manliness when he avers that there is a world full of beautiful women but only one 5,000,000-franc necklace. The role of Antoine is acted by Basil Rathbone, who gives a most commendable performance."
*Click here for more information on the Apache dance.
"Basil Rathbone, the noted English stage star, is cast as a suave Paris crook; a part he plays intelligently and cleverly." (Reading Eagle, 27 December 1925)
"Basil Rathbone is the heavy, the dancing partner of Miss Murray, and handled himself to advantage in a role that was far from sympathetic." (Variety)
The December 7, 1926, issue of the Berkeley Daily Gazette reported that "the most expensive prop in picture history is said to have been used by Mae Murray in her latest starring vehicle, 'The Masked Bride,' which is playing at the Rivoli Theater in West Berkeley today and tomorrow. It is a diamond and platinum necklace valued at more than $150,000. The necklace was brought to the studios ever day in an armored car from the safe of the jeweler who loaned it for the picture. An armed police guard surrounded the set every moment it was in use. The necklace is not only an embellishment, but a crucial feature of the plot. The picture itself is claimed to be a colorful tale of a Paris dancer in an underworld adventure. Francis X. Bushman plays the principal male role. Roy D'Arcy, Chester Conklin, and a large supporting cast appear."
The fact that Basil Rathbone's name wasn't even mentioned in the Berkeley Daily Gazette blurb shows how relatively unknown he was in 1925. His fame was as a stage actor. How odd that a genuine diamond and platinum necklace was used in the film! Were imitations of such a poor quality in that era that moviegoers would be able to tell the difference?
The original director assigned to this film was Joseph von Sternberg. After two weeks of shooting, however, he walked out. The picture was completed by Christy Cabanne.
| | |
| --- | --- |
| I'm wondering why the bride isn't masked. I assume that "masked bride" is a metaphor for "she isn't who she appears to be." Her true character is disguised. | Gaby and Antoine dancing (It doesn't really look like the apache dance--see below.) |
More photos can be found on Page Two.
Cast

Credits

Mae Murray .................
Gaby
Production Co. .............
MGM
Francis X. Bushman ....
Grover
Director ..........................
Christy Cabanne
Roy D'Arcy ..................
Prefect of Police

Asst. Director .............

Robert Florey
Basil Rathbone ...........
Antoine
Story .............................
Leon Abrams
Pauline Neff ..................
Grover's sister
Writer ............................
Carey Wilson
Chester Conklin ...........
Wine waiter

Titles .............................

Marian Ainslee,
Fred Warren .................
Vibout
H.H. Caldwell, Katherine Hilliker,
Leo White ....................
Floor Manager
Cinematographer .........
Oliver Marsh
Editor ...................
Frank E. Hull
Art Directors .................
Ben Carré, Cedric Gibbons
Not a dance that Native Americans perform, the Apache (pronounced a-POSH) is a French dance that was popular in the early twentieth century. It originated in the Parisian underworld, with a street gang known as Les Apaches. A violent yet passionate dance, the Apache essentially tells a story of a gangster and his girlfriend.
Several videos showing an example of the apache dance can be found on YouTube. Below is a link to a performance by Alexis and Dorrano in 1934. You can watch it, and then imagine Basil Rathbone and Mae Murray doing that dance. What a shame that The Masked Bride is a lost film! I would love to have seen Basil Rathbone performing this dance!
The Apache Dance: http://youtu.be/I0DVt3xbecg