Planet of Blood
(a.k.a. Queen of Blood)
(1966), 81 min. color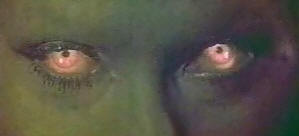 "The year: 1990. The problem of traveling to the moon has been solved for many years. Space stations have been built there and authorized personnel come and go as they wish. But the moon is a dead world. And the great question about space still remains: Does life exist on another planet?"
(opening lines of the film)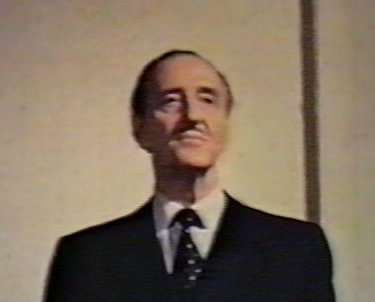 Made in 1966 "Planet of Blood" tells a story that takes place in the distant future--1990! Basil Rathbone plays Dr. Farraday, a scientist at the International Institute of Space Technology. The Institute has received a message from space: Aliens are dispatching an ambassador to Earth. On the way, the alien spaceship crashes on Mars, and Earth receives a distress signal. Dr. Farraday announces that a mission is planned to rescue any survivors from the alien crash. A rocket ship is launched from the Institute's base on the moon. The ship lands on Mars but is damaged en route. The team--Captain Brockman, Laura James, and Paul Grant--find only one alien life form in the crashed ship, and it is dead. They speculate that the others abandoned ship in an escape pod and crashed somewhere else on the planet. Due to the damage their ship sustained, they are unable to search. So Earth sends yet another spaceship to Mars, manned by Tony Barrata and Allan Brenner. From this second ship they release observation satellites to orbit Mars and locate another crashed vessel. Then they land on a moon of Mars and discover that the escape pod crashed there! They find only one survivor, a woman whose skin has a greenish hue. She is unconscious. Allan takes the alien woman in a small rescue ship to the surface of Mars, leaving Tony with the second ship.
Joining the crew of the first ship, they plan to blast off immediately to head home. But they don't have enough fuel to pick up Tony, who's marooned on the moon. Dr. Farraday tells them that another ship will be ready to leave in a week and will go rescue Tony.
| | |
| --- | --- |
| Dr. Farraday keeps in touch with the astronauts from the Institute's base on the moon. | Farraday (Rathbone) and his assistant, played by Forrest J. Ackerman |
Meanwhile, the crew is fascinated with the alien, who is now awake. She's the first alien they've ever had contact with. The captain reminds everyone that their first consideration is to get her back to Earth safely. Paul tries to get her to eat some rations, but she refuses. The captain tries to take a sample of her blood, but she reacts violently when she sees the needle.
During the night the alien approaches Paul, hypnotizing him with glowing eyes, and sucks all the blood out of him. The crew later discovers Paul's dead body, and the alien asleep, gorged with human blood. Allan is repulsed by her and calls her a monster. In spite of the horrible thing she has done, the captain is still fascinated by her. He instructs Allan and Laura to give the alien the blood plasma they have on board to keep her from feeding on them. This works well until they run out of blood plasma. Captain Brockman says it will be necessary for the crew to contribute blood. Before they get to that point, the alien attacks the captain and sucks out his blood.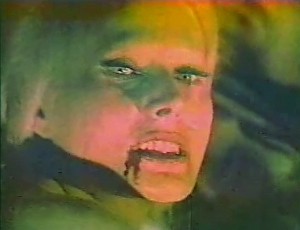 With the Captain gone, Allan ties the alien vampire to her bed. He's thoroughly disgusted with it. Allan and Laura are not safe, however. The alien uses her eyes as laser beams to burn through her bonds. She goes after Allan. Laura wakes and finds the alien feeding on Allan. Laura pulls the alien off Allan, they fight, and Laura scratches the alien. In a panic, the alien screams and runs off.
Laura tends to Allan, who is still alive. The vampire alien is found dead--she bled to death from a scratch. Observing that she must be a hemophiliac, Allan theorizes that on her home planet she may have been royalty.
Just as they land on earth, Laura discovers that the alien has laid eggs all over the ship. Allan is horrified, realizing that the alien woman was like a queen bee, a queen that breeds. She wasn't just an ambassador. Her race sent her to Earth to find a new feeding ground. Allan thinks the alien eggs should be destroyed, but Dr. Farraday is very excited about them. But can the creatures really be controlled?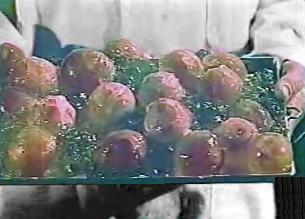 "Planet of Blood" is also known as "Queen of Blood" and a few other titles: "Flight to a Far Planet," "The Green Woman," "Planet of Terror," and "Planet of Vampires." The film was made in a very short time and on a limited budget. Director Curtis Harrington used stock footage from the Russian film "Mechte Navstrechu" (A Dream Come True) for the scenes of the alien planet and spaceships launching into space.
Rathbone was 74 years old when he made this film, one year before his death from a heart attack. Although he looks old, he appears vibrant and in good health. The role of Dr. Farraday was not a challenge to Rathbone's talents, and he gave a fine performance. Rathbone only worked for three days and earned $3000 per day.1 The cast also includes a very young Dennis Hopper (as Paul Grant), John Saxon (as Allan Brenner), and Forrest J. Ackerman, publisher of Famous Monsters of Filmland, playing Dr. Farraday's assistant..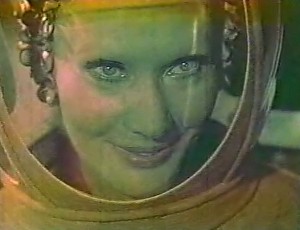 According to an article in Castle of Frankenstein magazine,2 the vampire alien had a name: Velana, Queen of the Planet Centurion. Her name was never mentioned in the film. "Velana" was played by Czechoslovakian actress Florence Marly. Although she never uttered a word in this film, her eyes and her smile spoke volumes. She was effectively creepy.
One interesting fact is that Rathbone's character, Dr. Farraday, mentioned that man's first successful landing on the moon took place "twenty years ago," which would have been 1970. That is only one year off from the date the lunar landing actually took place.
It appears that Ridley Scott's film "Alien" (1979) derived its plot from "Planet of Blood," and, in an interview with Horror Wood, Curtis Harrington agrees.3
The special effects in this film are really not bad for a film of the 1960s. The Russian special effects footage was interesting and very good, considering when it was made. Harrington did an excellent job of blending the American and Russian footage into a seamless storyline. Note that the writers' vision of the future is not at all multicultural. Every single person in the film is Caucasian--every astronaut, every scientist, even the alien! Only one of the astronauts was female. Nevertheless, it's a good story, with good acting, and spooky enough to satisfy.
Watch the "Planet of Blood" movie trailer, courtesy of bedazzled.com:
http://20-248-e.onlinestoragesolution.com/spikepriggen/public/Queen%20Of%20Blood.mov
---
1 Michael Druxman. Basil Rathbone: His Life and His Films, (A.S. Barnes, 1974), 346-348.
2 "An Interview with Basil Rathbone," Castle of Frankenstein, 1969.
3 www.horror-wood.com/harrington.htm
| | |
| --- | --- |
| Rathbone and John Saxon | John Saxon, Rathbone, and Judi Meredith |
See more pictures on Page Two!
Cast

Credits

Basil Rathbone .............
Dr. Farraday
Production Co. ..............
CinemaWest Productions
John Saxon ....................
Allan Brenner
Distributor ....................
AIP
Judi Meredith ...............
Laura James
Executive Producer ......
Roger Corman
Dennis Hopper .............
Paul Grant
Producers .....................
Samuel Z. Arkoff,
George Edwards
Florence Marly .............
.Velana, the alien Queen
Associate Producer .....
Stephanie Rothman
Robert Boon .................
Anders Brockman
Director ..........................
Curtis Harrington
Don Eitner .....................
Tony Barrata
Screenplay .....................
Curtis Harrington
Forrest J. Ackerman .....
Farraday's aide
Story (Mechte navstrechu) ...................
Mikhail Karzhukov,
Otar Koberidze
Virgil Frye .....................
Film Editor .....................
Leo H. Shreve
J. Robert Porter .............
Cinematographer ..........
Vilis Lapenieks
Terry Lee .......................
Set Decorator ................
Leon Smith
T. Pochepa ....................
Woman on alien planet
Art Director ...................
Al Locatelli
Assoc. Set Decorator ..
McLean Nisbet
Costume Designer .......
T. Glinkova
Original music ..............
Leonard Morand,
Ronald Stein
Other music ...................
Eduard Artemyev (from

"Mechte navstrechu"), Bebe Barron and
Louis Barron (from "Forbidden Planet")

Production manager .....
Gary Kurtz
Hair Stylist .....................
George Spier
Makeup Artist ..............
William Condos
Sound ...........................
Harold Garver
Music Editor .................
Leonard Morand
Costume Supervisor ....
Sharon Compton
Art: Titles, Background paintings .......................

John Cline
Property master ............
Carl Schanzer
Special effects production design .......

Mikhail Karyukov
Special effects art directors .........................
Ivan Mikhels, Ivan Pulenko
Special effects photographers ..............
Boris Macheret, Frantsisk Semyannikov
Images on this page and page 2 are from the film "Planet of Blood," copyright CinemaWest Productions.