Romeo and Juliet
(1936), 127 min. b&w
"[Thalberg's] production of Romeo and Juliet in 1935 had a physical beauty, an integrity and inspiration that places it among the all-time greats. And I doubt that any picture has had or will ever have such a distinguished and memorable cast."
—Basil Rathbone, In and Out of Character, p.132
Basil Rathbone plays Tybalt, a member of the Capulet family, in this early screen version of William Shakespeare's tragedy. An excellent cast, a lavish set, and a terrific story make this film an enjoyable treat.
In ancient Verona, two powerful families, the Montagues and Capulets live in bitter enmity. The film opens with the two families meeting in the square in front of the cathedral. Tybalt is itching to fight, but Capulet reminds him, "Keep the peace." The families walk together into church. The servants outside begin to quarrel. Suddenly all the servants are involved. It turns deadly. The two families come out of the church and when Benvolio tries to break up the servants' fighting, Tybalt calls him a coward and challenges him.
Escalus, the Prince of Verona breaks up the melee and warns Capulet and Montague "If ever you disturb our streets again, your lives shall be the forfeit of the peace." The two families had been feuding for years; every public brawl threatened to spill blood.
Later, Romeo, only son of Montague, and Juliet, daughter of Capulet, fall in love at first sight during a great ball given by the Capulets. Tybalt, Juliet's cousin, recognizes Romeo and feels that Romeo has insulted the family by crashing the party. Tybalt is ready to start a fight, but Capulet stops him. Juliet finds out that Romeo is the son of her father's enemy, and later, on her balcony, ponders the situation. Romeo, at the risk of his life, mounts the walls of the Capulet castle to bid Juliet good night. She comes out on her balcony and confides her love to him. They determine to marry.
The next day in the cell of Friar Laurence the rites are performed. Tybalt has determined to punish Romeo's insolence in coming to the Capulet Ball. Meeting him in the company of Mercutio, he insults Romeo, who refuses to take offense. Romeo will not fight him because he's now married to Juliet, and cannot bring himself to harm a member of her family. Mercutio, furious at his friend's seeming cowardice, is killed by Tybalt when Romeo, in an attempt to halt the fight, gets in his way. Overwhelmed by Mercutio's death, Romeo rushes after Tybalt and kills him.
Romeo flees and takes refuge in the cell of Friar Laurence, where he soon learns that he has forever been banished from Verona. Juliet has meanwhile been informed of her double tragedy, the death of her cousin and the banishment of her husband. Romeo comes to comfort her and say good-bye. They spend the night together and bid each other a tearful farewell as Romeo leaves for Mantua.
In the morning Juliet's father commands her to marry Paris the next day. She runs to the Friar for help. He gives her a potion which will cause her to appear dead for 42 hours. He promises to send word to Romeo who will come to the Capulet tomb, awake her, and carry her off with him to exile. She consents to the plan, and takes the potion.
The messenger dispatched to take word to Romeo never delivers the message, since he is quarantined in a plague village. Romeo is told that Juliet is dead. Frantic, he buys poison, and resolves to kill himself after seeing Juliet.
He hurries to the tomb, kills Paris, who would prevent his entering, and finds Juliet. Thinking her dead, he kisses her, takes the poison and dies. The Friar comes in just as she wakes, and tells her the dreadful news. She kills herself over Romeo's body with his dagger.
In the final scene Capulet and Montague promise to end their feud.
Watch the trailer for the film:
Shakespeare's classic love story produced with accuracy and lavishness. Norma Shearer's Juliet is lyrically beautiful. Leslie Howard superb as Romeo. Basil Rathbone, John Barrymore, Ralph Forbes, Edna May Oliver all add to the excellence of the outstanding picture of the year. No version has ever surpassed this one for sheer physical beauty. Not to be missed under any circumstances.

—Photoplay, December 1936
John Barrymore's performance as Mercutio was very impressive and compelling. Rather amazing since, according to Rathbone, Barrymore often arrived on the set drunk. Rathbone wrote: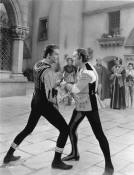 The first scene was to be a big one, my meeting as Tybalt with Jack as Mercutio, a scene that would lead to our duel and to Mercutio's death. We waited all morning, but no Jack. ...at last, about 12 p.m., a studio car containing Jack...drove onto the lot. ...To Cukor, Jack said in a rasping whisper, 'Sorry, old boy, lost me voice...can't speak a bloody word.' There were immediate and urgent consultations...and it was decided to jump the dialogue and do it another day. The scene we would shoot would be the duel itself. Cameras were set, sound was ready, principals and extras were in place when Barrymore suddenly drew his sword with a tremendous flourish and hit Leslie Howard (Romeo) a violent and accidental blow on the head. In a matter of seconds an enormous pigeon's egg appeared on Leslie's head and we were all dismissed for the day!

—In and Out of Character, pp. 133-134
I was surprised that Rathbone received an Academy Award nomination (Best Supporting Actor) for his performance as Tybalt. His performance was excellent, as usual, but the part seemed rather small, mainly consisting of three fencing duels: a brief one with Benvolio, stopped by the prince of Verona; one with Mercutio, in which he kills Mercutio; and one with Romeo, in which Romeo kills him. And that's the end of Tybalt's part in this film. When I think of some of Rathbone's other outstanding performances which received no recognition at all by the Academy (The Dawn Patrol, The Hound of the Baskervilles, The Adventures of Robin Hood...), I wonder what was so special about this particular performance. I can imagine, though, that Rathbone was pleased that his skill in interpreting Shakespeare was noticed. It probably meant more to him than recognition in a non-Shakespearian play or film.
In addition to Rathbone's Academy Award nomination for Best Supporting Actor, nominations also went to Norma Shearer for Best Actress, to Cedric Gibbons, Frederic Hope and Edwin B. Willis for Best Art Direction, and to the film for Best Picture. None of these won. Rathbone lost to Walter Brennan (for "Come and Get It").

"Romeo and Juliet" was the last film Irving Thalberg produced before his death in September 1936.

Rathbone worked with fencing instructor Fred Cavens for six weeks to learn the difficult dueling routines with Barrymore and Howard. In addition to Rathbone, Cavens also instructed Howard, Barrymore, Ralph Forbes and other players in the use of the sword and shield, rapier and dagger dueling. The duels are wonderfully choreographed. According to Movie Classics magazine, Basil Rathbone and John Barrymore were the best fencers in films at that time.

Here's a clip of Rathbone dueling with Reginald Denny:


Cavens and Rathbone
In Shakespeare's play, Romeo and Juliet were star-crossed teenage lovers. Norma Shearer was 34 when this film was made and Leslie Howard was 46. Although Shearer and Howard were excellent actors, and did a good job with their respective parts, they were too mature to be convincing as teenagers. Rathbone was only 44—they might as well have cast him as Romeo (a role he had played many times on the stage, and also his favorite role)! To this issue of casting older actors to play teenagers, director George Cukor explained:
So far as casting was concerned; remember that Juliet has never been played by a girl lovely enough or young enough to give the impression of being sixteen. At first the heroine was played by young boys because there were no actresses in that day. Later middle-aged plumpish women and heavy men with fallen arches simpered through the passionate, tender lines of the balcony scene. ...

Miss Shearer, here, is the first really beautiful Juliet.

Leslie Howard isn't a slip of a boy by any means, but I think the public would have howled if we had given them authentically adolescent players who had neither the maturity nor the understanding of life to read the lines as they should be read.

—"Filming the World's Greatest Love Story," Photoplay, September 1936
Did Director Cukor really mean to say that Norma Shearer was the first beautiful Juliet? While Norma Shearer was undeniably beautiful, such a comment is insulting to the actresses who played the part before! In "Juliets I Have Known," Basil Rathbone wrote about several actresses who played Juliet to his Romeo. He described two of them as "lovely" and one as "beautiful." With regard to Norma Shearer, Basil wrote:
At her first entrance I was abruptly arrested by a pathos in the simplicity and tenderness of her approach that soon developed into an emotional reaction from me that was most surely Shakespeare's intention as to audience reaction. I am, at most times, analytical to a fault. But here I found no desire to analyze, merely a deep and sincere gratitude for a glimpse into the heart and soul of Shakespeare's truest heroine, Juliet.

—"Juliets I Have Known," Hollywood, May 1936
.
In his review of Romeo and Juliet, Frank Nugent of The New York Times wrote, "All that remains then, before we credit the film with being one of the screen's finest accomplishments, is to add a few words about the players. If we must disclose our favorites, they would be John Barrymore's Mercutio and Basil Rathbone's Tybalt. Both were magnificent." (Frank S. Nugent, The New York Times, August 30, 1936)
Watch Rathbone's duel with John Barrymore (Mercutio):
.
Reviews of Romeo and Juliet were overwhelmingly positive. In the following review, Hollywood magazine reported that Basil Rathbone is "as brilliant as a black diamond."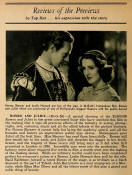 A special showing of the $2,000,000 Romeo and Juliet to the press convinced those who have watched this film in the making that it tops all previous efforts of the industry in acting, photography, sets, costumes, music and all the allied talents of the picture business. For Norma Shearer it cannot help but bring the academy award, and all the huzzahs and honors an appreciative public may devise. Shakespeare gave Juliet all the best lines. Miss Shearer has read them beautifully. Romeo still dies beside her in the tomb, and Juliet still sheathes his dagger in her lovely breast, and the tragedy of these lovers still bring tears as it did when first presented in London in 1596. Incredible care went into the production. The balcony scene alone required five weeks to film, a month went into the making of the dueling scenes. While no ordinary mortal could have been considered perfect for everyone's notion of a Romeo, Leslie Howard does well by the role. Basil Rathbone, himself a noted Romeo of the stage, is as brilliant as a black diamond in the part of Tybalt, John Barrymore is a mad scapegrace of a Mercutio, while Edna Mae Oliver and all the others made of this play a grand and noble thing of beauty.

—Hollywood, September 1936
.
The Film Daily praises the film, but doesn't say anything about Rathbone's performance in particular: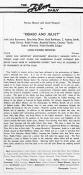 Superb and important achievement skillfully handled with a strong name cast giving the Shakespeare classic extensive box-office value aided by widespread support that will be accorded it by proponents of better films.
New heights in cinema artistry have been achieved in the picturization of Shakespeare's immortal love story. It is one of the most important contributions to the screen since the inception of talking pictures--a glorious triumph for Producer Irving G. Thalberg, Director George Cukor, the starring combination of Norma Shearer and Leslie Howard, and all others concerned in the making of the picture. The Universal appeal of its tragic romance and the unusual marquee strength of its cast are assurances that the picture will interest maximum patronage, and from the standpoint of enlisting the attention and support of constructively influential public elements and raising the screen in everybody's esteem, it will prove one of the most effective releases in years. the spirit of the classic has been captured with fine skill. Some of the settings are breath-taking in their beauty. The screenplay by Talbot Jennings; the dances of the period, as directed by Agnes deMille; the settings, designed by Cedric Gibbons and Oliver Messel, and the photography by William Daniels all are worthy of highest praise. Miss Shearer rises to new stature and importance through the qualities she brings to the role of Juliet. Howard's reading of the famous lines in his Romeo role is inspiring. In addition to the splendid work of these two stars, the picture is loaded with outstanding performances, particularly the work of John Barrymore, Edna May Oliver, and Andy Devine in the lighter moments. Cukor's direction is most praiseworthy for his guidance of the tender love scenes, and highlights of the picture include Mercutio's death scene. Romeo's first meeting with Juliet, their balcony scene, their marriage and the night before their doom. The story is about the love affair of the offspring of rival families, with Juliet as a Capulet and Romeo as a Montague. They fall in love at first sight. To avenge Mercutio's (Barrymore) death in a duel with Tybalt, played by Basil Rathbone, Romeo slays Tybalt and as a result is banished from Verona. Friar Laurence (Henry Kolker), knowing the Capulets insist that Juliet marry Paris (Ralph Forbes), gives her a potion that will make her appear dead. The Friar dispatches a note to Romeo to come to the cemetery, where Juliet will be revived, but the message never reaches Romeo. Believing Juliet dead, he drinks poison, and when Juliet awakens to find him dead at her side she joins Romeo by stabbing herself to death.
—The Film Daily, July 16, 1936
.
Praise for Basil Rathbone:
"And I must single out Basil Rathbone for an interpretation that haunts with its true nobility. He is like a black raven of destiny . . . spelling death in the film." (Elza Shallert, NBC)
"My humble laurel wreath rests upon the darkling brow of Basil Rathbone, the tempestuous Tybalt, proud of mein, intolerant in bearing, hot-blooded, itching fingers ever ready to seize rapier or dagger to avenge real or fancied slight upon his house. A colorful character, to be sure, and one that fairly blazes from the screen under Rathbone's skilled interpretation." (Regina Crewe, New York American)
" . . . and Basil Rathbone, a perfect devil of a Tybalt, fiery and quick to draw and an insolent flinger of challenges. No possible fault there." (Frank S. Nugent, New York Times)
"Basil Rathbone, as Tybalt, is Hollywood's ultimate image of the Shakespearean villain—very lank, very dark, and (in the immortal words of Daisy Ashford) 'very sneery.' But by M-G-M standards he is an entirely adequate foil to Howard and Barrymore." (David J. DeLaura, Film Notes of Wisconsin Film Society)
"Rathbone brings vast Shakespearean experience to films, although Barrymore, probably because of his Richard III and Hamlet, in modern dress, is credited with more 'tradition.'" (Dorothy Spensley, "Movies Capture Romeo and Juliet," Motion Picture)
"Outstanding for an interpretation that haunts with its character of great nobility is Basil Rathbone's Tybalt." (Picture Play)
Basil Rathbone's proud, ruthless Tybalt is a sound, dramatically powerful characterization. (Motion Picture Herald)
* * * * *
Another review full of praise is from Picture Play: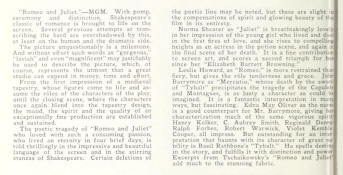 With pomp, ceremony and distinction, Shakespeare's classic of romance is brought to life on the screen. Several previous attempts at transcribing the bard are overshadowed by this, at least on the human and the dramatic side.

The picture unquestionable is a milestone. And without effort such words as "gorgeous," "lavish" and even "magnificent" may justifiably be used to describe the picture, which, of course, represents the utmost that a great studio can expend in money, time and effort.

From the first impression of a medieval tapestry, whose figures come to life and assume the roles of the characters of the play, until the closing scene, where the characters once again blend into the tapestry design, the mood, the spirit and the quality of an exceptionally fine production are established and sustained.

The poetic tragedy of "Romeo and Juliet" who loved with such a consuming passion, who lived an eternity in four brief days, is told thrillingly in the impressive and beautiful language of the screen and in the stirring stanzas of Shakespeare. Certain deletions of the poetic line may be noted, but these are slight in the compensations of spirit and glowing beauty of the film in its entirety.

Norma Shearer as "Juliet" is breathtakingly lovely in her impression of the young girl who lived and died in the first fires of love, and she rises to compelling heights as an actress in the potion scene, and again in the final scene of her death. It is a fine contribution to screen art and scores a second triumph for her since her "Elizabeth Barrett Browning."

Leslie Howard, as "Romeo," is more restrained than fiery, but gives the role tenderness and grace. John Barrymore as "Mercutio," whose death by the sword of "Tybalt" precipitates the tragedy of the Capulets and Montagues, is a as lusty a character as could be imagined. It is a fantastic interpretation in many ways, but fascinating. Edna May Oliver as the nurse is a good counterpart for Mr. Barrymore, giving her characterization much of the same vigorous spirit. Henry Kolker, C. Aubrey Smith, Reginald Denny, Ralph Forbes, Robert Warwick, Violet Kemble Cooper, all impress. But outstanding for an interpretation that haunts with its character of great nobility is Basil Rathbone's "Tybalt." He spells destiny in the story, and fulfills it with distinction and power. Excerpts from Tschaikowsky's "Romeo and Juliet" add much to the stunning fabric.

—Picture Play, October 1936
Two More Reviews:
and two complete articles (PDF files) about the making of the film:
.
Here is the final duel of the film, the one between Romeo and Tybalt, in which Tybalt is killed:
.
In an article printed in Silver Screen magazine, Basil Rathbone is quoted as saying:
Romeo and Juliet could 'happen' today only after youth is gone. Great love comes now with years and not with hours or days. Romeo and Juliet today would be people in their middle years. For only after years of companionship, only after roots had struck jointly and deep would death be preferable to life—alone. After the close-together years, after the marriage of habit, which is the only true and tested marriage, only then would it be unendurable for one to face life without the other. Then and only then, I think, could dying for love be conceivable—or probable.

If either of the lovers could live today, it would be Juliet. There are, possibly, girls who would be Juliets if they were given any encouragement. It is Romeo who is dead . . . When I was playing Romeo to Katharine Cornell's Juliet, for instance, a crowd of young college boys came back stage to see me one night. They wanted to talk to me about Romeo. They said 'But wasn't he sort of sappy?' And I said to them 'My lads, the age of the he-man is gone! In Verona, in those days, the men were painted and powdered and exquisite—true. But they were walking with death every hour of the day, with swords unsheathed—to kill. Today what do we have? The football hero, helmeted, protected, the victim of a few broken bones, perhaps. No . . . Romeo is dead and for want of him Juliet, too, has perished from the earth . . . not until the middle years can such love flower and die for its own sake.

—"Is Dying for Love a Thing of the Past?" Silver Screen, August 1936
. .
See Page Two for screenshots from the film. See Page Three for pictures of posters, lobby cards and promo photos.
.
| | |
| --- | --- |
| Cast | |
| Norma Shearer ... | Juliet |
| Leslie Howard ... | Romeo |
| John Barrymore ... | Mercutio |
| Basil Rathbone ... | Tybalt |
| Edna May Oliver ... | Juliet's Nurse |
| C. Aubrey Smith ... | Lord Capulet |
| Andy Devine ... | Peter (Servant) |
| Conway Tearle ... | Escalus |
| Ralph Forbes ... | Paris |
| Henry Kolker ... | Friar Laurence |
| Robert Warwick ... | Lord Montague |
| Virginia Hammond ... | Lady Montague |
| Reginald Denny ... | Benvolio |
| Violet Kemble Cooper ... | Lady Capulet |
| | |

| | |
| --- | --- |
| Credits | |
| Production Company ... | MGM |
| Producer ... | Irving Thalberg |
| Director ... | George Cukor |
| Screenplay ... | Talbot Jennings |
| Cinematographer ... | William Daniels |
| Film Editing ... | Margaret Booth |
| Original Music ... | Herbert Stothart, Edward Ward |
| Non-original music ... | "Romeo and Juliet: Fantasy-Overture" by Pyotr Ilyich Tchaikovsky |
| Recording Director ... | Douglas Shearer |
| Art Director ... | Cedric Gibbons |
| Settings ... | Cedric Gibbons, Fredric Hope, Edwin B. Willis, Oliver Messel |
| Costumes ... | Adrian, Oliver Messel |
| Fencing instructor ... | Fred Cavens |
| Special Effects ... | Slavko Vorkapich |
| Dance Director ... | Agnes de Mille |
| | |
Romeo and Juliet is available on DVD
Sources
Basil Rathbone, In and Out of Character: An Autobiography, (New York: Doubleday, hardcover, 1962; Paperback edition, 2004), p.132.
"Juliets I Have Known," Hollywood, May 1936, p. 62
Frank S. Nugent, The New York Times, August 30, 1936
David J. DeLaura, Film Notes of Wisconsin Film Society, edited by Arthur Lennig, Madison, WI, 1960, p. 113
Dorothy Spensley, "The Movies Capture Romeo and Juliet," Motion Picture, May 1936
Frank Small, "Filming the World's Greatest Love Story," Photoplay, September 1936
"Is Dying for Love a Thing of the Past?" Silver Screen, August 1936, p. 64
Photoplay, September 1936 and December 1936
Hollywood, September 1936
Motion Picture Herald (July 18, 1936), p. 48
The Film Daily, July 16, 1936
Picture Play, October 1936, p. 58
.
Images on this page and pages two and three are from the film "Romeo and Juliet," copyright MGM.