Romeo and Juliet
(1936), 127 min. b&w
"[Thalberg's] production of Romeo and Juliet in 1935 had a physical beauty, an integrity and inspiration that places it among the all-time greats. And I doubt that any picture has had or will ever have such a distinguished and memorable cast."
(Basil Rathbone, In and Out of Character, p.132)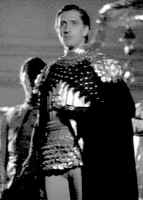 Basil Rathbone plays Tybalt, Juliet's cousin, in this early screen version of Shakespeare's tragedy. An excellent cast, a lavish set, and a terrific story make this film an enjoyable treat. The biggest drawback is the casting of Norma Shearer and Leslie Howard as the star-crossed teenage lovers. Shearer was 34 at the time and Howard was 46. Although Shearer and Howard were excellent actors, and did a good job with their respective parts, they were not convincing as teenagers. Rathbone was only 44 -- they might as well have cast him as Romeo! (Romeo was, by the way, a role he had played many times on the stage, and it was his favorite role.)
The film opens with the Montagues and the Capulets, two powerful families of Verona who hate each other, marching into the town square from different directions. When they meet in front of the church, there's trouble. Tybalt is itching to start a fight, but Capulet reminds him, "Keep the peace." The families walk together into church. The servants outside begin to quarrel. Suddenly all the servants are involved. It turns deadly. The two families come out of the church and when Benvolio tries to break up the servants' fighting, Tybalt calls him a coward and challenges him.
| | |
| --- | --- |
| Capulet: "Keep the peace!" | Tybalt calls Benvolio a coward. |
Escalus, the Prince of Verona breaks up the melee and warns Capulet and Montague "If ever you disturb our streets again, your lives shall be the forfeit of the peace." They had had three previous civil brawls.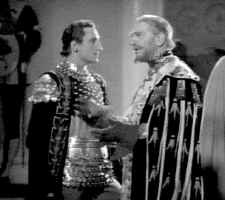 Later, Romeo meets Juliet at the Capulet's masked ball and falls in love with her. Tybalt recognizes Romeo and is ready to start a fight, but Capulet stops him. Juliet finds out that Romeo is the son of her father's enemy, and later, on her balcony, ponders the situation. The famous scene occurs when Romeo sneaks back to the Capulet house and stands below Juliet's balcony. The next day Romeo and Juliet marry in secret.
Back at the town square Mercutio (Barrymore) and Benvolio (Denny) are complaining of the heat. Tybalt, itching for a fight, arrives. He sees Romeo and calls him a villain. Romeo will not fight him because he's now married to a Capulet. But Mercutio insists on fighting Tybalt. In a wonderfully choreographed dueling scene, Tybalt kills Mercutio.
| | |
| --- | --- |
| Benvolio, Romeo, Tybalt and Mercutio | Tybalt and Mercutio |
Romeo feels it's his fault that Mercutio fought Tybalt and is now dead. So Romeo goes after Tybalt, fights him and kills him. Romeo must flee before the prince arrives, or he would be punished by death. Benvolio explains to the prince what happened and the Prince exiles Romeo from Verona.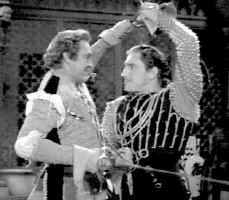 Juliet's parents proceed with plans for Juliet to marry Paris, a prince. In desperation Juliet goes to Friar Laurence for help. He suggests a daring plan; he gives her a potion to make her appear dead for 48 hours. He tells her that he and Romeo will be there in the crypt when she wakes up, and then she and Romeo can slip away and live happily ever after. Things didn't work out as planned, however. Romeo never received the message about the scheme, so when he heard Juliet was dead, he believed it, and was so distraught that he poisoned himself. When Juliet wakes up and sees Romeo dead, she stabs herself. In the final scene Capulet and Montague promise to end their feud.
John Barrymore's performance as Mercutio was very impressive and compelling. Rather amazing since, according to Rathbone, Barrymore often arrived on the set drunk. "The first scene was to be a big one, my meeting as Tybalt with Jack as Mercutio, a scene that would lead to our duel and to Mercutio's death. We waited all morning, but no Jack. ...at last, about 12 p.m., a studio car containing Jack...drove onto the lot. ...To Cukor, Jack said in a rasping whisper, 'Sorry, old boy, lost me voice...can't speak a bloody word.' There were immediate and urgent consultations...and it was decided to jump the dialogue and do it another day. The scene we would shoot would be the duel itself. Cameras were set, sound was ready, principals and extras were in place when Barrymore suddenly drew his sword with a tremendous flourish and hit Leslie Howard (Romeo) a violent and accidental blow on the head. In a matter of seconds an enormous pigeon's egg appeared on Leslie's head and we were all dismissed for the day!" (In and Out of Character, p. 133-134)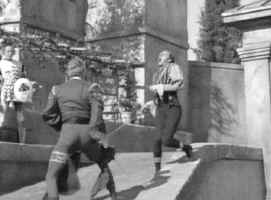 Rathbone worked with fencing instructor Fred Cavens for six weeks to learn the difficult dueling routines with Barrymore and Howard. In addition to Rathbone, Cavens also instructed Howard, Barrymore, Ralph Forbes and other players in the use of the sword and shield, rapier and dagger dueling.
I was surprised that Rathbone received an Academy Award nomination (Best Supporting Actor) for his performance as Tybalt. His performance was excellent, as usual, but the part seemed rather small, mainly consisting of two fencing duels: one with Mercutio, in which he kills Mercutio, and one with Romeo, in which Romeo kills him. And that's the end of Tybalt's part in this film. When I think of some of Rathbone's other outstanding performances which received no recognition at all by the Academy ("The Dawn Patrol," "The Hound of the Baskervilles," "The Adventures of Robin Hood"...), I wonder what was so special about this particular performance. I can imagine though that Rathbone was pleased that his skill in interpreting Shakespeare was noticed. It probably meant more to him than recognition in a non-Shakespearian play or film.
In addition to Rathbone's Academy Award nomination for Best Supporting Actor, nominations also went to Norma Shearer for Best Actress, to Cedric Gibbons, Frederic Hope and Edwin B. Willis for Best Art Direction, and to the picture for Best Picture. None of these won. Rathbone lost to Walter Brennan (for "Come and Get It").
"Romeo and Juliet" was the last film Irving Thalberg produced before his death in September, 1936.
"All that remains then, before we credit the film with being one of the screen's finest accomplishments, is to add a few words about the players. If we must disclose our favorites, they would be John Barrymore's Mercutio and Basil Rathbone's Tybalt. Both were magnificent." (Frank S. Nugent, Review from The New York Times, August 30, 1936)
More pictures on Page Two and Page Three!
Cast

Credits

Norma Shearer.................................Juliet
Leslie Howard...............................Romeo
John Barrymore........................Mercutio
Basil Rathbone..............................Tybalt
Edna May Oliver...............Juliet's Nurse
C. Aubrey Smith................Lord Capulet
Andy Devine...................Peter (Servant)
Conway Tearle............................Escalus
Ralph Forbes....................................Paris
Henry Kolker....................Friar Laurence
Robert Warwick............Lord Montague
Virginia Hammond........Lady Montague
Reginald Denny........................Benvolio
Violet Kemble Cooper......Lady Capulet

Production Company.....................MGM
Producer.........................Irving Thalberg
Director..............................George Cukor
Screenplay.....................Talbot Jennings
(based on play by William Shakespeare)
Cinematographer............William Daniels
Film Editing.....................Margaret Booth
Original Music...............Herbert Stothart,
Edward Ward
Non-original music...."Romeo and Juliet:
Fantasy-Overture" by Tchaikovsky
Recording Director.......Douglas Shearer
Art Director.....................Cedric Gibbons
Settings...Cedric Gibbons, Fredric Hope,
Edwin B. Willis, Oliver Messel
Costumes.............Adrian, Oliver Messel

Images on this page and page two are from the film "Romeo and Juliet," copyright MGM.