Tales of Terror is a collection of three tales based on stories by Edgar Allan Poe: "Morella," "The Black Cat," and "The Case of M. Valdemar." Vincent Price stars in all three tales. Basil Rathbone appears in the third tale as Mr. Carmichael, an evil mesmerist who hypnotizes Valdemar (Vincent Price) at the moment of death, and thus holds him in his control in a tortured state between life and death. Valdemar's wife and doctor object strenuously, but can do nothing because only Carmichael can release Valdemar and let him die in peace. That of course is not villainous enough -- Carmichael also lusts after Valdemar's young wife. When Carmichael tries to rape her, Valdemar (looking ghastly since he's been "sort of" dead for months) rises from his bed, kills Carmichael and then dissolves into a putrid liquid goo on top of Carmichael. Rathbone acts well in this piece, not overdoing it, yet looking suitably horrified at the sight of Valdemar and screaming as he's being killed.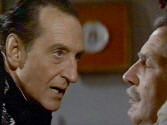 Just as the Sherlock Holmes films bear little resemblance to Conan Doyle's stories, these tales also bear little resemblance to the tales written by Poe. "The Facts in the Case of M. Valdemar," as written by Poe, tells the story of a dying man, M. Valdemar, who willingly agrees to be hypnotized at the moment of his death as part of an experiment to see if death can be delayed. This much corresponds with the film tale. But Poe's hypnotist is not evil, and there is no young wife. Valdemar's doctors do not object to the experiment, but together with two nurses and a medical student, observe and scientifically record their observations. Yes, Valdemar is held in a state between life and death for several months, but he does not appear tortured. Of course there is horror involved -- that's what Poe is known for. When the mesmerist releases Valdemar, Valdemar's body instantly dissolves into a liquid. While Poe's hypnotist may be a mad scientist, he's not the type of villain that Rathbone portrays in the film.
Still, we love to see Rathbone portray evil villains, even if it is a distortion of the original tale! The chemistry between Rathbone and Price makes watching the film enjoyable. Tales of Terror reunited Price and Rathbone for the first time since Tower of London. Price admired Rathbone and said of him, "Basil was an intelligent person and a brilliant actor."1



The "face-melting" effect (seen in the photos above) was achieved by pouring a warm mixture of glue, glycerin, cornstarch and make-up paint over Vincent Price's head.2
A word about the other two tales: "Morella" is not especially terrifying and rather uninteresting. "The Black Cat," on the other hand is very entertaining and more of a psychological thriller than absurd horror. The script starts with the basic Poe tale of an alcoholic who murders his wife in a drunken rage and hides the body in a wall in the basement (and accidentally walls the cat in with her). The tale is embellished (and in my opinion improved) by the addition of the character played by Vincent Price and the scenes with Price and the alcoholic (Peter Lorre), and Price and the alcoholic's wife (Debra Paget). Vincent Price's character falls in love with the wife, which thus gives the alcoholic a motive for killing them (something which I felt was lacking in Poe's tale). There is an amusing scene in which Peter Lorre (the alcoholic) challenges Price (a wine-tasting expert) to a wine-tasting contest. Price uses the proper method of sniffing the aroma and swishing a small amount of wine in his mouth to identify the wine. Even though Lorre's method is to guzzle a full glass, he proves equally adept at identifying the wine! The writer of "The Black Cat" was also inspired by Poe's story "The Cask of Amontillado," which involves two men, Montresor and Fortunato, who share a fondness for wine. Montresor lures Fortunato to a crypt/winecellar with the promise of tasting a rare wine, and then walls him up alive. (Must be one of Poe's favorite methods of murder/hiding a body.) The characters played by Peter Lorre and Vincent Price are also named Montresor and Fortunato.
Watch the trailer for Tales of Terror:

1 Victoria Price, Vincent Price: A Daughter's Biography (New York: St. Martin's Press, 1999), 214.
2 Wikipedia article on Tales of Terror, http://en/wikipedia.org/wiki/Tales_of_Terror.
Cast

Credits

Cast of "The Case of M. Valdemar":
Production Co. ..............
Alta Vista Productions
Basil Rathbone ............
Carmichael
Distributor ....................
American International Pictures (AIP)
Vincent Price ................
Valdemar
Executive Producers .....
Samuel Z. Arkoff, James H. Nicholson
Debra Paget ..................
Helene Valdemar
Producer ........................
Roger Corman
David Frankham ..........
Dr. Elliot James
Director ..........................
Roger Corman
Writer ............................
Richard Matheson,

based on stories by Edgar Allan Poe

Production Design ......
Bartlett A. Carre, Daniel Haller
Cast of "The Black Cat":
Film Editor .....................
Anthony Carras
Peter Lorre ...................
Montresor Herringbone
Cinematographer ..........
Floyd Crosby
Joyce Jameson ............
Annabel Herringbone
Original music ............
Les Baxter
Vincent Price ...............
Fortunato
Set Decoration .............
Harry Reif
John Hackett ................
Policeman
Makeup Artist ............
Lou LaCava
Lennie Weinrib ............
Policeman
Hair Stylist .......
Ray Forman
Wally Campo ...............
Barman Wilkins
Sound Editor ..............
Jack Woods
Alan DeWitt ................
Chairman of Wine Society
Music Editor ..............
Eve Newman
Production manager .....
Bartlett A. Carre
Cast of "Morella":
Unit manager ................
Robert Agnew
Maggie Pierce ..............
Lenora Locke
Assistant director .......
Jack Bohrer
Leona Gage ..................
Morella Locke
Property master ...........
Richard M. Rubin
Edmund Cobb .............
Driver
Special effects .............
Pat Dinga
Vincent Price ...............
Locke
Optical effects ..............
Ray Mercer
Wardrobe supervisor ...
Marjorie Corso
Music coordinator .......
Al Simms
Images on this page and page 2 are from the film Tales of Terror, copyright AIP