(1930) 70 min. b&w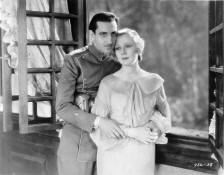 Basil Rathbone and Kay Johnson
This Mad World is a romantic melodrama that, although well-acted, was not a success. The film is presumed to be lost, so we do not have the possibility of seeing it unless MGM finds it in their archives.
The TV Guide Movie Database offers this plot summary of This Mad World:
Rathbone plays Paul, a French secret agent in the First World War, who travels behind enemy lines into Alsace-Lorraine on a mission. His mother runs an inn in Alsace-Lorraine, so Paul stops by to visit with her. While staying at his mother's inn, Paul meets and falls in love with Victoria, a guest at the inn, and the wife of a German general. Paul and Victoria carry on a passionate romance until Victoria learns that Paul was responsible for the death of her nephew. In retaliation Victoria betrays Paul and informs the Germans. Agonizing over the betrayal, Victoria commits suicide. Subsequently Paul is executed by the Germans. Paul's mother accepts her son's death stoically and plans to carry out his mission. "A gloomy picture which was far from uplifting for a Depression era audience." (TV Guide)
| | |
| --- | --- |
| Louis Natheaux and Basil Rathbone | Paul (Rathbone), in peasant's costume, successfully tricks the German advance guard. |
Originally titled Inhuman Ground (after the French play Terre Inhumaine), the film was planned to star Zita Johann opposite Basil Rathbone. In July 1929 the title was changed to "Twelve Hours of Love." By February 1930, the film was being publicized as "This Mad World," and Kay Johnson had replaced Zita Johann (The Film Daily, February 5, 1930).
| | |
| --- | --- |
| Paul surprises Anna (Veda Buckland). | The happy reunion between Paul and his mother (Louise Dresser) |
| Pretending to be a German officer, Paul greets his mother's houseguest Victoria (Kay Johnson) | Mom welcomes her boy with food. |
Basil Rathbone was under contract with MGM in 1930. Louise Dresser was loaned from Fox, where she was under contract.
| | |
| --- | --- |
| Paul and his mother see Victoria leaving the house to betray Paul to the Germans. | Paul plans to kill Victoria, but falls in love with her instead. |
| Paul and Victoria | Paul and Victoria |
"Some splendid moments, and good performances by Miss Johnson, Mr. Rathbone and Louise Dresser." —Screenland, October 1930
| | |
| --- | --- |
| Paul and Victoria | Paul and Victoria |
| Paul and Victoria | Paul and Victoria |
"Basil Rathbone was good." —Exhibitors Herald-World, August 2, 1930
"Strong, interesting, beautifully spoken, finely acted, closely knit, Romeo and Juliet theme—of a French spy and German countess during the world war—in which duty tragically wins out over love." —Educational Screen, May 1930, p. 145
| | |
| --- | --- |
| Paul and Victoria | Paul and Victoria |
| Paul and his mother | Paul and his mother |
"Although Rathbone turned in an above-par performance as the film's hero, as did Kay Johnson playing opposite him, they were hindered by a pedestrian script, which marred the entire project." —Michael B. Druxman, Basil Rathbone: His Life and His Films (South Brunswick and New York: A.S. Barnes, 1975) p. 129
| | |
| --- | --- |
| Paul and Victoria | Victoria is feeling guilty about her betrayal of Paul. |
| Victoria is dying from a self-inflicted gunshot wound. | Victoria dies. |
"The first important war story in Talking pictures. ... A tense drama of France in war days that contains the most gripping dramatic situation you've ever experienced." —Motion Picture News, June 29, 1929
See Page Two for posters, lobby cards, and more promo photos.
.
| | |
| --- | --- |
| Cast | |
| Basil Rathbone ... | Paul |
| Kay Johnson ... | Victoria |
| Louise Dresser ... | Pauline |
| Veda Buckland ... | Anna |
| Louis Natheaux ... | Emile |
| Wilhelm von Brincken ... | the German general (Victoria's husband) |
| | |
| | |

| | |
| --- | --- |
| Credits | |
| Production Company ... | Metro-Goldwyn-Mayer (MGM) |
| Director ... | William C. DeMille |
| Writers ... | Francois de Curel (play: Terre Inhumaine) |
| | Clara Beranger (adaptation) |
| | Clara Beranger and Arthur Caesar (dialog) |
| | Madeleine Ruthven (titles) |
| Cinematographers ... | Peverell Marley, Harold (Hal) Rosson |
| Film Editing ... | Anne Bauchens |
| Art Director ... | Cedric Gibbons |
| Sound Engineers ... | J.K. Brock, Douglas Shearer |
| Costumes ... | Adrian |
| | |
| | |