(1924), 70 min., silent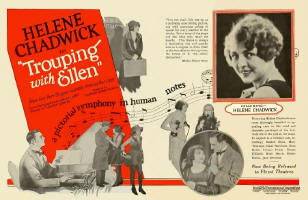 Basil Rathbone's fourth appearance in a feature film was in the 1924 comedy-drama Trouping with Ellen. Starring Helene Chadwick and Gaston Glass, the film was based on a story ("Trouping with Ellen") written by Earl Derr Biggers in 1922 and published in the Saturday Evening Post. Rathbone's first three films were produced in England; Trouping with Ellen was his first American picture. The film was released in England as Pity the Chorus Girl.
In his biography of Basil Rathbone, Michael Druxman wrote, "Rathbone played the aristocratic and wealthy Tony Winterslip, who proposes to Ellen (Chadwick), a chorus girl. She refuses him because he is unaspiring and dependent on his wealth. Instead, she marries her boy friend, Andy Owens (Glass), a composer."1
The following photos are from Trouping with Ellen, but Basil Rathbone does not appear in any of these photos.
"Chadwick is Ellen Llewellyn, a chorus girl who is loved by orchestra leader Andy Owens (Glass), a genuinely nice guy. When Ellen meets the aristocratic Tony Winterslip (Rathbone), she's impressed by his family tree and vast wealth. When Winterslip's car breaks down during a rainstorm, Ellen gets drenched and contracts pneumonia. It takes much persuasion, but finally Ellen agrees to recuperate at the Winterslip country home. There she gets to spend a lot of time with Winterslip, his mother (Jane Jennings), and his grandmother (Esther Banks) -- too much, in fact. Esther comes to realize that money and a family tree aren't everything, and she's more than happy to return to Andy."
Review by Janiss Garza, Rovi
"After visiting her mother for Sunday dinner, Ellen Llewellyn, a chorus girl, is late for the rehearsal of a Boston musical, but she is spared the wrath of the stage manager when the orchestra leader, Andy Owens, diverts his attention until she is in place. Andy has often proposed to Ellen but is always refused, for she feels that marriage to him would mean an uncertain and marginal existence. Ellen meets aristocratic, wealthy Tony Winterslip, who soon proposes to her; she turns him down also, knowing him to be unambitious and dependent upon his name and fortune. When Ellen catches pneumonia, Tony provides her with a nurse and then persuades her to convalesce at the family mansion. Ellen is bored by the dull routine of life in the Winterslip home, and Tony's grandmother, realizing that Ellen would never be happy with Tony, reunites her with Andy. They are now married, on the promise of a rewarding career for Andy, who has just sold a musical to Broadway."
Review from Turner Classic Movies
Variety reported that Andy Owens's "wealthy rival is well-played by Basil Rathbone."
Trouping with Ellen is not available on DVD, Blu-Ray or videotape.
Cast

Credits

Basil Rathbone ............
Tony Winterslip
Production Co. ............
Eastern Productions
Helene Chadwick ..........
Ellen Llewellyn
Director ........................
T. Hayes Hunter
Mary Thurman ............
Lil
Writers .........................
Gerald C. Duffy
Gaston Glass ...............
Andy Owens
Earl Derr Biggers (story)
Riley Hatch .................
The Old Man (manager)
Cinematographer .........
J. Roy Hunt
Zena Keefe .................
Mabel Llewellyn
Kate Blanke ...............
Mrs. Llewellyn
Tyrone Power Sr. ........
Mr. Llewellyn
John Tansey ...............
Dave Llewellyn
Charles McDonald .....
Dan
Ernest Hilliard ............
Jack Prentice
Jane Jennings .............
Tony's mother
Esther Banks ...............
Tony's grandmother
1 Michael Druxman, Basil Rathbone: His Life and His Films (New York: A.S. Barnes and Co., 1975), 111.