In and Out of Character: An Autobiography, by Basil Rathbone. (New York: Doubleday, hardcover, 1962). Paperback edition, 2004.
| | | |
| --- | --- | --- |
| | Rathbone's book is full of the lore and magic of a wonderful era in the art form of the 20th century called the movies. He gives us candid and insightful information on some of the original giants of the industry. Rathbone is romantic yet concise and realistic. His anecdotes are often hilarious...sometimes sad, always involving. The stories of his personal life show that qualities like true love, loyalty and dedication do exist in the fickle, often ruthless world of show business. Rathbone's account of his psychic experiences involving his brother is especially intriguing, and his devotion to his wife Ouida Bergere is moving. His advice on acting is right on and should be part of any aspiring or working actor's education. It is an intelligent book by a talented artist and decent human being. (review written by David Macklin) This book is currently available to purchase. Check out Amazon.com. | |
Basil Rathbone: His Life and His Films, by Michael B. Druxman. (Hardcover: South Brunswick and New York: A.S. Barnes, 1975). Paperback edition: BearManor Media, 2011
| | | |
| --- | --- | --- |
| | Michael Druxman's book is well-researched and well-written--a "must have" for every Basil Rathbone fan. The book traces the fascinating life of the actor and provides detailed descriptions of all of Rathbone's films, including cast, credits, critics' reviews and production notes. Out-of-print for more than thirty-five years, Michael Druxmanís book is once again available for purchase. This new reprint edition mirrors the original 1975 biography/filmography, including its more than 250 rare photographs, and also contains a new Introduction by the author. Buy it at Amazon.com. | |
Sherlock Holmes & the Fabulous Faces: The Universal Pictures Repertory Company, by Michael A. Hoey (BearManor Media, 2011)
Roy William Neill, who directed nearly all of the Sherlock Holmes films of the 1940s that starred Basil Rathbone and Nigel Bruce, had a repertory company of character actors and actresses whom he liked to use. The book is a tribute to those 68 men and women whose names appeared in small print below the stars, and who graced hundreds of films with their diversified performances. More often than not these films, be they star-studded spectacles or poverty row quickies, would be that much the better for their presence.

Author Michael A. Hoey is a film and television writer, director and producer. He is also the son of British actor Dennis Hoey, who played Inspector Lestrade in Universal's Sherlock Holmes series.

Order from BearManor Media or Amazon.com.
England's Secret Weapon: The wartime films of Sherlock Holmes, by Amanda Field (Middlesex University Press, 2009)
England's Secret Weapon examines the way Hollywood used Sherlock Holmes in a series of fourteen films that spanned the years of World War II in Europe, from The Hound of the Baskervilles in 1939 to Dressed to Kill in 1946. Basil Rathbone's portrayal of Holmes has influenced every actor who has subsequently played this popular character on film, TV, stage and radio, yet the film series has, until now, been neglected in terms of detailed critical analysis. The book looks at the films themselves in combination with their historical context.

Though the first two films were set in the detective's "true" Victorian period, Holmes was then "updated" and recruited to fight the Nazis. He came to represent the acceptable face of England for the Americans--the one man who could be relied upon to ensure an Allied victory. Enthusiasm for a Nazi-fighting Holmes soon waned, and the series moved first into ghost-and-ghouls chillers, and finally into visceral horror films in which Professor Moriarty, Holmes' old enemy, had been replaced by a new breed of villain--a deadly female.

Order from Middlesex University Press, Amazon UK, or Amazon.com.

The following are books that have at least a chapter about Basil Rathbone, unless otherwise noted.
The Bad Guys: A Pictorial History of the Movie Villain, by William K. Everson. (New York: The Citadel Press), 1964. Has several pages on Rathbone, and a few photos.
Bedside Hollywood, edited by Robert Atwan, Bruce Forer and Jack Forer. (publisher?), 1985. Brings together forty of the greatest scenes from movie stars' memoirs. One chapter is "Hi There, Sherlock" from Rathbone's autobiography.
Cads and Cavaliers: The Gentlemen Adventurers of the Movies, by Tony Thomas. (South Brunswick: A.S. Barnes), 1973.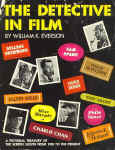 The Detective in Film, by William K. Everson. (Secaucus, NJ: Citadel Press), 1972. Has several pages on Rathbone's portrayal of Sherlock Holmes, and also explores his portrayal of Philo Vance in "The Bishop Murder Case."
The Detective in Hollywood: The Movie Careers of the Great Fictional Private Eyes and Their Careers, by John Tuska. (New York: Doubleday), 1978. A look at popular fictional detectives, and the actors, writers, and directors of the detective films.
The Films of Sherlock Holmes, by Chris Steinbrunner and Norman Michaels. (Secaucus, NJ: Citadel Press), 1978.
The Game is Afoot: Parodies, Pastiches and Ponderings of Sherlock Holmes, edited by Marvin Kaye. (St. Martin's Press), 1994. 512 pages. Contains over fifty pieces representing the full range of a century of Holmesian writing, including a piece written by Basil Rathbone.
The Great Movie Stars: The Golden Years, by David Shipman. (New York: Bonanza Books) 1970. A comprehensive book on the rise and fall of 181 actors and actresses who became stars before the end of World War II. There is a 4-page chapter on Rathbone, summarizing his career and including the names of all his films.
The Great Villains, by Janet Pate. Lots of photos of movie villains.
Hollywood Album: Lives and Deaths of Hollywood Stars, edited by Arleen Keylin and Suri Fleischer. (New York Times), 1977. 312 pages. A collection of photos and articles on 170 different stars taken from the pages of the New York Times. Contains at least one article on Basil Rathbone.
Hollywood Heavies, edited by J.C. Suares. 45 actors who played the "bad guys" (incl. Rathbone) are featured in this 80-page book, published in 1994.
The Hollywood Hissables, by Gregory William Mauk (Scarecrow), 1989.
Hollywood's Other Men, by Alex Barris. (South Brunswick and New York: A.S. Barnes), 1974. 223 pages. A celebration of the rivals who lost to the heroes in the last reel.
Holmes of the Movies: The Screen Career of Sherlock Holmes, by David Stuart Davies. (New York: Bramhall House), 1978. The author, a member of the Baker St. Irregulars, also wrote Bending the Willow, a book about Jeremy Brett.
Horror Film Stars, by Michael R. Pitts. (McFarland & Company, Inc.), 1981. A look at the careers of various stars in the horror film genre. Has a chapter on Rathbone and his career.
Human Monsters: The Bizarre Psychology of Movie Villains, by George E. Turner and Michael H. Price. (Kitchen Sink Press), 1995. Profiles 65 of the most depraved movie villains of the 1930s and 1940s. Has in-depth analysis of Rathbone's character in "The Mad Doctor."

Mad Scientists, by Ian Thorne. (Crestwood House, Inc.), 1977. Profiles the mad scientists of the movies: Boris Karloff and Basil Rathbone in "Son of Frankenstein," Boris Karloff and Myrna Loy in "The Mask of Fu Manchu," Frederic March as "Dr. Jekyll and Mr. Hyde," Claude Rains as "The Invisible Man," Charles Laughton as Dr. Moreau, and John Carradine in "Revenge of the Zombies." 48 pages with 33 black and white pictures.
Masters of Horror, by Daniel Cohen. (Clarion Books in association with Tickner and Fields, a Houghton Mifflin Company), 1984. 119 pages. Profiles four superstars of horror films, (Boris Karloff, Bela Lugosi, Lon Chaney, Christopher Lee), and discusses notable contributions by directors, writers, special effects and make-up artists, and other actors. Rathbone is one of the "other actors."
Mystic Prophecies and Nostradamus, by Peter Ballbusch. (Cosmic Star Publishing Co.), 1966. (A reprint of the 1961 movie book by Premier Productions of Hollywood.) This book was based on the film of the same name, which was narrated by Basil Rathbone. Containing several photographs of Rathbone, Mystic Prophecies and Nostradamus tells the stories of several prophets in history.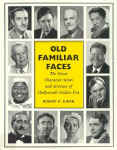 Old Familiar Faces: The Great Character Actors and Actresses of Hollywood's Golden Era, by Robert A. Juran. (Sarasota, Fl.: Movie Memories Publishing), 1995. Rathbone is one of 89 key character actors and actresses of the 1930s, whose lives and careers are covered in this 320-page book. The chapter on Rathbone is five pages.
A Pictorial History of the Movie Villain: The Bad Guys, by William K. Everson. (Citadel Press), 1971. From The Great Train Robbery of 1903 to the present, here are the movies' bad guys -- the western heavies, the gangsters, the masterminds, the hoods, the gunmen, the super-criminals, the serial villains, the mad doctors, the psychos -- captured in lively text and over 500 photographs. Stars mentioned in the 240-page book include Noah Beery, Montague Love, Walter Long, Donald Crisp, Boris Karloff, Paul Hurst, Rondo Hatton, William S. Hart, Bill Elliott, James Cagney, Rudolph Klein-Rogge, George Zucco, Vincent Price, Lon Chaney, Christopher Lee, Bela Lugosi, Basil Rathbone and George Sanders.
The Public Life of Sherlock Holmes, by Michael Pointer. (New York: Drake Publishers), 1975. A chronological catalog of the plays, films, and radio and television productions which have featured Sherlock Holmes.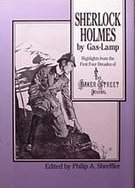 Sherlock Holmes: A Centenary Celebration, by Allen Eyles. (Justin Knowles) 1986. 144 pages. A centenary tribute to the world's most famous detective, including Holmes performances on stage and screen. Chapter 9 is "Basil Rathbone as Sherlock Holmes."
Sherlock Holmes by Gas-Lamp: Highlights from the First Four Decades of The Baker Street Journal, edited by Philip A. Shreffler. (Fordham University Press), 1989. A collection of sixty-seven of the best writing from The Baker Street Journal (published by the Baker Street Irregulars in New York) over its first four decades. Authors include noted Sherlockian scholars and Rathbone.
A Sherlock Holmes Companion, edited by Peter Haining. (New York: Barnes & Noble Books), 1994. A collection of some of the best essays and articles written about the great detective. Contributors include J.M. Barrie, P.G. Wodehouse, John Gardner and Basil Rathbone. Rathbone's article, "An Encounter in Central Park," is four pages, and also appears in Rathbone's autobiography In and Out of Character (in the chapter "Good-by My Friend").
Sherlock Holmes in America, by Bill Blackbeard. (New York: Harry N. Abrams) 1981. 240 pages. An encyclopedic look at the various ways that Sherlock Holmes has been portrayed in American media, including film portrayals.

Sherlock Holmes on Screen: The Complete Film and TV History, by Alan Barnes. (Reynolds and Hearn, 2001, 2004.) With Rathbone gracing the cover of the 2004 edition, this book includes all Holmes' 300 plus film appearances--the most comprehensive Holmes filmography ever published (according to the publisher). Can be ordered from Amazon.com. NOTE: An updated, paperback edition was produced in 2012 by Titan Books. It includes entries from the BBC series Sherlock, starring Benedict Cumberbatch, and the Sherlock Holmes films directed by Guy Ritchie and starring Robert Downey, Jr.

Sherlock Holmes on the Screen, by Robert W. Pohle Jr. and Douglas C. Hart. (A.S. Barnes and Co., 1977.) Covers all of the Sherlock Holmes films produced between 1903 and 1971. Lots of black and white photos.


updated edition
Son of Frankenstein, 50th Anniversary Edition (1939-1989), edited by Philip J. Riley, production background by Gregory William Mank. Universal Filmscripts Series, Classic Horror Films, Vol. 3. (MagicImage Filmbooks), 1990. This book covers everything you'd want to know about the 1939 film "Son of Frankenstein," starring Basil Rathbone: the complete first draft script by Willis Cooper, detailed production background, biography notes on the cast and crew, pressbook reproductions, and loads of photographs.
Starring Sherlock Holmes, by David Stuart Davies. (Titan Books, 2001, 2003.) The definitive illustrated history of Holmes on screen covers every Sherlock Holmes film and TV series from the silent movies, through the famous portrayals of Basil Rathbone and Peter Cushing, up to the celebrated television series starring Jeremy Brett and beyond. Stage and radio works are also covered. The dust jacket can be flipped to feature either Jeremy Brett or Basil Rathbone on the front cover. Can be ordered from Amazon.com.
Tales From the Hollywood Raj: The British in California, by Sheridan Morley.
Tough Guys and Gals of the Movies, by Edward Edelson. (New York: Doubleday) 1978. 133 pages. Rathbone is one of the "tough guys" discussed in the chapter "From Bad to Good."
There are also many "History of the Movies" books, in which Rathbone is mentioned, because of course he deserves a place in history, but his performances are not discussed in detail. Some of these books are:
The Films of the Forties, by Tony Thomas
From Scarface to Scarlett: The American Films in the 1930s, by Roger Dooley
History of the Movies, by Edward F. Dolan Jr.
The Movie Buff's Book
The Movie Makers: The Lives and Films of More Than 2,500 Stars, Supporting Actors and Directors Who Have Made Motion Picture History
The Movie Stars Story
The Movies, by Richard Griffith and Arthur Mayer
Movies of the Thirties, by Ann Lloyd
Saturday Afternoon at the Movies, by Alan G. Barbour (3 volumes in 1)
The Universal Story: The Complete History of the Studio and its 2641 Films
A World of Movies: 70 Years of Film History, by Richard Lawton
Fiction:
The Howard Hughes Affair, by Stuart M. Kaminsky, Ace Books, 1980. A Toby Peters mystery in which Basil Rathbone helps private eye Toby solve several murders.
Basil Rathbone Selects Strange Tales, (New York: Belmont), 1965. A collection of stories written by various authors and recommended by Basil Rathbone.
Make Mine Murder, by Robert Sydney Bowen, Checkerbooks #3, 1949. A fastmoving, suspenseful detective novel "from the Library of Basil Rathbone."
Watson's Choice, by Gladys Mitchell, (London: Michael Joseph), 1955. A murder mystery in which all the guests at a party are dressed as characters from Sherlock Holmes stories when the murder occurs. The dust jacket of this book features a drawing of Rathbone and Bruce as Sherlock Holmes and Dr. Watson.

E-mail me to suggest a book to be added.