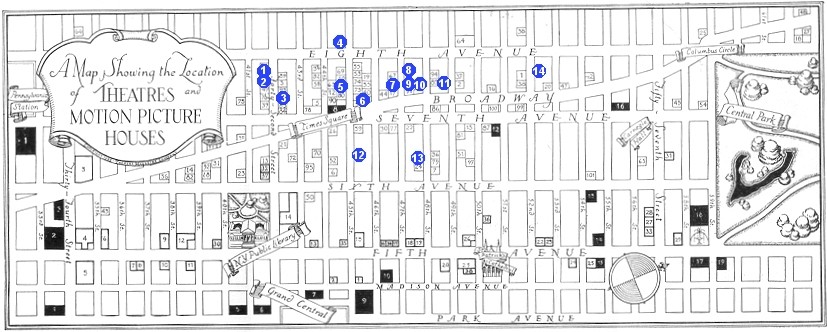 Key to New York City map and names of plays in which Rathbone performed at each theater:
Empire Theater, 42nd St., "The Czarina" (1922), "The Captive" (1926)
New Amsterdam Theater, 214 W. 42nd St., "Julius Caesar" (1927)
Selwyn Theater (now called American Airlines Theater), 227 W. 42nd St., "The Devil Passes" (1932)
Martin Beck Theater, 302 W. 45th St., "Romeo and Juliet" (1934)
Plymouth Theater, 236 W. 45th St., "Obsession" (1946)
Fulton Theater, Broadway between 45th and 46th Sts., "A Kiss of Importance" (1930), "Heat Wave" (1931)
(The Fulton was renamed the Helen Hayes Theater in 1955. This theater and several others in the area were demolished in 1982 to make room for the Marriott Marquis Hotel.)
The Arena, Hotel Edison, 228 W. 47th St., "Julius Caesar" (1950)
Biltmore Theater, 263 W. 47th St., "The Heiress" (1947)
Ethel Barrymore Theater, 243 W. 47th St., "Melo" (1931), "Hide and Seek" (1957)
Longacre Theater, 220 W. 48th St., "The Command to Love" (1927), "Judas" (1929)
Coronet Theater (now Eugene O'Neill Theater), 230 W. 49th St., "Jane" (1952)
Lyceum Theater, 149 W. 45th St., "The Giaconda Smile" (1950)
Cort Theater, 138 W. 48th St., "The Swan" (1923), " The Assumption of Hannele" (1924), "Love is Like That" (1927)
ANTA Theater (now Virginia Theater), 245 W. 52nd St., "J.B." (1959)
Other New York City theaters not shown on map:
Century Theater, 115 E. 15th St., "Sherlock Holmes" (1953)
Daly's 63rd St. Theater, "Port O'London" (1926)
Lydia Mendelssohn Theatre, "Separate Tables" (1957)
Metropolitan Opera House, 30 Lincoln Center Plaza, "American Shakespeare Celebration" (1928)
Ritz Theater, "The Importance of Being Earnest" (1926)
back to Homes and Haunts of Basil Rathbone.