"The Prince of Darkness... assumes the pleasing shape of a young curate [Rathbone] passing through an English parish and pausing to expose the virtues rather than stimulate the sins of certain muddled souls with whom he comes in contact. He is a reasonably likable young man, and his actions and reactions are at least ninety-five per cent normal."1
Rev. Lucy joins a party of friends gathered at a cottage in the country, and learns what each person desires above all else. Since he is in reality the Devil, he offers them what they think they want most in the world. Some of them discover they are not as selfish as they thought. The ones seduced by the Devil end up hurt.
1 from The Best Plays of 1931-32, ed. by Burns Mantle (Dodd, Mead and Co., 1932), page 300.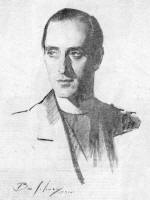 drawing by Ben Solowey
Used by permission of the
Studio of Ben Solowey