Basil Rathbone's
Appearances on Stage
(continued from page one)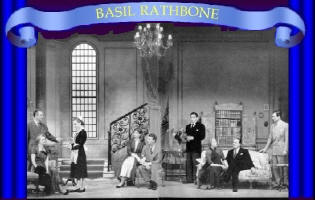 A scene from the 1952 play "Jane"
(Click image to see it larger.)
1934
Dec. 20
Romeo and Juliet by Shakespeare, Martin Beck Theater, New York City. Rathbone played Romeo and starred with Katherine Cornell. The play ran for 12 weeks.
1938
August 2
"Motion Picture Night: Music of the Cinema" at the Hollywood Bowl. Boris Morros conducted the program, which was a tribute to film music and the industry's composers, arrangers and scorers. Ronald Colman and Basil Rathbone participated in the program, performing a scene from If I Were King with a musical background. Other participants included Edward G. Robinson, John Barrymore, composers Demitri Tiomkin and Adolph Deutsch, and featured singing star Hope Hampton.
1940

August 5
The Astonished Heart, a play in six scenes (part of "Tonight at 8:30,"

a cycle of nine one-act plays starring many of Hollywood's greatest stage and screen stars

) by Noel Coward, El Capitan Theater, Hollywood. Rathbone played Christian Faber and starred with Gladys Cooper, Muriel Hutchinson, Morton Lowry, Lillian K. Cooper, and Henry Stephenson.
| | |
| --- | --- |
| 1946 | |
| October 1 | Obsession by Jane Hinton (adaptation of "Jealousy" by Louis Verneuil and Eugene Walter). Opened at Plymouth Theater, New York City. Rathbone played Maurice and starred with Eugenie Leontovich. Directed by Reginald Denham. The pre-Broadway tour included the Lobero Theatre in Santa Barbara (June 13); the Curran Theatre in San Francisco (June 16); the Music Hall in Kansas City (July 25); the Erlanger Theatre in Chicago (July 29); the Shubert Theatre in Philadelphia (August 26); and the Colonial Theatre in Boston. |
1947
Sept. 29
The Heiress by Ruth and Augustus Goetz (based on Washington Square by Henry James), Biltmore Theater, New York City. Rathbone played Dr. Austin Sloper.

The Heiress played on Broadway for over a year and then went on tour. Cities on tour:
Chicago, Selwyn Theatre, Oct. 25, 1948
1950
February 8
The Heiress by Ruth and Augustus Goetz, two-week revival at New York's City Center. Rathbone played Dr. Sloper and starred with Margaret Phillips, Edna Best and John Dall.
March 31
"The Nightingale and the Rose," a concert at The Academy of Music, Philadelphia, Pennsylvania. Rathbone narrated Alexander Steinert's symphonic poem of Oscar Wilde's story "The Nightingale and the Rose." The Philadelphia Orchestra, with Eugene Ormandy conducting, provided the music.
June 20
Julius Caesar by Shakespeare, The Arena, Hotel Edison, New York City. Rathbone played Cassius and starred with Alfred Ryder, Joseph Holland, Milton Selzer, Berry Kroeger, Horace Braham, Emily Lawrence, and Sarah Burton.
Summer
The Winslow Boy by Terrence Rattigan, summer stock. Rathbone played the attorney, Sir Robert Morton.
October 9
The Gioconda Smile by Aldous Huxley, Lyceum Theater, New York City. Rathbone played Henry Hutton.
1951
August (summer stock?)
The Gioconda Smile by Aldous Huxley, on tour. Rathbone played Henry Hutton. Some locations were Fayetteville, New York (July 31 - August 5), the Country Playhouse in East Rochester, New York (August 7-12), and the Olney Theatre in Olney, Maryland (August 14).

To the right is a playbill from the tour of "The Gioconda Smile."

sometime in 1951
"An Evening With Basil Rathbone" Rathbone developed and toured with this one man show. Generally the first half of the performance was poetry and personal reminiscences, and the second half Shakespeare. He changed the content as the occasion demanded. The initial contract was for six weeks, with four lectures each week. Rathbone continued his one man show off and on throughout the 1950s and early 1960s.
1952
February 1
Jane by S.N. Behrman (adaptation of story by Somerset Maugham), Coronet Theater, New York City. Rathbone played William Tower and starred with Edna Best.
March 23
Basil Rathbone Reading in the Coolidge Auditorium. Basil Rathbone read selections from the works of Aubrey Beardsely, Francis Thompson, Robert Louis Stevenson, Rupert Brooke, John Keats, Oscar Wilde, Percy Bysshe Shelley, A.E. Housman, Elizabeth Barrett Browning, Robert Browning, William Shakespeare, and Stephen Vincent Benét, as well as from the Bible.
1953
April 12, 1953
"An Evening with Will Shakespeare" Brooklyn Academy of Music, New York City. Rathbone performed "Advice to the Players" (Hamlet), Cardinal Wolsey (Henry VIII), Brutus (Julius Caesar), and Macbeth. Other players were Eva Le Gallienne, Margaret Webster, Viveca Lindfors, Faye Emerson, John Lund, Del Horstmann, Paul Ballantyne, Frederick Rolf, and Lily Lodge. Directed by Margaret Webster.
"An Evening with Will Shakespeare" opened December 5, 1952 at the New Parsons Theatre in Hartford, Connecticut and closed May 9, 1953 at the National Theatre in Washington, D.C. after touring several cities. The production failed to arrive on Broadway. In addition to Hartford and Washington, the tour included Boston (Colonial Theatre, April, 1953).
October 30
Sherlock Holmes by Ouida Rathbone, New Century Theater, New York City (after tryout in Boston at the Majestic Theatre). Rathbone played Sherlock Holmes and starred with Jack Raine (as Watson) and Thomas Gomez (as Moriarty).

On the difference between and actor and an entertainer, Basil wrote, "I would define the actor as one who submerges himself and becomes someone else. ... In our day and age there are few great actors and many great entertainers and the theater is thereby a loser."
— Basil Rathbone, In and Out of Character, page 88.
1955
Summer
The Winslow Boy by Terence Rattigan, summer stock. Rathbone played the attorney, Sir Robert Morton, and also staged the play. Also appearing: Colin Keith-Johnston, Sarah Burton, Pennell Rock, Donna Dawson, Pamela Simpson, Jami Blake, Tom Ratcliffe, Harry Mehaffey, Barry Truex and Bruce Adams.
October 1
"One Plus One," Brooklyn Academy of Music, New York. Rathbone and Helen Gahagan Douglas performed dramatic readings of Shakespeare, DeMaupassant, Dickinson, and Chekov. After the New York premier, the show toured. Tour included Paris, Tennessee.
1956

May 30- June 3
"The Abduction from the Seraglio" by Mozart, The Stratford Festival Theatre Music Association's Mozart Festival, Stratford, CT. Rathbone played the narrator, Pasha Selim.
July 19
A Midsummer Night's Dream by Shakespeare, The Empire State Music Festival, Ellenville, New York. Rathbone played Oberon and starred with Red Buttons and Nancy Wickwire.
1957
April 2
Hide and Seek by Stanley Mann and Roger MacDougall, Ethel Barrymore Theater, New York City. Rathbone played Sir Roger Johnson.
July 8
Witness for the Prosecution by Agatha Christie, Theatre-By-The Sea, Mantunuck, Rhode Island. Rathbone played Sir Wilfred Robarts, Q.C.
1958
Summer
Separate Tables by Terrence Rattigan, Lydia Mendelssohn Theatre, New York City. Rathbone starred with Betty Field and Geraldine Page. Also toured several cities on the U.S. east coast.
October 4
"Midnight at Eight" by William Spier, Los Angeles City College Auditorium. Rathbone starred with M'el Dowd. Dramatizations of tales by such writers as Poe, W.F. Harvey, A. Conan Doyle, J. Collier and A. Bierce.
1959

June 8 - Oct. 10
(18 weeks)
J.B. by Archibald MacLeish, ANTA Theatre, New York City. Rathbone played Mr. Zuss and starred with Christopher Plummer and Nan Martin. The cast also included James Daly, Clifton James, James Olson, Bert Conway, Andreas Voutsinas, Ivor Francis, Janet Ward, Ford Rainey, Laura Pierpont, Nancy Cushman, Fay Sappington, Judith Lowry, and Pamela King.
Oct. 28, 1959 - March 26, 1960
J.B. by Archibald MacLeish. The tour of major US cities opened in New Haven at the Shubert Theatre, and closed in Philadelphia at the Locust St. Theatre. Other cities included: Boston, Rochester, Columbus OH, St. Paul, and Baltimore. Rathbone played Mr. Nickles and starred with Frederic Worlock (as Mr. Zuss). The cast included Michael Higgins, James Ray, Richard Kuss, Eulalie Noble, Ron Cummins, Peggy Lang, Christopher Bergen, Ina Beth Cummins, Barbara Bergen, Rosemary Daley, Ann Dere, Mary Riddle, Elaine Ivans, Laura Pierpont, Marianna Courtney, Bert Conway, Ivor Francis, and Gene Gross.
1960
The Marriage-Go-Round by Leslie Stevens, toured major cities of Australia. Rathbone played Paul Deville and starred with Ruth Gower.
Early 1960s
"An Evening with Basil Rathbone," personal and professional reminiscences. In addition to touring the U.S., Rathbone also took "An Evening with Basil Rathbone" to Brazil, Argentina, Peru and Mexico in the early 1960s.
1961
May 24
"Consort of Musicke" at the New York Public Library, New York City.
1962
Nov 29-30
A program of Elizabethan poetry and music in the Coolidge Auditorium. Basil Rathbone, reader; Helen Boatwright, soprano; Robert White, tenor; the Consort Players (6 musicians performing on period instruments); Sydney Beck, director and musical arranger.
1963
April 30
White House Performance and Dinner. Rathbone performed at the White House at the request of President John F. Kennedy to honor Grand Duchess Charlotte of Luxembourg. Rathbone read Henry V's St. Crispins' Day Speech and Elizabethan poetry. Elizabethan music performed by Helen Boatwright (soprano) and Robert White (tenor).
1964
April 23
"A Shakespeare Performance at the Citadel." Appearing at the Citadel, Charleston, South Carolina, to celebrate the Shakespeare Quadricentennial (1564-1964), Rathbone read from Hamlet, As You Like It, Richard II, Henry V, Romeo and Juliet, Julius Caesar, and Macbeth.
1965
Nov 4-5
Meeting of the Maiwand Jezails Scion Society of the Baker Street Irregulars, Wayne, Nebraska. The evening of Nov. 4 featured Basil Rathbone in concert. Basil was the guest of honor at the luncheon the following day, cut the ribbon at the dedication of the John H. Watson Reading Room (Wayne State Library), and was the speaker at the dinner that evening.