The Women in Basil Rathbone's Life
(continued)


| | | |
| --- | --- | --- |
| | | Basil Rathbone's relationships with various women until his marriage to Ouida Bergere in 1926 are explored on Page One. Basil's relationship with Ouida is examined on a separate page. Click here to read about Ouida Bergere Rathbone. This page will explore Basil's extramarital relationships. |

Other Women (The Hollywood Years)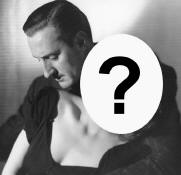 Although Basil Rathbone had a public image of being a happily married man and faithful husband to his second wife Ouida, rumors of extramarital affairs persist. Unfortunately, proving that extramarital affairs occurred can be difficult. A man having an affair normally tries to be discreet, so the main evidence is likely to be testimony such as the following:
"My mother met Basil when she was 22 and a struggling actress. This was in 1939 around the time he was filming Son of Frankenstein. She had been a cabaret singer to make ends meet because she couldn't make it in the theater. He used to come with friends to hear her sing and that is where she met him. She was a little Catholic girl who met a worldly handsome man who swept her off her feet. She fell in love with him and they had a very tempestuous, but passionate, relationship. Their affair was on-again off-again until the start of WW2. She said that he was a beautiful man and she loved him very much, but he didn't want to leave his wife. My mother was very beautiful, too. When the war started she went back home and didn't see Basil again. After the war, she met and married my father." ("Irene")
Rose Hobart had this to say about her Tower of London costars: "All of those English actors were terrible womanizers and they were always telling stories about their conquests. I remember Rathbone telling me one story about Marlene [Dietrich] which really made me kind of sick." (quoted in Universal Horrors, by Tom Weaver, Michael Brunas and John Brunas, McFarland & Co. Inc., 2007, page 206).
"Basil found other outlets. They were anonymous girls mostly. Girls from the lot, that kind of thing. No shortage of them in Hollywood. Most of them would f**k any name that asked them. [Ouida] knew about his previous lovers. And a couple of them…they were very big names." ("Jenny")
"My great uncle was Sidney Greenstreet a quite well-known actor out in Hollywood. He had a lot of Hollywood gossip he used to tell my grandmother and I remember one story about Basil ... The story was he was mostly straight but also occasionally had a weakness for men and had an affair with a gay actor who was closeted like they all were then, and then later had an affair with the gay actor's wife." ("Jimmy," comment posted on The Baz).
And, of course, much has been made of David Bret's allegations regarding a sexual relationship between Errol Flynn and Basil Rathbone (Errol Flynn: Satan's Angel, Anova Books, 2004, p. 69).
Is any of it true? We've all heard "Where there's smoke, there's fire." I'm skeptical about the claims that Rathbone had sexual relations with other men, but I have no proof that they aren't true. Anything is possible in Hollywood. Whatever happened, he had to be able to deny it in public, so he would have been careful.
Some Rathbone fans will refuse to believe that Basil was unfaithful to Ouida. Why would he have extramarital affairs when he was married to the love of his life? There could be a good reason. We don't know anything about Basil's and Ouida's sex life. Perhaps she had a medical condition that prevented her from having sex. Perhaps she was frigid. Their marriage was not necessarily based on sex. I believe that some of these rumors are probably true. But were his liaisons just about sex, or did he fall in love?
The following two letters are evidence that Basil Rathbone was indeed in love with someone other than his wife. I have obscured the name of the woman in order to conceal her identity.
"Mrs. H" (or whatever the letter is) refers to the Rathbones' housekeeper. "C" refers to Cynthia. Although the letter is undated, the reference to Cynthia as a small child dates it to the early 1940s. "The Bruces" refers to Basil's close friends Nigel Bruce and his wife. Ouida had found out that Basil was in love with this "other woman," and was so distraught that she took an overdose of sleeping pills. The maid found Ouida in time, thus preventing her suicide. But Basil and the "other woman" were feeling guilty over being the cause of Ouida's attempted suicide.
Here is a second letter to the same woman, written some time later:
As we know, Basil stayed with Ouida. Eventually, the love affair to which these letters attest ended.
But what about the other women—anonymous girls and some very big names? It's vexing that we don't know who these women were! We can only speculate. Below are some photos of Basil with various women in Hollywood. These are candid photos, which may very well have caught some genuine emotion and intimate moments..
.

.