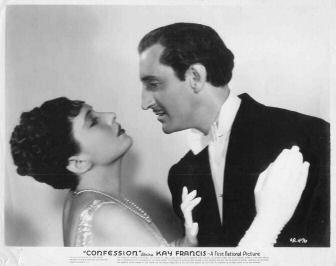 This wonderful film opens in a European city. At the train station schoolgirls Lisa and Hildegard are approached by an older man, the famous composer/pianist Michael Michailow. He gives them two tickets to a concert. The young girls are eager to experience grown-up life, so they attend the concert. The composer seems infatuated with Lisa. Michailow meets her again at the conservatory, where she is a student, and tries to seduce her. Though Lisa is inexperienced and afraid, she is taken in by his charm, and agrees to meet him once more before he leaves town. They go to a nightclub, where Michael continues the seduction. When he kisses the schoolgirl, a spotlight is shined on them. The nightclub singer (Kay Francis) sees them and faints. With a horrified look, Michael takes the schoolgirl and starts to leave. As they ascend the staircase, the singer shoots Michael, killing him.
| | |
| --- | --- |
| Michael seduces Lisa | Michael recognizes Vera |
The next scene is the courtroom, where the trial of Vera Kowalska, the singer, is being held. The judge asks her why she shot Michael Michaeilow. Vera refuses to explain, until she sees the suitcase that she had checked at the railroad station being brought in. She agrees to tell her story, but only if the courtroom is cleared.
Vera's story, told in flashbacks, started at the Grand Opera House in Warsaw, in February, 1912. She was a famous opera star, but she looked forward to marrying Leonide and being a homemaker. Michael, the composer, tried to convince her that she would never be content as a housewife. He declared his love for Vera. But she told him that he knows nothing about real love because he loves only himself. He makes love to women, dumping them when he tires of them.
| | |
| --- | --- |
| One of this film's interesting camera shots, showing Michael and Vera in her mirror. | Michael congratulates Leonide on his impending marriage to Vera. |
Fast forward two years. Vera has a baby girl. Husband Leonide is fighting in the Great War, so Vera is left alone with the baby. She is persuaded to go out and have some fun, so she decides to attend a charity ball. Her old friends, including Michael Michailow, are there. They dance together, and drink. She enjoys herself, though she reminds Michael that she is happily married.
After the ball ends, Michael invites everyone to come over to his house. Vera has already had too much to drink, but goes along with the crowd, and continues drinking and partying with her friends. Michael plays the piano and Vera sings. Finally she says that she must go home. Michael announces to his guests that he is going to escort Vera home, and they may carry on. Before they get out the door, Vera passes out, and Michael carries her to his bedroom.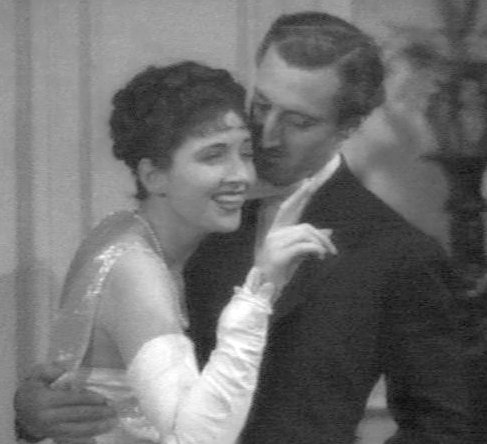 Vera awakes in the morning, horrified to find herself in Michael's bed. Though it doesn't appear that anything sexual happened, it was still a scandal for a married woman to spend the night with a man other than her husband. She feels guilty.
Vera's husband returns from the war, wounded. Vera wants to tell him what happened that night at Michael's house, but hasn't the courage to say anything. Leonide knows something is bothering her, so he follows her when she suddenly leaves the house. Vera is going to Michael's house to tell him to leave her alone. Ever since the party Michael has been telephoning her and sending letters. She tells him to stop because she loves her husband. Leonide sees her leaving, and thinks it was a romantic rendezvous and she's having an affair with Michael. He divorces her and takes their child, moving away so Vera can never find them. Vera blames Michael for ruining her life. He refused to offer testimony during the divorce hearing, to corroborate Vera's story. Therefore, she appeared to be guilty of more than mere indiscretion.
For the next 15 years, Vera has been making a living singing in seedy cafes and nightclubs--quite a comedown from being an opera star! In every town she sings in, she searches for her daughter. In this town she finally finds her daughter--Lisa. Lisa's stepmother explains that Lisa has no idea that she isn't her real mother. She begs Vera to keep this secret. When Vera later sees Michael kissing Lisa, she knows she has to stop him from ruining her daughter. So she shoots him.
Vera tells her story behind closed doors so that Lisa will not learn that she is her mother. The court sentences Vera to three years in prison, citing as mitigating circumstances that Vera was preventing a young girl's life from being ruined by a man who is morally degraded.
The story is all the more heartrending because it is based on a true story, an actual 1930 court case. It may be hard to imagine that such a tragedy really happened. How could a man divorce his wife and get custody of a child because of suspected infidelity? There was no proof, and she did nothing to deserve her fate. We can only assume that nearly one hundred years ago the law and relationships were quite different. "Confession" (working title: "One Hour of Romance") was a remake of the 1935 German film "Mazurka," which starred Pola Negri. Warner Brothers bought the rights to "Mazurka," then, instead of releasing it in the United States, Warner Brothers chose to remake it in English.
"Director Joe May was so determined to make this a close remake of the German film "Mazurka" (1935) that he kept a print of "Mazurka" on the set and frequently ran sections of it, to the annoyance of the new film's cast. In addition to copying the German original shot-by-shot in many scenes, this film also reuses the original score and songs."
http://www.imdb.com/title/tt0028737/trivia

Because "Confession" followed its German predecessor so closely, it also captured the unusual visual style and expressionist sequences of the original. It was very different from what American audiences were used to. In spite of being annoyed with the director the actors delivered excellent performances.


| | |
| --- | --- |
| Songs: | "One Hour of Romance" |
| | "I Belong to You" |
Cast

Credits

Basil Rathbone ..........
Michael Michailow
Production Co. ..........
First National Pictures
Kay Francis ................
Vera Kowalska
Distributor ................
Warner Brothers
Ian Hunter ..................
Leonide Kirow
Executive Producers .
Hal B. Wallis, Jack L. Warner
Jane Bryan .................
Lisa Koslov
Producer ....................
Henry Blanke
Donald Crisp .............
Presiding Judge
Director .....................
Joe May
Mary McGuire ...........
Hildegard
Asst. Directors ..........
Sherry Shourds, Fred Tyler
Dorothy Peterson ......
Mrs. Koslov
Screenplay (Mazurka)
Hans Rameau
Laura Hope Crews .....
Stella
Writers ......................
Julius J. Epstein, Margaret LaVino
Robert Barrat .............
Prosecuting Attorney
Film Editor ................
James Gibbon
Ben Weldon ...............
Defense Attorney
Cinematographer ......
Sid Hickox
Veda Ann Borg ..........
Xenia
Dialogue Director ....
Stanley Logan
Helen Valkis ..............
Wanda
Art Director ...............
Anton Grot
Maurice Cass ............
Music Professor
Props ..........................
Emmet Emerson
Lawrence Grant .........
Doctor
Costume Designer ....
Orry-Kelly
Michael Mark ............
Russian Interpreter
Original music ...........
Peter Kreuder
Sam Rice ....................
Man at Station
Music Director ..........
Leo F. Forbstein
Al Lloyd .....................
Man at Station
Production manager ..
Al Alleborn
Jack Richardson ........
Man at Station
Hair Stylist .................
Ruby Felker
Perc Teeple ................
Man at Station
Makeup Artist ............
Ward Hamilton
Lyle Moraine ............
Usher at Theatre
Sound .........................
Oliver S. Garretson
Ferdinand Munier .....
Bald Man at Theatre
Asst. Editor ...............
Rudy Fehr
Peggy Keys ...............
Autograph Fan
Second Camera Operator ....................
Wesley Anderson
Jewell Jordan ...........
Autograph Fan
Asst. Camera .............
Vernon Larson
Sam Ash ....................
waiter
Still photographer .....
Madison S. Lacy
Edward Keane ............
Cabaret manager
best boy .....................
Walter Burris
Pierre Watkin ............
Lawyer
gaffer .........................
Paul Burnett
Dawn Bender ............
Lisa as a Baby
grip ............................
Dudie Maschmeyer
Janet Shaw ..................
Actress Friend
Wardrobe (women)
Ida Greenfield
Jody Gilbert ...............
Actress Friend
Wardrobe (men)
Rydo Loshak
Evelyn Mulhall .........
Actress Friend
Symona Boniface ......
Actress Friend
Elsa Peterson .............
Actress Friend
Edward Price .............
Actor Friend
Jeffrey Sayre .............
Actor Friend
John Mather ...............
Actor Friend
Lane Chandler ...........
Actor Friend
John Davidson ..........
Actor Friend
Maurice Brierre ........
Actor Friend
John Shelton .............
Actor Friend

Basil Rathbone
Anderson Lawler .......
Reporter
Cliff Saum .................
Reporter
Leyland Hodgson ......
Leading Man in Opera
Matty King ................
Dancer
Stuart Holmes ............
Policeman in Court
Theodore Lorch .........
Man in Court
Ferdinand Schuman-Heink .........................
Man in Court
Henry Roquemore .....
Fat Man in Court
Don Downen ..............
Young Man in Court
Glen Cavender ...........
Bailiff
Rolf Lindau ...............
Clerk at Candy Counter
Harry Semel ...............
Porter on Train
Herbert Heywood ......
Porter Carrying Letter
Bernard Seigel ...........
Theatre Doorman
Confession is available on DVD