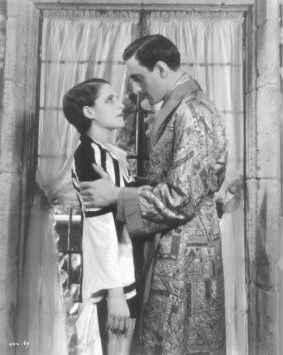 This delightful, lighthearted comedy stars Norma Shearer as Fay Cheyney and Basil Rathbone as Lord Arthur Dilling. Mrs. Cheyney is a jewel thief who pretends to be a socialite and rich widow from Australia. She hosts a charity event at her home in order to befriend the rich folks she plans to rob. Her cohorts in crime pose as her servants. Lord Dilling, a wealthy playboy, is very interested in Mrs. Cheyney, but she rejects his advances. (She really does find him attractive, but she is pretending to prefer Lord Elton--a rich, eligible bachelor and a buffoon.) Lord Dilling is not used to being rejected by women; he is even more determined to win her heart. He even proposes to Mrs. Cheyney, which is very surprising, because he is not the marrying kind of man. In his first scene in the film, Dilling explains to his friends why he is still single: "By marrying I can make only one woman miserable. By remaining single I can make so many happy." Mrs. Cheyney is different, though, and definitely intrigues him. Rathbone is debonair and very handsome--perfect for this part.
Just as Mrs. Cheyney had planned, Mrs. Webley, owner of a priceless string of pearls, invites her to a party at Mrs. Webley's home. After her guests leave, Mrs. Cheyney's "servants" come in and laugh and sing about how rich they are going to be.
At Mrs. Webley's party, Fay Cheyney has reservations about stealing the pearls. She finds that she really likes these people she is supposed to steal from. She secretly meets Charles (her friend and fake butler) in the garden, and he convinces her to go through with the robbery. Later, Lord Dilling is in the garden and realizes that Mrs. Cheyney is signaling someone with the lights in her room. He sees Charles in the garden and recognizes him as a thief he met in Monte Carlo. Suspicious now, Lord Dilling watches Mrs. Cheyney, and he witnesses her taking Mrs. Webley's string of pearls. Lord Dilling confronts Mrs. Cheyney in her room, locks the door and announces that he will spend the night with her or else tell everyone that she's a jewel thief. Rather than have Dilling spend the night with her, Mrs. Cheyney rings the bell, wakes the household, and confesses to the crime! Lord Dilling is flabbergasted--he's used to having his way with women, and didn't expect Mrs. Cheyney to react that way. (What kind of a woman would rather go to jail than spend a night with Basil Rathbone?)
| | |
| --- | --- |
| Norma Shearer and Basil Rathbone | Rathbone and Shearer |
The same people who had accepted Mrs. Cheyney into their fold are now horrified to learn they had been deceived. Mrs. Cheyney's accomplice Charles climbs in through the window to join the group. They decide to wait until morning to call the police, so they leave Dilling in charge of watching the thieves.
The next morning, at the breakfast table, the lords and ladies worry about what their society friends will think of them for being fooled. In addition, they learn that Lord Elton wrote a love letter to Mrs. Cheyney, in which he wrote his opinions of the rest of the group. They are convinced that if the letter is made public, their reputations will be ruined, so they decide to buy back the letter. Mrs. Cheyney accepts the check, and then tears it up! (She's full of surprises!) She also tears up the letter and is prepared to go to jail. That never happens, though, because the group would rather keep the incident quiet. Furthermore, they are so impressed with Mrs. Cheyney for tearing up the check and the letter that they welcome her back as their friend, and Lord Elton offers to help set her up in business. With a newfound respect for Mrs. Cheyney, Lord Dilling proposes again; this time she accepts. So that's the "last of Mrs. Cheyney" and the beginning of Lady Dilling. Yes, it's totally unbelievable, but delightful to watch anyway.
Completed in just six weeks, The Last of Mrs. Cheyney was the second "talking picture" made at MGM, but actually the first one with a soundtrack. For earlier talking pictures, the sound was recorded on a disk. The theaters had to make sure the sound disk and the film were in sync--frequently they weren't! The studio was still learning how to use this new technology effectively. Watching this film is similar to watching a play. In the early years of filmmaking, the cameras were immobile, so the camera shots do not vary much. (Cameras became mobile in 1930.) The placement of microphones in lamps and flowerpots added to the "staginess" of the film.
The film is primarily characterized by witty and funny dialogue. Herbert Bunston (Lord Elton) is a hoot! The only music I noticed was when Mrs. Cheyney played the piano. She played a bit of Beethoven's "Moonlight Sonata" in one scene; the song "Carefree and Happy," sung by her cohorts in crime, in an early scene; and the song "Believe Me If All Those Endearing Young Charms" (music and lyrics by Thomas Moore), sung (badly) by Herbert Bunston.

The Last of Mrs. Cheyney was a significant film in Basil Rathbone's career because it was his first "talkie." Also, the film was a great success and film producers were impressed with Rathbone's performance. He was in demand after that and made seven films in 1930 alone!
Norma Shearer and her husband, producer Irving Thalberg, were good friends of the Rathbones. In his autobiography Rathbone wrote, "In all the years we have known her, Norma Shearer has never changed one iota. Her charm and warm friendship and her classic beauty are as gracious and warm and classic today as on the first day we met her. If she and I had not both been so happily married I am quite sure I would have fallen very much in love with her!"1
The Last of Mrs. Cheyney was directed by Sidney Franklin, whom Basil described as "one of the most sensitive and intelligent directors I have ever worked with."2 About Rathbone, Franklin said: "Basil Rathbone was a great help to [Norma] in that picture; I remember that she went out of her way to ask him to discuss without hesitancy anything he felt was out of key in her performance or her inflections, vocally, and he took her at her word, and she was happy to get whatever advice he chose to impart. Basil got very impatient with the mikes hidden in flowerpots and the stationary camera in its lined case that stood stock still and prevented him from roaming around the soundstage as he did in the theater. So they sort of consoled each other--that first year of sound was rough on actors--and directors."3
Norma Shearer had fond memories of working with Basil: "It was a joy to act with Mr. Rathbone and I remember him most affectionately as a charmer, both on and off the screen. His beautiful voice, noble features, and distinguished bearing made him one of the great gentlemen of his time."4
The New York Times reported that Rathbone's performance was "capital," and added "the poise with which he conducts himself suits the part."5
The film was based on the play by Frederick Lonsdale, which had been very popular on Broadway in 1925-1926. MGM remade The Last of Mrs. Cheyney in 1937 (with Joan Crawford), and again in 1952, but with the title The Law and the Lady (with Greer Garson).
| | |
| --- | --- |
| "You are the most attractive woman I have ever met." | Basil Rathbone and Norma Shearer in the garden |
Notes
1 Basil Rathbone, In and Out of Character (publisher, 1962) 130
2 Rathbone, 131
3 Lawrence J. Quirk, Norma: The Story of Norma Shearer (New York: St. Martin's Press, 1988) 107
4 Michael Druxman, Basil Rathbone: His Life and Films (New York: A.S. Barnes and Co., 1975) 119
5 Druxman, 119
Cast

Credits

Basil Rathbone ............
Lord Arthur Dilling
Production Co. ............
Metro Goldwyn Mayer
Norma Shearer .............
Fay Cheyney
Producer ................
Irving Thalberg
George Barraud ...........
Charles
Director ........................
Sidney Franklin
Herbert Bunston .........
Lord Elton
Writers .........................
Hans Kraly,* Claudine West
Hedda Hopper .............
Lady Maria
based on play by .........
Frederick Lonsdale
Moon Carroll ..............
Lady Joan
Cinematographer .........
William Daniels
Madeline Seymour ......
Mrs. Mattie Wynton
Art Director ..................
Cedric Gibbons
Cyril Chadwick ............
Willie Wynton
Film Editor ....................
Conrad A. Nervig
George K. Arthur ........
George
Music ...........................
William Axt
Finch Smiles ................
Bill O'Dare
Other Music .................
Thomas Moore, Ludwig van Beethoven
Maude Turner Gordon .
Mrs. Webley
Set Decoration .............
Edwin B. Willis
John Batten .................
Guest
Assoc. Art Director ....
Urie McCleary
Props .............................
Emmet Emerson
Costume Designer .......
Adrian
Recording Engineer .....
Douglas Shearer
Recording Engineer .....
G.A. Burns
* Hans Kraly received an Oscar nomination for best writing.