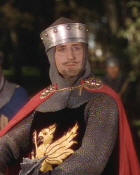 The legend of Robin Hood is brought to life in this, my all time favorite movie, a truly perfect and satisfying film in many ways! Basil Rathbone and Errol Flynn in the same film -- who could ask for more? This film has everything: romance, action, suspense, humor, excellent music, and great acting, especially from Rathbone as Sir Guy of Gisbourne.
The script for "The Adventures of Robin Hood" was based on the traditional legends and ballads of Robin Hood and Sir Walter Scott's novel Ivanhoe. It's not a remake of the 1922 Douglas Fairbanks movie "Robin Hood," although there is an emphasis on stunts similar to ones in the 1922 movie (e.g. Robin's swinging ride up the cut rope to the top of the Nottingham gate). "The Adventures of Robin Hood" is one of the best film versions of a folk legend ever made. Scenes such as Little John on the bridge, Friar Tuck and the river crossing, the archery tournament, the escape from the scaffold...they're all in this film.
Errol Flynn of course plays England's most famous outlaw Robin Hood who, armed with a mighty longbow, robs the rich, gives to the poor and leads a band of merry men. Robin Hood is a hero of Saxon resistance against the ruling Normans who misuse and abuse their power and who oppress the poor folk who farm the land. But Robin is steadfastly loyal to King Richard (the Lion-Hearted), who is a Norman ruler. Injustice is Robin's enemy, not the system of government.

Oppression is personified by Sir Guy of Gisbourne, a Norman baron determined to make life miserable for the Saxon peasants in Nottinghamshire, and even more determined to capture and hang Robin Hood, the outlaw. Gisbourne oozes evil throughout the movie and is downright scary. We see Sir Guy in the second scene of the film, right after the announcement that Leopold of Austria is holding King Richard for ransom. Prince John and Sir Guy decide to raise the taxes, supposedly to ransom the king. But ambitious Prince John has no intention of paying the ransom.
In the next scene Gisbourne captures Much, the Miller's Son, who has just killed a deer in Sherwood Forest. Gisbourne informs Much that poaching a royal deer is an offense punishable by death. But Robin Hood appears and, aiming an arrow at Sir Guy, rescues Much.

Later, in the memorable scene of the banquet in Nottingham Castle, Robin makes a grand entrance with the slain deer slung over his shoulders and presents the freshly killed deer to Prince John as a gift. It is here that Robin is introduced to Lady Marian, a ward of King Richard. It is also here that Robin announces his plans to oppose Prince John.
| | |
| --- | --- |
| Robin: | Now, with the help of a sweet band of cutthroats, you'll try to grind a ransom for [the King] out of every helpless Saxon, a ransom that will be used not to release Richard but to buy your way to the throne. |
| Sir Guy: | Let me ram those words down his throat, your Highness! |
| Prince John: | Oh no. Later. Let him spout for a moment. (to Robin) And what do you propose to do? |
| Robin: | I'll organize revolt. Exact a death for a death, and I'll never rest until every Saxon in this shire can stand up free men, and strike a blow for Richard and England. |
| Prince John: | Have you finished? |
| Robin: | I'm only just beginning. From this night on, I'll use every means in my power to fight you! |
At this point fighting breaks out and Robin narrowly makes his escape from the castle.
| | |
| --- | --- |
| Robin holds off Gisbourne and the guards with a flurry of arrows. | Gisbourne and his retinue are captured in Sherwood Forest. |
While Gisbourne's men continue to brutalize the peasants, Robin Hood adds Little John and Friar Tuck to his band of followers, the "Merry Men of Sherwood." After Gisbourne's tax gatherers have wrested a large amount of gold and silver from the people, the Sheriff and Gisbourne must journey through Sherwood Forest with the treasure caravan to reach Nottingham Castle. Lady Marian, accompanies them on this journey. Robin and his men ambush the party and reclaim the treasure. The prisoners are invited to the banquet in Sherwood Forest, and Lady Marian begins to understand Robin and falls in love with him.
| | |
| --- | --- |
| Gisbourne reacts to Robin flirting with Marian | Gisbourne and the Sheriff laugh about trapping Robin Hood at the archery tournament. |
Completely humiliated, Gisbourne and the Sheriff are sent back to Nottingham in rags. They agree to hold an archery tournament in order to trap Robin Hood. They are confident he won't be able to resist the challenge. (At the archery tournament Robin Hood splits his opponent's arrow. This feat was actually performed by archery expert Howard Hill.) The trap works; Robin is captured and sentenced to hang. To the frustration of Gisbourne, Robin's men help Robin Hood escape from the gallows.

Meanwhile, King Richard and a retinue of five men, all disguised, return to England. Learning of this, Prince John and Gisbourne plot to assassinate the king and crown Prince John the following day. Lady Marian overhears the plan and tries to warn Robin, but Gisbourne arrests her and charges her with treason.
The coronation ceremony is the climax of the film, followed by the final duel between Flynn and Rathbone, which is masterful. Rathbone shows his skill at fencing and Flynn shows his charm, good looks and athletic ability. Robin and Sir Guy cross swords down a large winding staircase, and knock over tables and candelabra. At one point you see only their shadows on a pillar. Finally Robin kills Sir Guy, who tumbles over a wall and falls spectacularly to the stone floor below. (Fred Graham, a stuntman for Warners, doubled for Rathbone in the fall and broke his ankle.) After Gisbourne is killed, Marian is freed, Prince John is ousted, and Richard reigns again.
Production Notes
When Warner Bros. began working on the script for "The Adventures of Robin Hood" in 1935, the studio announced that the film would star James Cagney as Robin Hood and Guy Kibbee as Friar Tuck. However, in a contractual dispute with Warner Bros., Cagney walked out. After Flynn's success with "Captain Blood" the studio announced that "The Adventures of Robin Hood" would star Errol Flynn. Alan Hale, who played Little John, also played Little John in the 1922 Fairbanks film "Robin Hood."
Most of the Sherwood Forest scenes were filmed in Bidwell Park, a 2400 acre natural park in Chico, California, about 350 miles north of Los Angeles. A few scenes were shot at a nearby forest named Sherwood Forest after being used for location shots in the Fairbanks film. The archery tournament was filmed at the old Busch Gardens in Pasadena. The original director was William Keighley. After two months of filming, when the picture was behind schedule and over budget, the studio replaced Keighley with Michael Curtiz, who had directed "Captain Blood" and "The Charge of the Light Brigade," among others. Erich Korngold, a classical composer who felt inadequate to write the score for a 90% action film, was persuaded by Warners to try it on a week-to-week basis, with the option to quit at any time. He stuck it out and ultimately won an Academy Award for his wonderful score. The film was shot in three-color Technicolor, a new procedure at that time, and only the third Technicolor feature made by Warners. The final cost of producing "The Adventures of Robin Hood" was about $1,900,000 -- at that time the most expensive picture ever produced by Warner Bros.
Academy Awards, 1938
Erich Wolfgang Korngold -- music
Ralph Dawson -- editing
Carl Jules Weyl -- art direction
The film was nominated for Best Picture, but did not win.
Watch the climactic final duel between Robin Hood and Sir Guy:
Turner Classic Movies has a few great video clips from the film, including the trailer:
| | |
| --- | --- |
| original trailer | "My Dear Brother" |
| "I Am Regent" | "You Call Me Traitor?" |
See Page Three for promo photos, posters and lobby cards.
Cast

Credits

Basil Rathbone.................Sir Guy of Gisbourne
Errol Flynn........................Sir Robin of Locksley
Olivia de Havilland........................Maid Marion
Claude Rains.....................................Prince John
Patric Knowles................................Will Scarlett
Eugene Pallette...................................Friar Tuck
Alan Hale............................................Little John
Melville Cooper..............Sheriff of Nottingham
Ian Hunter......................................King Richard
Una O'Connor..............................................Bess
Herbert Mundin.........................................Much
Montagu Love...........Bishop of Black Canons
Production Co. ............................Warner Bros.
Producer.............................................Hal Wallis
Assoc. Producer..........................Henry Blanke
Directors......Michael Curtiz, William Keighley
Screenplay.........................Norman Reilly Raine
Seton Miller, and Rowland Leigh
Photography..............Sol Polito, Tony Gaudio
Editor...........................................Ralph Dawson
Costume Design.......................Milo Anderson
Art Direction............................Carl Jules Weyl
Archery Instructor.........................Howard Hill
Fencing Instructor.......................Fred Cravens

Images on this page and pages 2 and 3 are from "The Adventures of Robin Hood," copyright Warner Bros. Films.
The Adventures of Robin Hood is available on DVD and Blu-ray
Sources:
The Adventures of Robin Hood, Rudy Behlmer, ed., Wisconsin/Warner Bros. Screenplay Series, copyright 1979, The University of Wisconsin Press.
Swordsmen of the Screen by Jeffrey Richards, copyright 1977, Routledge & Kegan Paul Ltd.