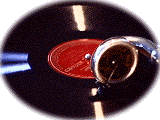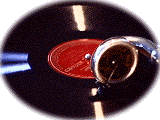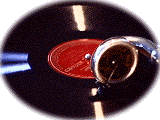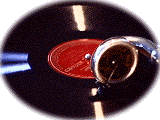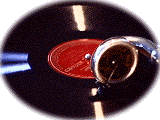 Continued from Page Two:
Rudyard Kipling: Selections from The Jungle Book, read by Basil Rathbone. Decca DL- 9109, recorded in 1962.
| | |
| --- | --- |
| Sherlock Holmes: The original movie soundtracks from "The Hound of the Baskervilles" and "The Adventures of Sherlock Holmes," "The Woman in Green," "The Voice of Terror," "The Secret Weapon," "The House of Fear," "Terror by Night" and "Sherlock Holmes Faces Death" (Murray Hill Records, 1980). I don't know to what extent Basil Rathbone was involved in the production of these records--perhaps not at all--but for the sake of completeness, I am including them in this list. Click the sound button to hear a clip of the Sherlock Holmes movie theme. | |
Silas Marner (GeorgeEliot) - Caedmon TC 2024 (2 record set). Read by Judith Anderson, with Basil Rathbone as Jeff, George Rose as Silas, The Squire, and Dunsey, Cathleen Nesbitt as Dolly, Eileen Atkins as Nancy, and Dawn Brookes as Effie. Click on the links below to hear short sound clips from Silas Marner.
| | |
| --- | --- |
| Sinbad the Sailor (story from the Arabian Nights) - 3 record set, 78 rpm, Columbia Masterworks MM-767, 1948. Adapted and directed by Ralph Rose, music from "Scheherazade" by Rimsky-Korsakov. | |
Stage Struck (sound recording): a radio program presented by the Columbia Broadcasting System, Oct. 2, 1953, LWO 2894 (2 reels), recorded in 1953. Program includes an introduction by Mike Wallace and features the theater experiences of Shirley Booth, Rosalind Russell, Fred Astaire, Basil Rathbone, Arthur Schwartz, Lilo, Cy Feuer, Pat Rooney, and a short portion of the Broadway show Can-can.
The Stingiest Man in Town, 1 record, 33.3 rpm, Columbia CL 950 -- Based on Charles Dickens' "A Christmas Carol," with Patrice Munsel, Basil Rathbone, Robert Weede, Vic Damone, Johnny Desmond, the Four Lads ; Camarata, arranger-conductor. Produced by Joel Spector, Theatrical Enterprises. Click on the buttons to hear Rathbone sing Christmas tunes from this musical.
Stories of Hawthorne, Vol.2, Caedmon TC-1197. Basil Rathbone reads The Scarlet Letter and The Great Stone Face, recorded in 1956.
Stories of Sherlock Holmes, vol. 1: "The Speckled Band" and "The Final Problem" (read by Basil Rathbone): Caedmon Records TC 1172, recorded in 1963.
Stories of Sherlock Holmes vol 2: "The Redheaded League" - Caedmon TC 1208 , recorded in 1966.
Stories of Sherlock Holmes vol. 3: "A Scandal in Bohemia" - Caedmon TC 1220, recorded in 1967.
Stories of Sherlock Holmes vol. 4: "Silver Blaze" - Caedmon TC 1240, recorded in 1967.
Tales of Hawthorne: The Minister's Black Veil and Young Goodman Brown, read by Basil Rathbone, Caedmon TC 1120.
Treasure Island - 3 record set, 78 rpm, Columbia Masterworks MM-553, recorded in 1929. (also see Page 2: Peter and the Wolf)

Basil Rathbone narrates Treasure Island and Robin Hood -- one 33.3 rpm record, P13895.
Voices from Hollywood's Past - Tony Thomas in conversation with 6 legendary celebrities from the Golden Age of the Movies (Edward G. Robinson, Basil Rathbone ('58), Walt Disney, Buster Keaton, Harold Lloyd, Stan Laurel) - Delos DEL/F25412

Walt Disney's "Mr. Toad" from "The Adventures of Ichabod and Mr. Toad," narrated by Basil Rathbone (Capitol Records EAS 3048), recorded in 1949, 33.3 rpm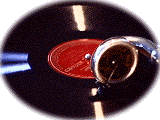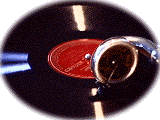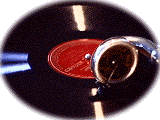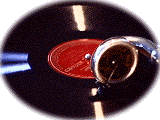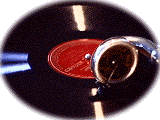 Return to Recordings by Basil Rathbone, Page One, Page Two.