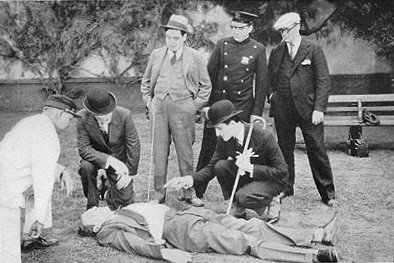 Basil Rathbone stars as gentleman detective Philo Vance in this murder mystery. The story begins with the discovery of the body of a young man, Joseph Cochran Robin. The victim, who goes by the nickname "Cock Robin," has apparently been shot through the heart by an arrow. District Attorney Markham calls his friend Philo Vance, a cultured eccentric, to assist the investigation. Vance, Markham and Detective Heath interview all the people who knew Robin or may have seen something that morning: Professor Dillard, his niece Belle, Prof. Arnesson, Mr. Sperling, Adolph Drukker and his sister, Mr. Pardee and the servants in the Dillard house. The chief suspect is Mr. Sperling, largely because of a note that was left for the police and sent to the newspapers:
Joseph Cochrane Robin is dead,
Sperling means sparrow!
Who killed Cock Robin?
The Bishop
Vance recalls the nursery rhyme:
Who killed Cock Robin?
"I," said the sparrow,
"With my bow and arrow.
I killed Cock Robin."
Sperling is arrested, and Detective Heath believes the case is solved. Vance, however, believes that the easy, obvious solution cannot be the right one. He explains, "This is no ordinary crime. And we cannot proceed in an ordinary manner. Mark my words: this is not a single murder we are trying to solve; it is the beginning of a series of murders, ghastly and inhuman."
The next victim is Johnny Sprigg, who is shot with a little gun through the top of his head. (also a nursery rhyme). Since Sperling was in custody at the time of the second murder, suspicion falls on everyone else. There are plenty of red herrings in this story, and when the real killer is finally revealed, it's a surprise, and also pretty unbelievable.
S.S. Van Dine wrote a number of murder mysteries (novels) and created the character of detective Philo Vance. The Bishop Murder Case was published in 1929 and is one of the best Vance novels. This film is a close adaptation of the novel, with only a few minor variations. Philo Vance has been described as pompous, nonchalant, whimsical, and affectatious: a young aristocrat "who constantly injects his knowledge of the most esoteric subjects, particularly those relating to art, music, religion, and philosophy, into murder investigations."1 His good friend, District Attorney Markham, frequently asks Vance to help solve murder cases. Vance agrees to do this purely as an intellectual exercise. Rathbone's Philo Vance did not come off as snobbish or pompous. And he gave no long-winded lectures to show off how much he knew. He was suave, debonair, polite, and very clever.
| | |
| --- | --- |
| Rathbone as Vance: handsome, clever | Rathbone as Vance: suave, debonair |
The Encyclopedia of Mystery and Detection states that Philo Vance bears many similarities to Ellery Queen and Lord Peter Wimsey, but makes no comparison to Sherlock Holmes. Perhaps it was just this film, or the fact that Rathbone (so identified with Holmes) was playing Vance, but it seemed that Vance analyzed clues in a very logical, "Sherlockian" manner. Although in the book there are no references to Sherlock Holmes, in the film there are several mentions of Holmes. Arnesson, one of the characters, even refers to Vance and District Attorney Markham as "Sherlock Holmes and Dr. Watson." The character of Vance (as portrayed by Rathbone) bears some similarities to Sherlock Holmes. When the police sergeant (as much of an idiot as Lestrade) complained about Vance's theories and said, "Give me facts," Vance pointed out that he could tell just by looking at the sergeant that he (the sergeant) had taken a young lady out to dinner that evening, that he didn't have enough money to pay the bill, that when he told her that he had to leave to meet with Vance and Markham, the young lady became tearful, and that he promised to join her later. The sergeant (and Markham) were amazed. Vance explained: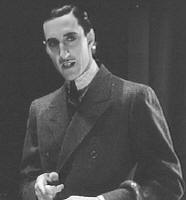 "It's all quite simple, Markham, really. I can see that tonight he took a lady out to dinner because he shaved just this afternoon. (speaking to the sergeant) You didn't have enough money to pay the bill and wrote a check to cover it because there is an ink stain on your finger, and you are otherwise immaculate. I know the young lady became tearful and you wiped away her tears because there is a smudge of mascara on your handkerchief. You promised to join her later, because you've been looking at your watch ever since you arrived."
Holmes couldn't have done better!
The film was a decent mystery story. With the exceptions of Basil Rathbone and Clarence Geldert (District Attorney Markham), I felt that most of the actors were overacting, "hamming" it up. I'm not an expert, but I believe that exaggerated expressions and overacting are typical of early talkies, because the actors were trained in silent pictures where emotions were portrayed by gestures and looks rather than words. The lack of mood music was very noticeable. When there was no dialogue, there was silence.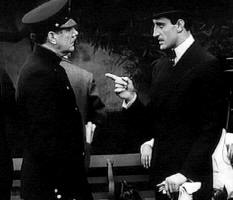 An interesting difference between the book and the film concerns the character of Van Dine. The author of the book, whose real name was Willard Huntington Wright, used the pseudonym of S.S. Van Dine, and created himself as a character who serves as the narrator of the stories and Philo Vance's closest friend. Unlike Dr. Watson, "Van" doesn't speak or interact with the other characters; he's not even introduced to other characters. Van's only purpose is to serve as an observer so that he may later write down an account of the story. It's no wonder, then, that his character doesn't appear in the film.
Another difference between book and film concerns the characters of the Drukkers. In the book "Lady Mae" Drukker and Adolph are mother and son; in the film they are sister and brother. Otherwise, they are exactly as in the book, so the reason for this change is a mystery. Also, Arnesson's first name inexplicably was changed from Sigurd (in the book) to Erik (in the film).
Paramount made three earlier Philo Vance films starring William Powell, then MGM made "The Bishop Murder Case" with Basil Rathbone.
See more pictures on Page Two and Page Three.
Watch the trailer here:
Cast

Credits

Basil Rathbone.....................Philo Vance
D.A. Markham..............Clarence Geldart
Leila Hyams..........................Belle Dillard
Roland Young..........................Arnesson
George F. Marion..........Adolph Drukker
Alec B. Francis.....................Prof. Dillard
Zelda Sears.........................Miss Drukker
Bodil Rossing.....................Grete Menzel
Carrol Nye........................Johnny Sprigg
Charles Quartermain............John Purdee
James Donlan................Detective Heath
Sidney Bracey..................Dillard's butler
Delmer Daves.............Raymond Sperling
Nellie Bly Baker.............Beedle, the maid
Broderick O'Farrell.........Doctor Van Pelt
Production Company.....................MGM
Director....................................Nick Grinde
Screenplay.......................Lenore J. Coffee
(based on book by S.S. Van Dine)
Cinematographer............Roy Overbaugh
Film Editing.................William LeVanway
Original Music........................William Axt
Recording Director.....Donald Mackenzie
Art Director.......................Cedric Gibbons
Wardrobe.........................Henrietta Frazer

Images appearing on this page as well as pages two and three are from the film "The Bishop Murder Case."
1 Chris Steinbrunner, and Otto Penzler, Encyclopedia of Mystery and Detection, New York: McGraw-Hill, 1976.