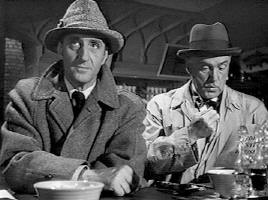 "Unwatchable" say some; "Enjoyable" say others. Pursuit to Algiers is not a favorite among Sherlock Holmes fans. David Stuart Davies writes, "Pursuit to Algiers showed a decided decline in inventiveness and proved to be the weakest of the series." (Holmes of the Movies, New York: Bramhall House, 1968, p. 92) However, even the weakest film in a good series can be good entertainment. I find Pursuit to Algiers very enjoyable.
Holmes' and Watson's plans to hunt grouse in Scotland are derailed when mysterious men in dark alleys give them clues which eventually lead them to representatives from the kingdom of Rovenia. The Prime Minister explains that King Stefan has been assassinated, and now his son Nikolas (who is in England) is in danger. He implores Holmes to escort His Majesty King Nikolas back to his homeland. Holmes promises to do his utmost to make sure that the young king reaches Rovenia in safety.
Holmes and the king plan to fly to Rovenia in a small plane. The prime minister says there is no room on the plane for Watson, so Watson plans to go by ship and meet Holmes in Rovenia. Watson sails on the S.S. Friesland, a Swedish African ship, which also happens to be the subject of a Sherlock Holmes radio play, broadcast on November 8, 1943, "The Shocking Affair of the S.S. Friesland." Everyone on the ship is a red herring in this story, looking and acting suspiciously: Sanford the steward, Miss Woodbury the singer, two men who whisper conspiratorially, and Miss Agatha Dunham, an annoying spinster with a gun in her handbag.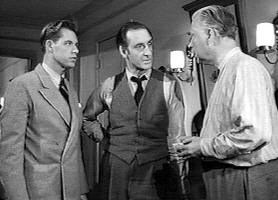 Watson reads on the bulletin board that a small grey plane crashed over the Pyrenees and the occupants are assumed killed. Horrified, he believes that Holmes has been killed. But it turns out that Holmes and the young king have been hiding in a cabin on board the ship. Holmes suspected that the plane would be shot down, so he made arrangements to secretly board the ship with the king. He now asks King Nikolas to pose as Watson's nephew.
In the lounge, when Sherlock Holmes is introduced to Miss Woodbury, she looks shocked, and leaves without explanation. Holmes quips: "Really, Watson. I've never thought of myself as handsome, but that's the first time a woman has run away at the sight of me."
Three sinister-looking men come aboard the ship at an unscheduled stop in Lisbon: Gregor, Gubec and Mirko. Mirko looks familiar to Holmes, but Holmes can't place him. It becomes clear to viewers that these three men are on a mission to kidnap the young king, and they are willing to kill Holmes in order to accomplish that objective. That evening Mirko attempts to kill Holmes by throwing a knife through the porthole of Holmes' cabin, but the knife hits an empty pillow and Holmes slams the porthole cover down on Mirko's wrist.
"How unfortunate, Mr. Mirko," remarks Holmes. "These porthole covers are notoriously treacherous. I am afraid you've broken your wrist. You shouldn't have played shuffleboard today, you know. When I saw that skillful hand and that unerringly accurate eye of yours, I remembered the Circus Medlano in Paris and your amazing exhibition of knife throwing. Goodnight!"
Now that we know the other passengers are no threat to the young king, Holmes effortlessly solves the mysteries of their suspicious behavior. He says it's not unusual for a woman traveling alone -- in this case, Miss Agatha Dunham -- to carry a gun. The two conspiratorial men are archeologists, who were nervous because at the start of the voyage they hadn't received permission from the Egyptian government to dig up "the body of a king" (a mummy). Once they received the permission, they relaxed and talked openly about it.
| | |
| --- | --- |
| "Circumstances would indicate that the jewels you found in your music case are both stolen and valuable." | "I don't think either of us is going to get much sleep tonight. ... This is the last opportunity our three friends will have to prevent our successfully carrying out our mission." |
Holmes notices that Miss Woodbury has not let her music case out of her sight. He confronts her and suggests that she is the unwitting courier of stolen emeralds. She was frightened when she discovered them in her bag, and is grateful to Holmes when he offers to return them for her.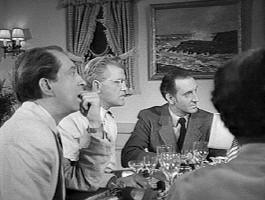 As the ship approaches Algiers, Watson sings "Loch Lomond" and tells the story of "The Giant Rat of Sumatra." When the ship drops anchor, Watson goes ashore to meet the king's protectors.
During the voyage Holmes has thwarted three attempts on Nikolas' life: falling off the boat, drinking poisoned coffee, and exploding a party-favor bomb. But now it appears that the detective has failed. Gregor, Gubec and Mirko have taken Nikolas, and left Sherlock Holmes bound and gagged in his cabin. Appearances can be deceptive, however. When Watson returns with the royal bodyguards, unties Holmes and asks, Where is Nikolas?, Holmes tells him to ring for the steward. The steward arrives and reveals himself to be the real King Nikolas -- Watson's "nephew" was a decoy! Thus Holmes proves once again, as he did in "Sherlock Holmes and the Secret Weapon," that the best place to hide something is in plain sight. The king reports that the three men have been arrested and the decoy Nikolas is safe -- Holmes is again triumphant.
Viewers may remember Morton Lowry (the steward) as Stapleton in The Hound of the Baskervilles. A bit of trivia is that Martin Kosleck (Mirko) and Leslie Vincent (the decoy King Nikolas) were lovers at the time this film was made.


Click here to listen to Nigel Bruce singing "Loch Lomond."


The passengers listen to Watson sing.
More pictures from Pursuit to Algiers are on Page Two and Page Three.
| | | | | |
| --- | --- | --- | --- | --- |
| Cast | | | Credits | |
| Basil Rathbone ............. | Sherlock Holmes | | Production Co. ............. | Universal |
| Nigel Bruce ................... | Dr. Watson | | Producer ........................ | Roy William Neill |
| Marjorie Riordan .......... | Sheila Woodbury | | Director ......................... | Roy William Neill |
| Rosalind Ivan ................ | Agatha Dunham | | Screenplay .................... | Leonard Lee |
| Martin Kosleck ............. | Mirko | | Cinematographer .......... | Paul Ivano |
| John Abbott ............ | Jodri | | Editor ............ | Saul A. Goodkind |
| Frederick Worlock ...... | Prime Minister | | Music Composer .......... | Edgar Fairchild |
| Morton Lowry .............. | Sanford, Ship's Steward | | Music Director .......... | Edgar Fairchild |
| Leslie Vincent ............. | Nikolas "Watson" | | Art Directors ............. | John B. Goodman, |
| Gerald Hamer ............... | Kingston | | | Martin Obzina |
| Rex Evans .................... | Gregor | | | |
| Tom Dillon .................... | Restaurant Proprietor | | | |
| Sven Hugo Borg .......... | Johansson, Ship's Purser | | | |
| Wee Willie Davis ......... | Gubec | | | |
| Wilson Benge .............. | Mr. Arnold, Clergyman | | | |
| Gregory Gave ................ | Ravez | | | |
| Dorothy Kellogg .......... | Fuzzy-looking Woman | | | |
| Olaf Hytten ................ | Simpson the Gunsmith | | | |
.
Images on this page and pages two and three are from the film Pursuit to Algiers.

Pursuit to Algiers is available on DVD:

Click to order
DVD also available as part of The Sherlock Holmes Collection, Volume 3:

Click to order