This page is a complete list of the films in which Basil Rathbone played a part. Some of them I have never seen and therefore cannot comment on them. For those movies I have seen, I offer my humble opinion. I will be adding more "opinions" as I view more films and find time to write reviews.
I've tried to indicate which films are available on VHS videotape and DVD. After the name of a film, I have put the symbols and and where applicable to indicate that you may order the film from one of the internet suppliers listed below. Please make sure you are ordering the right format for your region. DVD Region 1 is North America; Region 2 is Europe and Japan. Australia is Region 4. NTSC is the television standard for North America, Mexico, most of Latin America, Taiwan, S. Korea and Japan. PAL is the standard in the Pacific Rim (incl. China) and Europe (except France). SECAM is the standard in France. Many of the new VCRs and televisions being sold in Europe have the capability of playing NTSC videos as well as PAL.
-- Region 1 encoding
-- NTSC Format
-- Blu-ray Disc

3. Roberts Hard to Find Videos (R) also has several hard-to-find Rathbone films.

Critics Choice Video

has many of the same films available as Amazon and Movies Unlimited.

Looking for hard-to-find horror videos and DVDs? Check out Creepy Classics Video -- 1000's of Classic Horror/Sci-Fi Videos & DVDs in stock


-- Region Free (can play anywhere in the world)

1. Loving the Classics (L) has several hard-to-find Rathbone films.

-- Region 2 encoding

1. Amazon.co.uk (A.UK) (England)

2. MovieMail (MM) (England)

5. WOW-HD (W2) (England and Europe)
(Click on the country name in the upper left corner of the screen, right above the WOW HD logo, and choose your country.)

-- Region 4 encoding

1. Play4me (P)

(Australia)

2. WOW-HD (W4) (Australia)

Rarefilms.net has several Rathbone films available for FREE DOWNLOAD.
I have divided the list of films into six parts:
An excellent resource for information about the films of Basil Rathbone is Michael Druxman's book: Basil Rathbone: His Life and His Films. The book traces the fascinating life of the actor and provides detailed descriptions of all of Rathbone's films, including cast, credits, critics' reviews and production notes. Out-of-print for more than thirty-five years, Michael Druxmanís book is once again available for purchase. This new reprint edition mirrors the original 1975 biography/filmography, including its more than 250 rare photographs, and also contains a new Introduction by the author. Buy it at Amazon.com.
---

"Ever since I was a boy and first got acquainted with the great detective I wanted to be like him . . . To play such a character means as much to me as ten 'Hamlets'!"
Basil Rathbone, in a 1939 interview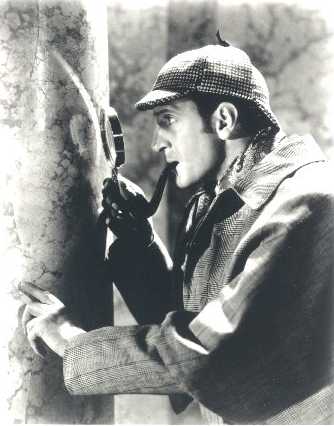 The first two Sherlock Holmes films with the team of Basil Rathbone and Nigel Bruce were produced by Fox; "The Hound of the Baskervilles" was based on a Conan Doyle novel, but "The Adventures of Sherlock Holmes" was not. According to the TV Guide Motion Picture Database, Fox executives did not think the public would continue to have an interest in Sherlock Holmes and decided to not make any more Holmes films. Fortunately, in 1942 Universal chose to make another Sherlock Holmes film and eventually made 12 films with Basil Rathbone and Nigel Bruce.
Universal decided to make Holmes a contemporary character (i.e. living in 1942 London) and portrayed Holmes fighting Nazi spies and driving a car! This was explained by the following words which appear after the opening credits at the beginning of the first few films:
"The character of Sherlock Holmes, created by Sir Arthur Conan Doyle, is ageless, invincible, and unchanging. In solving significant problems of the present day, he remains, as ever, the supreme master of deductive reasoning."
Few of the films are based on a Conan Doyle story, and Dr. Watson is portrayed as a bumbling idiot, which is so uncharacteristic, and nothing like the solid, competent war veteran of the books. In "The Adventures of Sherlock Holmes" Holmes even says to Watson, "I'm afraid you're an incorrigible bungler." Then he pats Watson on the back to show that they are still pals anyway. Conan Doyle's character Watson is a doctor and a writer (just like Conan Doyle himself), an intelligent person whose intelligence nevertheless pales in comparison to the mind of Sherlock Holmes. The film producers seem to think Holmes won't appear intelligent unless he's next to an idiot. Lestrade (Scotland Yard inspector) is also portrayed as an idiot in several films. That a Scotland Yard inspector could be so stupid and arrogant is totally unbelievable. Also, in many of the films Holmes is fooled by his nemesis, captured, and narrowly escapes death. This never happens in any of Conan Doyle's stories. Holmes is too clever to be captured. But the fault lies with the script writers, rather than the actors. Basil Rathbone portrays the character of Sherlock Holmes so well that he's a joy to watch, even if the time period is "wrong" and the plots are ridiculous. And even though Watson is absent-minded, and frequently silly, he is charming. The chemistry between Rathbone and Bruce is superb.
In spite of the above-mentioned flaws I find all of the Rathbone/Bruce films enjoyable. Some of the films are quite good, such as "The Scarlet Claw," "Sherlock Holmes Faces Death" and "The House of Fear."
Every actor who has played Sherlock Holmes since Basil Rathbone is compared to Rathbone. I don't wish to get into an argument with the Jeremy Brett fans about who is the greatest Sherlock Holmes ever. In fact, I think Jeremy Brett was a terrific Holmes, and Edward Hardwick was an excellent Watson. But of course Jeremy Brett didn't play the role until the 1980s, and until then Basil Rathbone defined the role of Sherlock Holmes. What I like best about the Sherlock Holmes series that Brett and Hardwick made is that they were faithful dramatizations of Conan Doyle's stories and Hardwick's Watson was NOT a bumbling idiot.
Another excellent portrayal of Holmes and Watson is in the movie "Murder by Decree" with Christopher Plummer as Holmes and James Mason as Watson. But the story is not one of Conan Doyle's.
Special Alert concerning DVDs of Sherlock Holmes films:


All 14 films

in the series

were released on REGION 1 DVDs late in 2003 and early in 2004. The films have been digitally remastered, so the quality is better than ANY of the tapes or DVDs previously available.
| | |
| --- | --- |
| | The digitally restored films are released by MPI Home Video. If you are looking at a cheap DVD produced by another company, don't waste your money! |
The films are available individually and in box sets. Order from Amazon.com:
Buy a BluRay disc player (if you haven't already), and then buy the Sherlock Holmes set on BluRay!
.
What about Region 2 DVDs of Sherlock Holmes films? Are they available?
YES! Sherlock Holmes fans in Region 2 (Europe, South Africa, Japan, and the Middle East) can purchase "Sherlock Holmes: The Definitive Collection," a 7-disc box set released by Optimum Home Entertainment in January, 2005. The films for this DVD release have been digitally remastered and include these special features:
Featurette with Robert Gitt, Head Preservation Officer at the UCLA Film and Television Archive. Discusses the multi-million dollar film restoration project for the series. (5 minutes)
Audio Commentaries by David Stuart Davies (author, publisher of numerous books on Holmes and Rathbone) on the following films: The Scarlet Claw; The Woman In Green; Sherlock Holmes Faces Death; The Hound of the Baskervilles
Audio Commentary by Richard Valley (Acclaimed author and publisher of Scarlet Street Mystery Magazine) -- The Adventures Of Sherlock Holmes
Extensive Production Notes by Richard Valley for all 14 films.
Photo Gallery/Original Movie Posters
These are exactly the same features as appear on the Region 1 MPI releases. I'll make a Holmesian deduction and say that the Region 2 DVDs are of the same high quality as the Region 1 MPI DVDs.
.

Innocent (1921), b&w silent

The Fruitful Vine (1921), b&w silent

The School for Scandal (1923), b&w silent

The Last of Mrs. Cheyney (1929), 94 minutes b&w (first Rathbone "talkie")
--- A, A.UK, MU
.

The Bishop Murder Case (1930), 91 min. b&w
-- A, MU

(part of the Philo Vance Murder Case collection)

A Notorious Affair (1930)


--- R

The Lady of Scandal

(1930), 76 min. b&w --- title in the U.K.: The High Road

Sin Takes a Holiday (1930), 81 min. b&w


--- R
--- A, MU, W2

A Woman Commands (1932), 85 min. b&w

One Precious Year (1933)

Loyalties (1933)
--- A.UK

(part of The Ealing Studios Rarities Collection)

, L, R
---