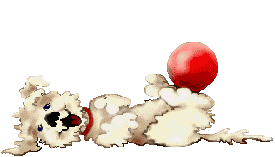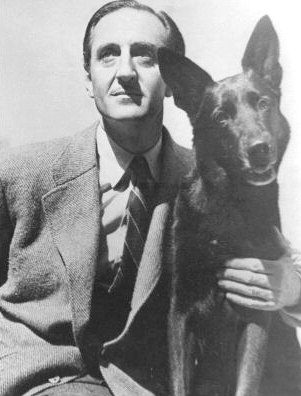 Basil and Moritza, a black German shepherd
Basil and Ouida Rathbone loved dogs. In fact, Basil may have been first attracted to Ouida because she owned dogs. Before Basil and Ouida were married, Ouida owned a German Shepherd named Lutz, a greyhound named Sans Souci, and an Airedale named Scottie.
| | | |
| --- | --- | --- |
| German Shepherd | Greyhound | Airedale |
| | |
| --- | --- |
| The first dog that Basil and Ouida bought together was Moritz, a black German shepherd. They met three-year-old Moritz the week before Christmas, 1924, when Basil and Ouida were in New York to see a show. They went backstage to visit an old friend. "We were prevented from entering his dressing room by the most beautiful black German shepherd dog I have ever seen." Learning that Moritz was going to be euthanized for having killed a sheep, the Rathbones paid their friend and took Moritz with them. Moritz lived with the Rathbones for eight years and was Basil's constant companion. "Our friends soon learned that an invitation to us automatically included Moritz."1 | |
| | |
| --- | --- |
| Basil, Ouida and Moritz | Basil, Ouida and Moritz |
Moritz died of cancer in 1933. The Rathbones buried him in a small animal cemetery in back of the home of Mike Bartlett in Oxford, Massachusetts. On the night that Moritz died, Basil wrote these words:

MORITZ
WITH RESPECT
ADMIRATION AND
EVERLASTING LOVE
OUIDA AND BASIL

Come winter time and summer time,
Come sweet and cleansing rain,
Come spring time and the autumn,
Both sun and moon shall wane,
Come seed time and flowering,
And harvesting the grain,
The Earth will cease and time grow old,
But we shall meet again.

'Twas not for naught we walked the fields,
The sidewalks and the lanes,
Sharing our hopes, our fears, our doubts,
Beliefs, our joys and pains.
And though I, with human weakness,
Have not always understood,
You with you dog devotion
Blindly believed me good.

Now you will sleep a little while
And dream in peace, please God,
Then one day I shall follow you
And sleep too beneath the sod,
To rise with you and walk again
With a vague sense of remembering
That we had loved in other lives,
Before this new ascending. 2
When the Rathbones moved to California in the mid 1930s, they acquired seven dogs:
Judy -- white bull terrier
Toni -- black poodle (male)
Bunty Moore -- a female West Highland terrier (Ouida's favorite)
Cullum Moore -- a male West Highland terrier
Happy -- a springer spaniel
Leo -- a red cocker (the favorite of Jack Miltern, a close friend of the Rathbones who was hit by a car while walking the dogs)
Moritza -- black German Shepherd (successor to Moritz, and also Rathbone's favorite)
In his autobiography, Rathbone describes how these dogs came to live with them at the house on Los Feliz Blvd. in Hollywood.
"What a haven it was for dogs! We bought three--'Bunty' and her brother 'Cullum' Moore, two West Highland terriers, and a sad-eyed springer spaniel who had incongruously been christened 'Happy.' But these three soon grew to seven! One day Ouida came home with a red cocker in her coat pocket, a baby of a few weeks old--'Leo'-- and that made it four. Then a friend asked us to take care of a magnificent big black poodle called 'Toni,' and never came back for him--that made it five. Then Ouida 'just couldn't resist' buying a beautiful black German shepherd puppy, who we christened 'Moritza'--and now there were six. Lastly, one afternoon Ouida heard a dog whimpering on our front doorstep. Thinking one of our dogs had got out, she went downstairs to find a white bull terrier puppy that seemed to be lost. We christened her 'Judy.' " 3
Click on thumbnail images below to see larger image.

Rathbone with Bunty and Cullum, and I think Leo is also on that chaise lounge

Happy and Toni in a dog-size camper trailer.

Bunty (or Cullum?), Happy and Leo playing ball with Basil
(photo by Schuyler Crail)

Leo by the swimming pool

Basil plays with Happy and Leo
(photo by Schuyler Crail)

Happy and Bunty (Cullum?) watch Basil swim

Bunty (or Cullum), Toni and Leo watch Basil (holding Happy)

Basil and Toni (poodle) by the pool

Rathbone with five of his dogs. Left, next to Basil's leg: Toni, then Bunty and Cullum, Happy and Leo.

Basil, holding Leo, the red cocker

Basil and Moritza, the black German shepherd

Moritza, as she appeared in an advertisement for Calvert Reserve whiskey

Ouida, Basil and Judy, the white bull terrier

Ouida, holding Bunty, and Basil in the garden of their Bel Air home, California

Happy, the springer spaniel, and Ouida

Happy with her owner Basil Rathbone and guests

Judy with Basil

This photo from the late 1930s shows Rodion, Ouida, Basil, and two little dogs who were not part of the Rathbone menagerie.

Rathbone and Nigel Bruce playing with Bruce's four Dachshund puppies by the pool at Bruce's home.

Judy (white bull terrier) kissing Basil. Moritza (black German shepherd) can be seen in front.

Basil with either Bunty or Cullum

Basil holding Bunty or Cullum

Ouida, Basil and Bunty, looking at Cynthia and Leo below ("Kitchen entrance to garden" written on photo)

Basil holding Bunty and Cullum

Basil and Bunty

Basil and Bunty (or is it Cullum?)

Basil with Judy and Moritza

Basil and servant giving treats to Bunty, Cullum and Toni (the poodle)

Basil and Ouida with five of the dogs: Leo on the chaise, Judy by Basil's feet, Moritza standing, Bunty or Cullum curled up near the tree, and Happy lying in the foreground. (1940)

Ouida and Basil with Happy

Basil, Ouida and the dogs in their garden

Basil with Happy, Leo, and Judy

Ouida, Basil and their dogs

Basil and his son Rodion with Judy and Happy

The Rathbones with four of their dogs in the garden

Basil totally spoiled Moritza!

Basil, having a heart-to-heart talk with Happy

Happy watching Basil reach for a water lily. Moritza can barely be seen behind Basil.

After a hard day's work, an exhausted Basil is joined by Leo, Moritza and Happy.
In addition to the dogs, there also were:

Gina and Gita -- two cats
a canary
Toni, the poodle, died in 1936 from intestinal poisoning that had been caused by a piece of a rubber bone that Toni had swallowed. By 1946, when the Rathbones moved to New York, Cullum, Judy and Happy had passed away and been buried in the garden. Bunty, Leo and Moritza moved to New York City with the family. The dogs "had never seen snow before and went wild with excitement. Moritza . . . would charge madly at a snow drift and then roll over and over in it trying to eat it away!" 4
In 1953 Ginger, a red cocker spaniel, lived with the Rathbones. Rathbone makes no mention of walking any other dog but Ginger in 1953, so it is probable that the other dogs had passed away. 5 The two pictures below are from Rathbone's interview that appeared on Edward R. Murrow's "Person to Person" in 1957. From the interview it appeared that Ginger was the only dog in the Rathbone home in 1957.
| | |
| --- | --- |
| If you have any more information, or any pictures of Rathbone's dogs, cats, or the canary, and want to see them on this page, please e-mail me. | |
Endnotes:
1. In and Out of Character, by Basil Rathbone. (New York: Doubleday), 1962. p. 65
2. Ibid, p. 69
3. Ibid, p. 157
4. Ibid, p. 191
5. Ibid, p. 209