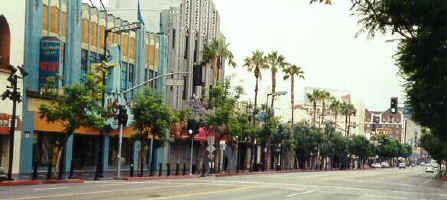 Early morning on Hollywood Boulevard
(before the tourists have awakened)
The Hollywood Walk of Fame is a series of more than 2000 pink terrazzo stars, with outlines and lettering in bronze, set in charcoal terrazzo squares that form the sidewalks on both sides of Hollywood Boulevard, from Gower St. to La Brea Ave., and Vine Street, from Yucca St. to Sunset Blvd.
In 1955, inspired by the tourist interest in the handprints in cement in the forecourt of Grauman's Chinese Theater, the Hollywood Chamber of Commerce created a plan to revitalize Hollywood Boulevard, to bring back some of the excitement and glamour of Hollywood's Golden Era, and also to preserve the memory of talented writers, directors, and performers. The first star in the 2.3 mile long Walk of Fame was installed in 1960. The Walk of Fame honors the achievements of celebrities in five categories: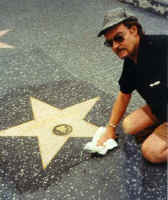 Celebrities on the Walk of Fame are chosen based on the following criteria:
professional achievement,

longevity of at least 5 years in his or her field,

contributions to society, and

agreement to be present at the dedication ceremony (except for posthumous awards).
Basil Rathbone was honored with three stars on the Walk of Fame -- for Motion Pictures, Television, and Radio. The category of Live Theatre didn't exist in Rathbone's lifetime; otherwise I'm confident he would have a star for Theatre as well.
Pictured here is the star bestowed upon Rathbone for his contribution to the television industry.
This star is located at 6915 Hollywood Blvd. (red star on map below), right near Grauman's Chinese Theatre (now called Mann's Chinese Theater), famous for its forecourt of stars' hand- and footprints.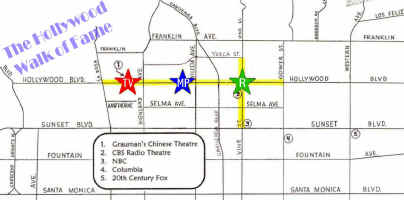 Photos courtesy of David Macklin.
For more information about the Hollywood Walk of Fame, visit the website of the Hollywood Chamber of Commerce: www.hollywoodcoc.org