Anecdotes about
Basil Rathbone

Basil Rathbone touched many lives. Some people knew him well, some only slightly, and most people only saw him on the movie screen or on the stage. On this page you can share your memories of Basil Rathbone, no matter how well you knew him, or didn't know him. Perhaps something amusing happened when you were getting his autograph, or perhaps a particular Rathbone performance inspired you in a special way (to become an actor, for example). No matter what your memory is, if you'd like to share it here with other Rathbone fans, please e-mail me. You may remain anonymous if you wish, or have your name and e-mail included. (Please make your wishes clear in your e-mail to me.) And don't be intimidated by David Macklin's delightful reminiscences of Working with Basil!
Marcia Jessen, gisbourne@basilrathbone.net


The elegant Basil Rathbone, wearing a lavish medieval costume, all-black silk tights, velvet tunic silver buckles and things, was entertaining a gushing lady in his studio bungalow. Talking sixteen to the dozen and dipping at the same time into the elaborate hamper in which he brings his lunch to the studio, he absently extracted an egg and tapped it on the edge of the table. Only there'd been a mistake somewhere and the egg wasn't hard boiled and it spattered all over the tights and the velvet tunic and the silver buckles and the table cloth and all of a sudden the dashing creature was just a man who had spattered raw egg all over himself and was just as mad about it as any other gent would be, who maybe hadn't spent a considerable portion of his life perfecting a suavity and a polish which are worth lots and lots of shiny dollars at the box office.

from Silver Screen, September 1940, page 44


The elegant Basil Rathbone

In 1955, Basil and Ouida stayed in California while Basil was working on a film. They leased their New York City apartment to actress Joan Fontaine for a period of six months. Fontaine wrote the following in her book No Bed of Roses:
By New Year's the lease on the Park Avenue apartment had expired, and the girls and I moved into the Basil Rathbone apartment on Central Park West. ...

Sliding down a snowy hill at the Paleys' one morning with the children and Shipwreck [John Kelly, football player], I went over a rough bump on my aluminum flyer, Debbie [Joan's daughter] riding on my shoulders. Late that afternoon, our first at the Longacre Theatre (the play had had to move from the Ethel Barrymore), "Gadge" Kazan rehearsed the cast in our new surroundings. Feeling intense pain, I somehow got through the night's performance. By morning both my shoulders felt as though splinters of glass had been imbedded in them. Acute bursitis held my arms stationary. The theatre physician injected novocaine and cortisone into the bursae. ... My understudy, Mary Fickett, was alerted. She went on that evening and all the rest of the evenings of Tea and Sympathy on Broadway to considerable and much deserved acclaim.

I returned to the Central Park West apartment and spent many painful days in bed until I was able to pack up my family and return to California. I had paid the rent in advance for six months, but I had stayed only three. Before leaving I had the windows washed, the floors waxed, the entire apartment thoroughly cleaned. Then I phoned the delighted Rathbones to say they were welcome to move back in. When I reached California and Fordyce, I found waiting for me on my desk a bill from the Rathbones for two missing dish towels and a chipped glass tabletop which had been damaged before I moved in. I paid the bill.

Joan Fontaine, No Bed of Roses (New York: Wm. Morrow & Co., 1978) pp. 241-242


Joan Fontaine

PREMONITION

John Miltern, veteran Hollywood character actor, went to see "Rainbow on the River" with his friend Basil Rathbone. Miltern was so impressed by Bobby Breen's singing, he said to his friend: "When I die, I'd love to have that boy sing my requiem." Three days later Miltern was killed by a hit-and-run motorist--and Rathbone got Bobby to sing "Ave Maria" at the funeral!

from Radio Mirror, May 1937, page 7


John Miltern

Bernard J. O'Heir, a long-time fan of Basil Rathbone, shared this memory of meeting Robert Quarry (star of two vampire pictures: Count Yorga and The Return of Count Yorga). Quarry was a guest at the Ninth Annual Fanex Science Fiction/Horror Convention, held at the Sheraton in Towson, MD, on July 23, 1995.
I talked to Mr. Quarry on Saturday morning, July 23, 1995, and he told me the following concerning Basil Rathbone, himself, and The Spider Woman film.

He stated that at the time he was about 16/17 years old, and under contract with Universal to play very small bit parts in any film that Universal thought he would be suited for. He remembers getting a call to go to the set of the Rathbone film Spider Woman, but he was not told what the job would be.

He stated to me that when he arrived on the set, they put him in make up and after that put a white, medical-type smock on him. They laid him down on a table, and began to apply liver paste on the smock, in straight lines from his shoulders down to his legs. When he asked the technicians what the liver paste was for, they said it was for the "tarantulas." He immediately said, "What tarantulas?" They told him the tarantulas that would be crawling down his body during the scene he was going to be in. He said to the technician who was applying the liver paste, "You mean to tell me you're going to have tarantulas crawling down my body?!" The technician said yes, but not to worry because they were perfectly safe, they had no stingers and no poison. Quarry said, "I don't give a goddam if they are safe, I'm not going to let any goddam tarantulas crawl down my body no matter how safe they are!" The technician said, "But you have to do it. Mr Rathbone is afraid of the tarantulas, so that is why we are having you do this." Quarry said, "No shit, Mr. Rathbone is afraid of tarantulas and so am I so you and the tarantulas can go to hell!" He then got up off the table, took off the coat, and left the set.

Later the next day he was called in to the office of one of the executives of Universal (he could not remember the person's name), and was told, "who do you think you are refusing to do a job like that? You'll do as you're told!" Mr. Quarry said he did not mind doing almost any kind of scene, but he would not appear in any scene with tarantulas.

That was the end of the conversation.

Bernard J. O'Heir


Robert Quarry

The following story can be found in the September 1938 issue of Screenland magazine:
Basil Rathbone gave his best performance gratis this week. He was putting his dogs through their tricks on his front lawn when, suddenly, he was conscious of five heads topping his tall hedge. He was afraid the boys to whom the heads belonged would fall and hurt themselves, so he cried at them to come on over and in. Courteously he sat them down in a semi-circle and continued his dog show. When he finished, one of the kids said, "Can we see your house?" Whereupon they trooped through the rooms where Hollywood's most elegant parties are held. "It's a swell dump for a villain!" muttered one of the pleased visitors. Basil ordered the butler to serve cake and cokes, which was the final touch. The company left in a trance.

David Leddick, one of Cynthia Rathbone's friends, sent the following memoir:
In Memoriam of Cynthia Rathbone
I worked with Cynthia Rathbone at Hockaday Associates in the early 1960s. Perhaps 1962 and 1963. Hockaday was then one of the new small front-edge advertising agencies in New York. We had perhaps 30 to 40 small clients, all of them selling expensive top-of-the-line products. Crane Papers, Elizabeth Arden, Grant's Scotch.
Miss Hockaday, the President, wanted her staff to be young, smart, fashionable. Clients liked the agency as much as they liked the advertising. Cynthia Rathbone was part of this young but adult world. Rock and Roll, The Beatles, and Mick Jagger hadn't come on the scene yet.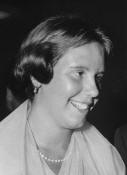 Cynthia was a big girl. Not fat, but tall, sturdy, dark-haired, good-looking in an upper-class, healthy way. She had an unabashed personality. She had no problem in presenting herself in a self-confident, amusing way to clients. She worked as an associate account person but was very much one of the inner circle of creative types among the writers and art directors. We lunched a lot. We laughed a lot. No one was pretending to be someone he or she was not. Cynthia wore bright green a lot as I remember, which went well with her bold, dark look.
You were supposed to be witty in New York then. Grown up and witty. Vast dance halls with ear-splitting music didn't exist. You went out to supper clubs where everyone smoked and talked right through the entertainment. Billie Holiday? Yes, but as I was saying, this was a kind of sophisticated world that was . . . [rest of sentence is missing].
Cynthia was the daughter of the famous Hollywood actor Basil Rathbone, known for his role as Sherlock Holmes in a number of films. His wife was Ouida. Cynthia had been adopted. We all knew that her small, forbidding mother didn't have the kind of daughter she wanted. I think we all made an effort to reassure Cynthia that she was one of us, one of the self-assured and socially unquestionables. In our own way we were a team of six or seven and Cynthia was one of us. I don't think any of us anticipated that Cynthia would be dead within the next decade of drink and drugs.
I think Cynthia was lost because our world disappeared. She didn't move into a future of a husband, children and a house in the suburbs. Really, none of the other women in the group did either, though some married and had children. Being a little younger than the rest of us, I think the nightlife that descended on New York swept her away. The large, lifeless apartment she shared with her parents wasn't really a home. They weren't really parents, distant as they were to her and each other. They moved in cafe society. Their names appeared in the papers. Cynthia wasn't for that world. Her energy, force, enthusiasm didn't find a place where she could like herself. I think her new friends were impressed with her, but they couldn't reach out and save her. That wouldn't have been the New York way.
David Leddick

Wes Shank, a long-time fan of Basil Rathbone, shares his memory of a special meeting with the great man:
I had the privilege of meeting Basil Rathbone briefly at Harriton High School in Rosemont, Pennsylvania, on February 26, 1963. He was on some sort of lecture tour. I did not have tickets to the event, but since I was a student at the school, I was able to sneak in towards the end of the lecture with two of my close friends. I specifically recalled that he requested no autographs were to be given or no photographs be taken, but I was bound and determined to get both. I persisted and eventually got both! The photo of that meeting appears to the right.

Wes Shank


From left to right are: Jack Oakes, Dave Gabelman, Rathbone and Wes Shank.

Quinn O'Hara, an actress who co-starred with Basil in The Ghost in the Invisible Bikini, shares her memories of Rathbone: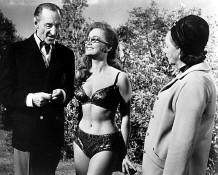 WOW! I have only great things to say about him. He played my father in "The Ghost In The Invisible Bikini" from 1966. He was the very best. I remember being afraid I would accidentally call him "Mr Bathbone" and told him so. He smiled most graciously! From then on, it was just a sheer pleasure working with him. He had put me right at ease. What a delightful man. I can only say everything was super. He is the only "Sherlock Holmes" and "Sheriff of Nottingham" in Robin Hood
for me.

He was superb in everything he did. I understand he and his charming wife used to throw the most wonderful parties. All I can say is that he was the best, wonderful "Daddy Dear" an actress could ask for. He was warm and funny yet so absolutely "proper." To say he was a real pro is an understatement. He was one of a kind. Every role he did was great and unique unto itself. To call him a very charming gentleman is putting it mildly! I consider myself very lucky to have had the opportunity to not only meet him, but to appear as his co-star in "The Ghost in the Invisible Bikini."

Quinn O'Hara
www.QuinnOHara.com
"Quinn O'Hara — Official Page" on Facebook

In an article written for the Highland Park News, Chuck Wenk told about a practical joke that broadcaster Bob Elson played on Basil Rathbone. Wenk wrote:
Basil Rathbone, the actor who played Sherlock Holmes in the movies for years, was in Chicago one week when the Sox were home, and asked if Elson would interview him to promote his new movie. As Elson's statistician in those days, I was sitting right next to him when WCFL engineer Carl Swanson put Rathbone's phone call through to Elson, so I could hear what he told Rathbone. "Come up to the booth at 5:30 before the night game tomorrow, and you can be my guest on the interview show!"
When he hung up the phone, I reminded Elson that he had no on-air show 'til right before gametime. "Keep that to yourself, young man, and we'll have some fun with this guy," The Commander instructed me.
Sure enough, Rathbone and his agent made it up to the radio booth just after 5 p.m. the next night, and it was just the four of us in that tiny, open-air booth. A few minutes after they arrived, Elson motioned for me to put on my headphones and he told Rathbone that "Young Wenk here will point to me when we're on the air, and we'll take it from there."
I shook my head in disgust, but with Elson glaring at me, I finally gave him a fake signal, and Elson went into his usual intro ... "This is BOB Elson, at Comiskey Park, where we're privileged to be able to visit with Hollywood's Sherlock Holmes — Basil Rathbone!" Bob was speaking carefully, with plenty of animation, into a "dead mike" that was plugged in, but might as well have been a toy, because the "interview" wasn't going anywhere further than the booth itself.
I kept checking my watch as if this whole thing was on a time-schedule, and when the conversation seemed to be coming to a close, I held up 10 fingers, and then pointed to Bob as he "signed off." Rathbone shook Elson's hand with obvious appreciation, and he and his agent left the booth, hoping thousands of fans had heard him promote his movie.
"Bob, how can you do that to the guy?" I asked him afterward. Elson smiled, having enjoyed another of his frequent pranks, and told me "we'll probably never see the guy again, and if he asks his friends whether they heard him, of course they'll all insist they did ... they'll be afraid to admit they missed the show!"
The next night, both of us were shocked to see Rathbone back up at the booth, presumably to confront us for faking the whole thing. Elson nervously shook his hand, and Rathbone began, "Bob, I can't tell you how many of my friends caught the broadcast and loved it! You're really a sport, Bob, and I appreciate you getting me on the air on short notice!"
Lucky for us, Rathbone only played a sleuth in the movies.
Source: "Bob Elson: A Broadcast Booth Prankster," online at http://highlandpark.suntimes.com/opinions/wenk/15834341-452/bob-elson-a-broadcast-booth-prankster.html, October 18, 2012

Michael Hoey, son of British actor Dennis Hoey (Inspector Lestrade), tells how he met Basil Rathbone:
I met Basil Rathbone in 1944 when my father took a friend and me to Universal Studios in the San Fernando Valley to visit the set of the Sherlock Holmes film The Pearl of Death. I was nine years old and terribly excited, as I had never been inside a motion picture studio before. I have fond memories of my visit that day to the set of The Pearl of Death and the excitement it created in me that would one day influence my decision to choose motion pictures as my career, a decision that I have never regretted. For a long time after that visit, I kept two autographed photographs on my bedroom wall – the first was of Basil Rathbone and Nigel Bruce in their familiar pose standing side by side, and the second was a head shot of Nigel Bruce upon which he had inscribed the following: "To Michael, who is a nice boy in spite of his father." One day that photo just disappeared from its place on my bedroom wall and I never saw it again. I suppose that my father grew tired of the sentiment, even though it was written in jest. The other autographed photo remains a treasured part of my film memorabilia connection.

I would see Rathbone once again in 1965 when I was working at Producers Studios in Hollywood and I heard that he was working that day on the adjoining stage to ours in an AIP production with the dreadful title, The Ghost in the Invisible Bikini, which was no improvement over its original title Bikini Party in a Haunted House. Wanting to pay my respects, during a break in filming I went next door and found him seated in a director's chair away from all of the activity. It had been 21 years since I had last seen him at Universal and, although I had watched him perform in numerous films over the years, I was nonetheless shocked to see the frail old man seated in the shadows, drinking a cup of tea. I introduced myself, reminding Mr. Rathbone of my father, and of our meeting in 1944 on the set of the Sherlock Holmes film. He seemed vaguely to remember my father and politely asked about his health. When I informed him that my father had died several years earlier, he nodded silently, as if to acknowledge his own mortality. I couldn't help feeling that I was intruding, as he seemed to drift off into his own thoughts, so I made some self-conscious comment about the continuing popularity of the old Sherlock Holmes films, to which he smiled graciously and I then excused myself. As I walked back to my stage I grew angry that this once great actor was now reduced to playing a supporting role to a cast of callow teenagers in a low-budget exploitation film.
(Excerpted with permission from Michael Hoey's book Sherlock Holmes & the Fabulous Faces: The Universal Pictures Repertory Company. Click here to read more about the book.)

Penny tells this story of meeting Basil Rathbone when she was a little girl:
My Mom and I were shopping in Bambergers Dept store in Newark, New Jersey. We saw a huge crowd, and when Mom spotted Basil Rathbone, we got right in the middle of it. I don't know what he was doing there, besides signing autographs. I learned later that he was starring in "Witness for the Prosecution" at the Paper Mill Playhouse in Milburn, N.J. Apparently he did lots of public appearances at that time. Mom was a movie buff, so when she was asked if her little girl would pose for a photo with Rathbone, she practically threw me up on the platform. The photo was in the newspaper the next day, with the caption "Elementary, My Dear Penny."

Mom wrote to Rathbone and told him how thrilled I was to meet him, and how before that I had had a crush on Yul Brynner (from The King and I), but now all I could talk about was Mr. Rathbone! He wrote a letter back to Mom, and included a photo inscribed to me. In the letter he wrote, "I feel very flattered to have taken over Yul Brynner." I remember him making quite an impression on me. He was a lovely man, and big!

Penny
Visit the Letters from Basil page to read the letter that Penny's mother received.

In 2004 William Shatner was a featured guest at the 21st William S. Paley Television Festival, The Museum of Television and Radio's annual salute to the history of television. Ron Simon, the curator of the New York branch of the Museum of Television and Radio, introduced Mr. Shatner to the audience. After a presentation of film clips showcasing William Shatner's prolific career, including appearances in live television broadcasts during the 1950s, Ron Simon talked with Mr. Shatner.

"Sharing a couple of memorable moments of when things did go wrong [in live television] Shatner recounted the story of working with Basil Rathbone in a 1955 Canadian production of the drama Billy Budd. Admitting that he and the other actors were rather intimidated by the idea of working with Mr. Rathbone they all rehearsed extensively. Then on the night of the broadcast Basil Rathbone stepped onstage and right into a bucket. Consequently Rathbone couldn't deliver his next lines as he struggled to free his foot."*

*From "An Evening with William Shatner" by Jacqueline Bundy, 12 March 2004
TrekWeb.com--An Evening with William Shatner


Patrick McNee, Basil Rathbone and William Shatner

In his autobiography Milton Berle wrote the following about Rathbone:
"Nobody ever had it worse on the show than Basil Rathbone—or at least, that's what he thought at the time. In fairness to him, it must have been rough for a man of Basil's dignity to find himself in front of the camera with Martha Raye and me. Both of us can go pretty wild in the low-comedy department when we forget our lines. Which is exactly what happened in some sort of Sherlock Holmes takeoff that was dreamed up for Basil's guest shot. We just ran wild around him, pushing, shoving, ad libbing, mugging, swinging burlesque bladders. Mr. Rathbone looked stunned throughout the whole thing. As soon as he got off stage, he said to the first person he met, 'Nevah again will I work with those two f**king people! Nevah!' He was on the show three weeks later, after everyone he knew congratulated him on how marvelous he looked and on what a great flair for comedy he had displayed."
—from Milton Berle, An Autobiography (paperback edition) by Milton Berle with Haskel Frankel (Dell Publishing, 1974), 307-308.

Dick Cavett, a talk-show host known for his wit and intimate interviewing style, remembers meeting Basil Rathbone and hearing him tell an interesting story:
"I have this story from none other than the great Basil Rathbone ... I hope it doesn't sound too strange to confess that, even as a kid, I had a sort of crush on Rathbone. I can't detect any erotic element in it; I just wanted to look, talk and act like he did. I was in high school, and back then I knew him only as Sherlock Holmes, but that was plenty. ..."
read the rest of the story on Dick Cavett's blog:
http://cavett.blogs.nytimes.com/2007/02/13/basil-rathbones-mysterious-message/

Denis Higgins reports: I was a young reporter covering a luncheon meeting of the NY Advertising Club around 1961 or 62. The star attraction was Basil Rathbone, who gave the audience a half-hour of readings from various literary sources. Also on the program was a young singer named Merv Griffin. After the lunch, I saw Rathbone at the coat check, so I walked up to him and introduced myself. I told him how much I enjoyed his work, especially in the Sherlock Holmes movies. His response: "How tiresome!"

A good friend of mine was an actor named Gregory Gaye. He and Rathbone acted together in Pursuit to Algiers and Tovarich*; Gregory Gaye played Russian villains. A close friend of Rathbone's, Gregory used to dine with him at his home. He told me that the guests would often end up dueling with swords throughout the house!

Gregory Gaye also told me that in Pursuit to Algiers he had to hit Rathbone over the head with a rubber gun. The first two tries were so soft that Rathbone told Gregory, "You're wasting film. When you hit me, do it like you mean it." The next shot Gregory really gave Rathbone a wallop. After the scene Rathbone said, "Now that's believable, Greg." Gregory told me he just didn't want to hurt his old friend.

R. Franks

* In Pursuit to Algiers Gregory Gaye played Ravez, and in Tovarich he played Count Frederic Brekenski.


Gregory Gaye

The following anecdotes about Rathbone are from Nigel Bruce's unpublished memoirs. First, Nigel tells how he got the role of Dr. Watson. He was very depressed after being in a play that was a failure ("Knights of Song"). Then he received a telegram.
"The telegram was from Basil Rathbone who said: 'Do come back to Hollywood, Willie dear boy, and play Doctor Watson to my Sherlock Holmes. We'll have great fun together.' Basil can never realize how much that telegram cheered me up, as when I received it, I was in the mood to put my head in a gas oven."

"Our Sherlock Holmes pictures took between 18 and 22 days to make. Often we shot out of continuity. The moment one sequence was ended, the scenery would be torn down and the same stage used for a completely new set up. We learned our entire parts before the picture commenced as one does for a stage play. This meant we had no worries if the shooting schedule were changed and if the story was told out of its continuity. Roy Neill was always open to suggestions from Basil or myself and we always accompanied him to the daily rushes in the projection room. Roy, Basil, myself and our Sherlock Holmes casts always worked together as a happy and contented team."

Speaking of the Sherlock Holmes radio program, Nigel wrote: "We all got on like a house on fire and not only is Basil Rathbone a very dear friend but he is one of the most unselfish and generous actors with whom it has ever been my pleasure to act. We had a great time together on the program and spent many hours playing golf at Riviera or Bel-Air. Basil and I were evenly matched, both having handicaps of 10."

"In December [1944] we took our radio program to Santa Barbara where we raised $190,000.00 for the war bond drive. From there we traveled to San Francisco for the 6th War Loan Drive. We spoke at numerous bond rallies, signed autographs and sold bonds in two of the city's largest shops, met with popular Mayor Lapham of San Francisco and with him visited the police headquarters where we sold a bond to Chief of Police, Charles Dullea. Here we were also shown many interesting relics of crime, and Basil caused a lot of laughter when he told the chief that he was sorry to hear that they still had some unsolved crimes in San Francisco as he and I solved every case we handled with the greatest of ease once every week on Friday nights, and each case only look us half an hour!!"

"At the end of this series Basil left Hollywood to act in a play which went on an extended tour before opening later in New York. For some time Basil had not been happy in the film city; he is a fine actor and he had felt that he was not getting good enough parts and that he was always typed either as Sherlock Holmes or as a villain in costume pictures. Very wisely he therefore decided to return to the stage, which he always preferred and on which he could play parts of his own choosing. My association with Basil had been a very long one. We had acted together in 14 Sherlock Holmes pictures, in the film of 'Frenchman's Creek' and on the radio in countless programs since October 2nd, 1939. Ours had been a very happy association and one which had brought me much publicity and a lot of money. During our long time together Basil and I never had a row or any unpleasantness of any sort."

"I never worked with a nicer man than Basil, and I never acted with a more unselfish or more cooperative actor."
Source: posting on Scarlet Street forum:
http://scarletstreet.yuku.com/topic/1101/Games-Gossip-and-Greasepaint-Nigel-Bruce-s-Autobiography?page=1

In 1920 Basil Rathbone starred with Constance Collier in the play "Peter Ibbetson." Eleven-year-old Eugenie Misener, a pupil of Italia Conti, was the understudy for the part of the young girl played by Madeleine Robertson. Her recollection is that the play opened at the Savoy (London), then went down to Brighton, before returning to the Royal Court Theatre. She had to be chaperoned whilst in Brighton but never actually got on stage there or in London as Madeleine was never ill.
Later she went to see Basil as Iago in the "Othello" production at the Royal Court Theatre. On that occasion, she went around to the Stage Door and asked to see him, only to be rebuffed by the doorman. Persistent, she waited for Basil to appear, and he immediately recognized her, and called out "Ah, my little girl!" You can imagine what delight she took in being invited in, one-up on the doorman and other would-be admirers!

Sid Caesar shares this story of Basil Rathbone's appearance on "Your Show of Shows," a 90-minute television program that was broadcast live:
When I went out to introduce Basil, I said, "Here ladies and gentlemen is . . ." I couldn't believe it, I forgot his name. I had an hour and a half show in my head, and I couldn't remember his name. So I began to stall: "Here is a man whom you've seen play Sherlock Holmes many, many times. He's one of the most experienced theater actors in the world . . ." But I still couldn't think of his name. Finally someone wrote it down on a big piece of cardboard and brought it close enough for me to see it. With great relief, I said, "Mr. Basil Rathbone." Basil came out and he knew what happened. He was very gracious about it, but he couldn't resist saying, "I'd like to thank Mr. Sid Silvers for having me on." He got even.
Caesar's Hours, by Sid Caesar with Eddy Friedfeld (New York: Public Affairs) 2003. pp. 250-251.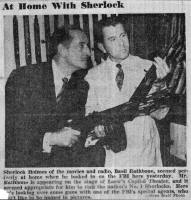 This photo was taken of Basil and me while he was visiting the FBI in the early 1950s. He was accompanied by Special Agent Ed Kemper from the Bureau's Crime Records Section. Kemper was his guide throughout the FBI Lab and in the normal course of business he would, following the Lab tour, have been escorted to the basement of the Dept. of Justice-FBI building where the Bureau's 25 yard pistol range was located. In all probability Rathbone watched a shooting demonstration by a FBI Firearms Instructor and shortly thereafter had a meeting with Mr. Hoover himself, if he was "available" at that time. As far as his tour of my unit (the Firearms Identification Section) was concerned, Kemper and I showed him the collection of about 1500 hand guns and shoulder weapons, demonstrated firing test bullets into the bullet recovery box in a sound proof room behind the gun collection, explained a little bit about the science of Firearms Identification, and told him how much we enjoyed meeting him. Kemper then led him to another unit of the Laboratory (such as the Serology unit, Hair and Fiber unit to name a few). Before leaving my unit Mr Rathbone shook my hand and told me how much he appreciated the tour.

FBI Special Agent Richard J. Poppleton

My father managed Mr. Rathbone during some of his speaking tours during the 1960s. He arranged for several visits that Mr. Rathbone made to South America. My father recalled meeting with Mr. Rathbone and his wife, Ouida, in their NY apartment and how Mr. Rathbone read aloud to him there. He said it was an experience he would never forget and also expressed how extremely gracious both Mr. Rathbone and his wife were to him. Had I not been such a young, dopey kid at the time you can believe I would've begged my father to let me join him. At any rate, I ended up with a personally autographed photo signed, "Best Wishes, Basil Rathbone alias Sherlock Holmes," which I treasure to this day.
Randy Winston, New City, NY

As a teenager in the 1950s, I used to idolize Basil Rathbone. On TV I loved him as Sherlock, Richard III, and Guy of Gisbourne; I saw him live in Ashland, Ohio in one of his Evenings with BR; yet my strongest high school memory was a Caedmon recording of Poe's "Masque of the Red Death," where his ear-haunting timbre, range of colors, and vocal virtuosity made an indelible impression. I subsequently went on to get a Bachelor's and Master' s degree in Theatre, taught and directed on the college level, and have worked as an actor off and on for close to 4 decades. As I look back, I'm startled to think of all the times I was influenced by Rathbone: I used Poe's "Red Death" in my own 1-man shows; during a gig at the Colorado Shakespeare Festival, I vividly recall a couple of us mounting an onstage duel and stealing bits from Robin vs. Sir Guy; another time I was cast as Sergius in Shaw's "Arms and the Man" and was baffled how to make myself credible as the romantic lead (old men and villains were my normal fare)—but I experimented with adding a simple pencil-line mustache a la Rathbone, got the perfect look, and had a swell time in the role.

What made Rathbone so extraordinary? First, he had colossal gifts: a) the superb athletic ability, and not only in swordsmanship—I was startled to be reminded that he was a  perfectly capable hoofer (and patter singer) who could hold his own in a music hall turn; b) the prodigious vocal accomplishment—that bronze bass-baritone had remarkable power, range, and variety—the icy chest register that made his villains so formidable, the head voice that could supply surprising sweetness & warmth  (e.g., your "Night Before Christmas" clip, or his v.o. for Disney's "Mr. Toad," or his LP of "Robin Hood" where he doesn't portray the baddie but Robin himself—and with a lightness, bounce, and dash that are as convincing as they are unexpected). c) the directness, economy, and subtlety of his work—I remember, years ago, Everson suggesting that he would add "a touch of ham," but I honestly can't see it. Over and over he underplays, relying on restraint, linear readings, and choices that register swiftly. When you consider the undistinguished material he often had to run with, the body of his work in his prime is brilliant.

All in all, he was close to the ultimate actor: he could act, move, sing, dance, and tackle an enormous range of media and styles. My only regret is that he wasn't given a chance to film some of his "other" repertoire, Cassius, say, or Dr. Sloper. In short, he was one of the undisputable greats.

Rick Walter, Houston, Texas

I first heard of Basil when I was around seven years of age in 1972 and this is where I first saw him in Sherlock Holmes films. He really was a great actor in those days and yes I'm a fan of his in Sherlock Holmes movies. I still watched him on TV over and over the years. I already bought a book about him and I do believe apart from his acting he was a good hearted gentleman. he always seemed to have time to meet and talk to anyone.
An Irish Basil Rathbone supporter,
Mr. Ronan Meyler, Dublin, Ireland

"I first met Mr. Rathbone when I worked on [The Adventures of Sherlock Homes]. . . . I got to know Basil much more later on, some years later when we did a stage version of SHERLOCK HOLMES. That's when I really got to know him, because by that time I was grown up. As a child, of course I didn't really get to know him except to see that he was a great gentleman and an extremely pleasant person. Everybody liked him very much. Of course, in those days, he was more famous for playing villains, and he couldn't have been more different. He was a gentle and really very charming man, and he was indeed very, very well liked by everybody."

Terry Kilburn, quoted in Scarlet Street #13 (Winter 1994), p. 53

I grew up in NYC/Manhattan — the daughter of a prominent physician (who by chance was Basil Rathbone's MD). I had always been a fan of Mr. Rathbone's. . . sooooo, one day (the summer holidays had already started and I was home from boarding school), my dad's secretary called the house saying that my dad wanted me to come by the office (which was quite close to our apartment) for luncheon. I headed over and waited in the patient's waiting room. Ms. Bethany (dad's secretary/nurse) came in and said that my dad was ready to see me... I went into his office and lo-and-behold there standing in the middle of the room was Basil Rathbone!!!! WOW... what a surprise!!!! Ms. Bethany took a picture of me facing him, showing our profiles... I treasure that moment and the picture (which my mum put into a cardboard frame which was then signed [at a later date] by Mr. Rathbone.
Pam Taylor

Louise, a fellow Basil fan, shares the following stories: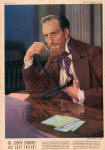 Among my happiest memories was meeting Basil Rathbone when he was doing the radio program, Inspector Burke of Scotland Yard. My foster-father, William Podmore, was playing Inspector Burke's sidekick, Sgt. Abernathy, and I gave him no peace until he brought me to the studio to meet Basil. I had already seen "The Heiress," and I recognized his makeup as Dr. Sloper; he said that there's so little time between the end of the radio show and the start of the play that he couldn't afford to try to make up at the theatre, and sometimes he couldn't catch a cab right away, as well. I volunteered to have one waiting for him after Inspector Burke finished, and did so for the remainder of the run. He was pleased, and invited me to come backstage whenever I had time. You can be sure that I took him up on this offer most Tuesday (I think) nights. In the play, the Doctor dies several scenes before the end, and Basil had to hang around for the curtain calls, so he seemed happy to have someone to chat with besides his dresser, Johnny.

Years later I traveled to a Maine Summer Stock theater to see Basil in "The Winslow Boy," a play which had been a favorite of mine from the movie, and difficult to surpass, but he was superb, and what a pleasure to see him in a sympathetic role. An memorable incident occurred during the performance. At one point, Basil sat down at a table to converse on the telephone. The chair literally collapsed under him, and he took a very hard fall--definitely not in the script. He got up carefully, taking his time to sort of check out his anatomy to see if he was all in one piece, picked up the phone, and ad-libbed an apology and explanation to the (of course non-existent) party on the other end. The audience had, when he fell, gasped and were in a shocked sort of silence, not sure of the situation. When the call was completed, with the normal dialog, he hung up the phone, and, reassured, the audience greeted him with a thunderous applause, both in relief that he was all right, and in awe of his aplomb.

Karen, a Rathbone fan in England relates this story:
"My mother knew Basil in England before and after the war, and when I was very little, in about 1963, she took me to visit him for a few days. I don't remember a thing about it, except being in this dark place, with a brightly lit area, which apparently was a movie set, and being picked up by a man in a black coat and tall black hat with silky stuff tied on it, who was showing me round, and talking to me. There was a mirror over a fireplace and some red chairs, and when he put me down he told me not to trip over this big cable running along the ground."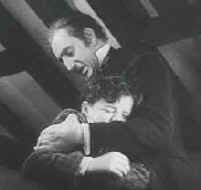 One evening in 1935 Basil and Ouida Rathbone were invited for dinner at the home of Hosford and June Brackett and their three children. One of the now-grown children relates this story:
"We had recently seen Basil bash Freddy Bartholomew in 'David Copperfield,' so when the Rathbones arrived, we hid from Basil in fear. After a while we tentatively peeked around the corner to get a glimpse of our famous guest. Basil caught us and escorted us back to the living room just in time to see my father spill a tray of drinks onto Ouida Rathbone's dress! But we had a nice evening anyway, and Basil signed our autograph books."

In his biography of Basil Rathbone, Michael Druxman relates an amusing story about Moritz, Basil's German Shepherd:
"One evening, Rathbone was walking with the dog along New York's 46th street, when Moritz, unable to find a lamp post, decided to relieve himself on the leg of a woman pedestrian. Basil, red-faced and at a loss for words, could barely sputter out an apology. Luckily, the woman was so impressed at meeting Basil Rathbone, that she told him to forget the whole matter and went on her way."

(Basil Rathbone: His Life and His Films, pages 25-26)

Working With Basil
by David Macklin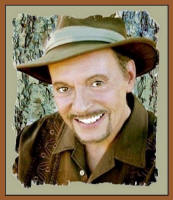 When I came to Hollywood to pursue my own acting career, I left The Basil Rathbone Club and for a while Basil himself behind. I was preoccupied with trying to make it in the movies and simply surviving. A few years passed and the career was going pretty well. I was doing leads and guest star roles on TV and an occasional movie. So, when I received an offer to do a part with little dialogue in a pilot film for 20th called Warbirds I was inclined to turn it down. When my agent, Dorothy Maclin, told me that Basil Rathbone was reprising his role as Major Brand in this proposed series based on the great film "The Dawn Patrol," I jumped at it.
The year was 1964 and it had been several years since I had last met Basil after one of his Theater Programs and knew he was getting a little long in the tooth. When I spotted him on the set in his chair working on his lines I realized he looked more frail than when I last saw him. I made my way over to him, more than a little nervous, and found that he was rather flustered himself and was muttering "Damn it Basil...get it right!" as he went over his lines.
After a few moments I decided to jump in and said "Mr. Rathbone?" He looked up and said "Yes?" I sputtered out, "I am David Macklin, I used to be David Mortashed and I was President of your fan club." He looked at me blankly with no sign of recognition. I continued, "You remember? I took over the club from Doris Devasier." He squinted and then smiled and said, "Oh! Are you Doris Devasier?"
Well, you can imagine that I was a little taken aback. I thought I looked pretty butch in my air force uniform. I stuttered onward..."No, I'm David Macklin...I mean Mortashed...I mean I was David Mortashed....I am David Macklin now but I was Mortashed...David...And was your fan club president AFTER Doris Devasier." He looked at me again and laughed. "Yes, of course dear boy...forgive me. I am getting rather addled these days and I had a terrible flight with bad food (more on that later) and I have this monster speech coming up." We talked a bit about the old days: Sherlock Holmes, Errol Flynn and movies versus theater. I told him that I still had the letters* he sent me and that I treasured them.
*Ed. note: These letters can be viewed on the "Letters from Basil" page.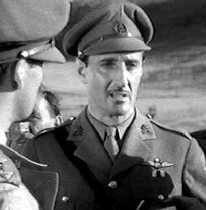 I could see he was still concerned about his lines so I asked if I could cue him which he gratefully accepted. It was wonderful. Here I was helping this marvelous actor who had given us so many years of inspiration and enjoyment. I cued Basil Rathbone and we worked on word associations that would spark his memory and soon he was in control and relaxed into the role. It was great to see him as he was in Sherlock Holmes, "The Dawn Patrol" and so many of his classic roles. I was so moved that I got tears in my eyes and choked up a bit. He seemed to understand and patted me on the knee and murmured, "Quite right...quite right old boy." Then he laughed and said, "Doris Devasier indeed!"
Soon it was time to tackle Basil's big scene. He started off a little shaky, muttering again, "Damn it Basil...get it right!" But shortly he had it down and we went for a take. The cameras were rolling and he was doing fine when suddenly he broke wind...a rather prolonged B flat. Like the pro he was, he didn't yell CUT and went on with the scene as did we flyboys who surrounded him. After the take, he broke out laughing and said "Sorry about the ad lib." The whole set laughed with him and when we settled down the sound man said, "It's OK. We are clear! No overlaps." Cheers and laughter rolled over the set. The take was printed, we did the coverage and moved on with a delightful day of shooting.
The next day I drove Basil as Major Brand around 20th's great back lot in a jeep for some location shots. To tell the truth I had never driven a jeep before and it was a bit of a jerky bumpy ride. Basil remarked, "Dear boy! You are shaking up my innards a bit." I said, "Sorry Sir, but they didn't teach jeep driving in drama school." To which he replied "Quite right! Carry on!"
It was a glorious day and the last time either of us saw the back lot of 20th Century Fox. I remember Basil Rathbone looking wistfully around at the green rolling hills of the lot and saying, "I have many fond memories of this place. It will all be glass and concrete soon." And so it came to pass. After the "Cleopatra" debacle 20th sold the back lot and it soon became the great conglomeration of marble and glass known as Century City.
A few years later I was vacationing in Laguna Beach. While lounging on the beach I heard on the radio that Basil Rathbone had died. I went to my motel room and spent the rest of the day there full of sadness and regret. Why hadn't I stayed in contact with Basil? Why didn't I get a photo with him? Why didn't I at least have him autograph my script? Who could ever replace this truly gracious, witty, kind man and magnificent actor?

David Macklin also had these memories of Basil: "When talking with Basil Rathbone at Ohio Wesleyan and on the set, I told him that it was his Sherlock Holmes portrayal that turned me on to the Holmes canon (the original Conan Doyle stories), and that it was an inestimable gift to me. I added, 'Can you imagine how many other people were also so affected?' He replied, 'Yes, I know, but one would like to be known for something else.' I said, 'You are! And the reason I have seen so much of your work is because your Sherlock Holmes turned me on to you.' He smiled at that remark, and I'd like to think he was pleased."

Read more about David Macklin and his acting experiences in his book ACTING in the Motion Picture BUSINESS.