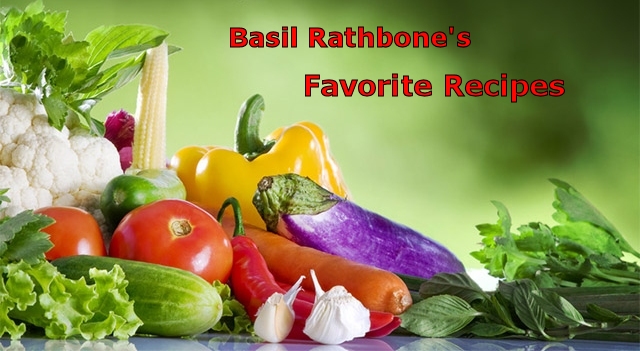 This page contains three personal recipes from the kitchen of Basil Rathbone and one of Ouida Rathbone's recipes:
Yorkshire Pudding

Vichyssoise Soup

India Curry

Salmon Mousse
| | | |
| --- | --- | --- |
| The Cock and Bull is a bit of old England transferred to Hollywood. It has long been the favorite restaurant of Basil Rathbone and other famous members of the English acting colony. Photo by Charles Rhodes, January 1938 | Roast beef and Yorkshire Pudding | Basil and Ouida Rathbone, 1943 |
Given Basil Rathbone's British heritage, it's no surprise that one of his favorite dishes was roast beef and Yorkshire pudding, a hearty, traditional English dinner. Below is Basil Rathbone's recipe for Yorkshire Pudding, taken from a little booklet called Hollywood Recipes: Food Secrets of the Movie Stars (by Delight Evans, Editor of Screenland Magazine, and published by the American Stove Company in 1938).
| | | |
| --- | --- | --- |
| | Yorkshire Pudding | |
Ingredients:

2 cups flour
¼ teaspoon salt
2 eggs
2 cups milk
1 ½ tablespoons hot fat
Directions:
Sift flour and salt together. Make a hollow in the center and add unbeaten eggs and a little of the milk. Gradually mix in the flour and the salt mixture from all sides, adding the milk by degrees. When about half the milk has been used and all the flour is mixed in, beat well with a wooden spoon until very light and smooth. Gradually stir in remainder of milk. Pour into a shallow baking pan containing hot bubbling fat and bake at 375 degrees for 40 to 45 minutes. Serve with roast beef gravy.
Yield: 6 servings

"Here's how Hollywood eats for Health and Beauty" writes the editor in the introduction. Some of the other Hollywood stars and their favorite recipes included in the booklet are:
Joan Blondell -- Chicken Chop Suey
Olivia DeHavilland -- Angel Cake
Gail Patrick--Avocados with Crab Meat
Gene Raymond -- Cheese Pudding
Pat O'Brien -- Spinach Ring
Anita Louise -- Kidney Saute Madeira
Gale Sondergaard -- Danish Apple Cake
Dorothy Lamour -- Deviled Oysters on Half Shell
Errol Flynn -- Irish Beef Pasties
Claudette Colbert -- Crepes Suzette
Bette Davis -- Scallops in Bacon


Basil Rathbone shares a meal with Louis Brems, director of public celebrations, Boston, 1938
Another favorite Rathbone recipe comes from the book Famous Stars Favorite Foods (Hollywood, Ca.: Fannie Sniff, editor and publisher, 1938) p. 189.
| | | |
| --- | --- | --- |
| | Vichyssoise Soup | |

Ingredients:

4 cups diced potatoes
4 cups sliced onions
6-7 cups water
½ cup sour cream
1 tablespoon chopped chives
French Vichy water
Directions:
Boil potatoes and onions together. Put through a sieve. When cool, add sour cream until mixture is of good consistency. Fill full of chopped chives. Put mixture in ice box or refrigerator. Two hours before serving, thin out with French Vichy water and put back in ice box or refrigerator to be thoroughly chilled.
This soup should be served in large bowls surrounded by cracked ice. (Note: Soup should be ice cold when served; otherwise flavor is impaired.)
Two hundred eighty personal recipes from Hollywood stars are contained in the book Famous Stars Favorite Foods, including:
Gracie Allen -- Cheese Cake
Gene Autry -- Texas Chili
John Barrymore -- Kidney Stew
Wendy Barrie -- Crab Lorenzo
Joan Bennett -- Baked Salmon
Jack Benny -- Baked Eggplant
Gertrude Berg -- Roast Chicken with Noodles
Humphrey Bogart -- Baked Hominy with Cheese
Charles Boyer -- Ham Mousse
James Cagney -- Hungarian Stuffed Cabbage
Eddie Cantor -- Sponge Cake
Claudette Colbert -- Fresh Blueberry Pie
Bing Crosby -- Corn Ring with Mushrooms and Carrots
Olivia DeHavilland -- Cheese Torte
Cecil B. DeMille -- Chicken Saute a la Creole
Marlene Dietrich -- Banana Nut Bread
Ellen Drew -- Ginger Ale Fruit Salad
Irene Dunne -- Oyster Kabobs
Douglas Fairbanks Jr. -- Steak and Kidney Pie
Errol Flynn -- Yorkshire Pudding
Kay Francis --Avocado Canapes
Clark Gable -- Beef Barbecue
Betty Grable -- Veal Roll with Sausage
Cary Grant -- Crab Louie Sandwich
Nan Grey -- Shoestring Sweet Potatoes
Sigrid Gurie -- Cream Cheese Cookies

Bob Hope -- Roast Ham with Cider Sauce
Ian Hunter -- English Yorkshire Pudding
Patsy Kelly -- Fresh Fruit Compote with Sherry
Gene Lockhart -- English Sausage Rolls
Jeanette MacDonald -- Lemon Pudding
Fred MacMurray -- Sweet Potato Waffles
Fredric March -- Stewed Duck
Herbert Marshall -- Steak and Kidney Pie
Joel McCrea -- Caramel Potato Cake
Merle Oberon -- Almond and Raisin Sponge
Louella O. Parsons -- Welsh Rarebit
Dick Powell -- Chicken Curry
Claude Rains -- Flank Steak Roule
Martha Raye -- Lemon Pumpkin Pie
Gene Raymond -- Smothered Chicken
Edward G. Robinson -- Kidney a la Robinson
Ginger Rogers -- Southern Fried Chicken
Mickey Rooney -- Chili con Carne
Randolph Scott -- Cold Chicken Mousse
Norma Shearer -- Tenderloin Tip Goulash
Ann Sheridan -- Chili Casserole
Barbara Stanwyck -- Vegetable Meat Loaf
Arthur Treacher -- Sussex Pudding
Johnny Weissmuller -- Raisin Pie
Jane Wyman -- Mock Ducklings
Robert Young -- New England Boiled Dinner
| | | |
| --- | --- | --- |
| Basil Rathbone and Angela Lansbury take a lunch break during filming of The Court Jester | | Ann Harding and Basil Rathbone |
Another of Basil's favorite dishes was Indian Lamb Curry. The following recipe is from the book Cooking with the Stars: A Collection of Recipes Tested in the Kitchens of Hollywood, edited and compiled by Jane Sherrod Singer (South Brunswick and New York: A.S. Barnes and Company, 1970), p. 166.
| | | |
| --- | --- | --- |
| | India Curry | |

Ingredients:

4 tablespoons butter
4 onions, chopped
1 small clove garlic, minced
2 tablespoons curry
1 tablespoon paprika
Salt to taste
Juice of ¼ of a lemon
3 green apples, peeled and sliced
2 ½ pounds boneless lamb cut into 2 inch pieces
1 ½ pounds tomatoes, sliced
Directions:
Melt butter in a Dutch oven and sauté onions and garlic until golden. Add the curry, paprika, salt and lemon juice, and cook about 15 minutes.
Season the lamb with salt and pepper and rub curry into the lamb. Add to Dutch oven with apples. Cook for ½ an hour.
Add the tomatoes. Cover and cook slowly for an hour or until the flavors are blended and meat is tender.
Serve over rice, which, if desired, may be colored with Saffron. Condiments such as chutney, peanuts, raisins, grated egg, coconut are excellent, but not essential.
Serves 6 to 8.

The following is Ouida Rathbone's recipe for Salmon Mousse, published in The New York Post, May 17, 1964.
| | | |
| --- | --- | --- |
| | Mrs. Rathbone's Salmon Mousse | |

Ingredients:

2 lbs. fresh salmon
2 tablespoons unflavored gelatin
½ cup cold fish stock
1 cup boiling fish stock
¼ cup mayonnaise
1 tablespoon Worcestershire sauce
1 teaspoon lemon juice
½ pt. whipping cream
Directions:
Simmer salmon until tender in enough water just to cover, with a slice of lemon, a stalk of celery, a handful of parsley sprigs and half an onion. Drain salmon, and strain broth. Chill 1/4 cup and soak gelatin in it for 3 minutes, then dissolve it in the boiling broth. Cool, then stir in mayonnaise and, when mixture begins to thicken, beat to a froth. add the finely minced salmon, Worcestershire and lemon juice. Finally, fold in stiffly beaten cream and pour into a moistened mold. Chill from 6 to 21 hours, then remove from mold and serve with cucumber sauce.
Cucumber sauce: Peel and grate 1 cucumber. Stir pulp into 1 cup mayonnaise. Add 1/2 teaspoon prepared mustard, 1 teaspoon lemon juice and 1 tablespoon minced chives. Chill. For 6 or 8.